Eight countries must ready their weapons for Conquer Online's first global PvP tournament
HONG KONG – April 5, 2012 – Following the launch of the iPad and Facebook versions of Conquer Online, one of the longest-running, popular free-to-play PvP MMOs, the game is breaking new ground by treating PC players to a first: a global PvP tournament. With the dreaded new Pirate class storming the shores of Conquer Online, contestants from eight different countries can step up and battle for global supremacy!
Hundreds of selected Pirate captains, hailing from eight different countries — the United States, United Kingdom, Australia, Brazil, Canada, the Netherlands, Egypt and Germany — will dive into this year's largest PvP event pool, stand under their  country's flag, and battle against one another until the last nation stands supreme! Not only will the winner bask in the glory of triumph, to the victor goes the mystery horde of treasure of the pirate nations!
The first battle will begin on April 7. Players who've achieved level 120 or higher and are 2nd reborn are eligible to partake in the big event. Players can also choose to support their country by signing up and casting a vote on the official site.
The competition is fierce and mistakes are not an option! Come support your country, exciting plunder awaits on the horizon!
To learn more about the 8 Pirate Kingdoms War, visit Conquer Online's official site.
---
Assets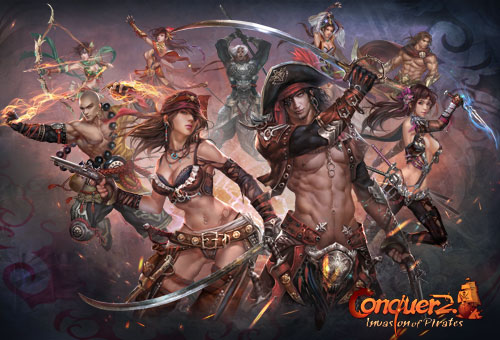 ---
About Conquer Online
Conquer Online is a leading free2play MMORPG with a persistent world devoted to ancient Chinese kung-fu and magic. The game relies heavily on its unique and engaging PvP combat, and for good reason! Despite all the other flaring features this game possesses, it's simple to learn and fun to play! That's why the game still attracts hundreds of thousands of gamers after 8 years of development. Conquer Online is published by renowned Chinese-based online games publisher, TQ Digital.
Official Website | Facebook
---
Media Contact
Stephanie Palermo, TriplePoint for NetDragon
spalermo@triplepointpr.com