Stereo Charging Dock for Vita In GameStop Stores Now

LOS ANGELES – April 24, 2012 – Nyko Technologies®, the leading videogame peripherals manufacturer, is now shipping the Speaker Stand for PS Vita, the latest in its line of accessories for the handheld console. The stand is a charging dock featuring stereo speakers that keeps your Vita ready for action while offering dynamic sound for music and movies. Unveiled at the 2012 Consumer Electronics Show in Las Vegas, the Speaker Stand for PS Vita is available now at GameStop retail locations.
The Speaker Stand for PS Vita is a powered speaker that doubles as a charging dock. The stereo sound makes it perfect for movies and music, while the line-in jack accommodates iPods and other devices. Its sleek aesthetic matches the Vita, which snaps securely onto the dock and stays charged through the Vita's own AC adaptor.
"We're incredibly excited for the Vita, as it offers console-caliber gameplay on the go," said Chris Arbogast, director of marketing at Nyko Technologies. "Nyko is supporting the handheld with a full suite of peripherals, and are proud to offer the Speaker Stand among its line of convenient accessories for Vita users."
Speaker Stand for PS Vita has an MSRP of $29.99 and may be purchased at GameStop locations across the United States.
About Nyko Technologies, Inc.
Nyko Technologies® develops, manufactures and markets innovative peripherals to enhance the digital lifestyle. The company's mission is to deliver products that solve problems and improve user experience for work and play. Nyko specializes in interactive entertainment, computing, consumer electronics, portable audio, as well as online and wireless technologies. The company has distribution through major U.S. and Canadian retailers, along with distributors worldwide. Founded in 1996, Nyko is headquartered in Los Angeles, Calif. Please visit www.nyko.com or call 1-888-444-6956 for more information.
Official Website | Facebook | @NykoTech
---
Media Contact
Rich Jones, TriplePoint for Nyko
nyko@triplepointpr.com
(212) 730-9744
---
Assets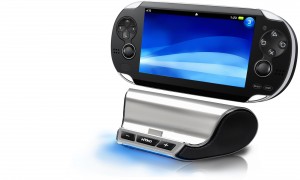 A press kit containing assets for the Speaker Stand (as well as Nyko's other products for the PS Vita) may be downloaded using this link: www.triplepointpr.com/dl/nyko/Nyko_PSVita_PressKit.zip.