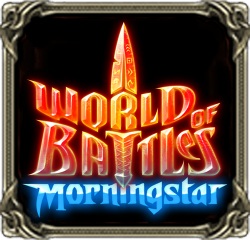 Multiplayer Real-Time Strategy with a War-Gaming Twist, Now on Steam
PARIS – May 22, 2012 – Renowned PC developer Frogwares today announced a massive server merge for World of Battles: Morningstar — the free-to-play online real-time strategy game (RTS). Recently launched on Steam, this merge will unite every server into one giant battle zone, making it easier to find opponents and level up your clan. To celebrate, Frogwares are offering a two-for-one promotion to any player who purchases Gems, instantly doubling your investment! The game blends tabletop war gaming with fast RTS action. To see for yourself, check out World of Battles: Morningstar on Steam today!
As of today, the Global Map is truly global! Eight of the nine total regions are now open, and clans from every server will be transferred into this one epic battleground. Clans from the US and European Server 2 will be resettled in the new Beast Folk, Amazon, Barbarian and Dark Elf regions, without losing any of their existing provinces. However, the most mysterious and rich region in the center of the Global map will still be hidden by the fog of war.
Don't forget to pick up some extra Gems, now available at half price!
About World of Battles: Morningstar
World of Battles: Morningstar is a free-to-play real time strategy that centers on balanced play, taking players to a fierce mythical land where they'll form alliances and engaging single and multiplayer PvP battles. The nine unique races all play differently, from the savage Barbarians to the treacherous Dark Elves. To win, players maneuver their soldiers with charges, counter-charges, formations, flanking and back-attacks, with tactical possibilities for solo players and teams of allies. Victories yield both experience and gold – upgrade fearsome master units with a multitude of weapons, armor, war mounts and magical jewelry.
Official Website|

---
Media Contact
Rich Jones, TriplePoint for Frogwares
rjones@triplepointpr.com
(212) 730-9744
---
Assets
To start playing World of Battle: Morningstar, visit www.worldofbattles.com or download the game on Steam http://store.steampowered.com/app/113900/
To watch the trailer and learn about each race, visit World of Battles on YouTube.
Find details about today's Server Merge.
For a Quick Start Guide, the trailer and screen shots, grab the press kit.