New Downloadable Multiplayer Action Title Playable for the First Time in North America at E3 2012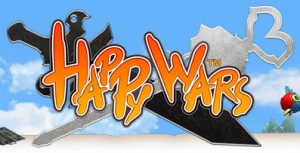 TOKYO – May 31, 2012 – Toylogic, a leading developer of console games worldwide, today announced that their upcoming multiplayer action title, Happy Wars, will be available to play for the first time ever in North America next week at the Electronic Entertainment Expo in Los Angeles. Interested attendees who'd like to give this unique title a try can do so at the Microsoft booth, #4100 in the West Hall of the Los Angeles Convention Center.
Happy Wars is a multiplayer experience unlike any other. Players can assume one of three roles – warrior, mage, or cleric – and take on their enemies in a variety of over-the-top battlefields, from grasslands to lava fields and the ocean floor. Whether joining in battles involving up to 30 players online or tackling an extensive single-player campaign, players secure victory by occupying towers, attacking the enemy castle, and generally wreaking havoc using the 27 unique skills in the game. To see Happy Wars in action, check out the debut trailer online here.
Happy Wars is coming to the Xbox LIVE® Arcade on the Xbox 360® video game and entertainment system from Microsoft Studios. For more information, visit the official website at http://www.happywars.net/.
Assets
For Happy Wars E3 2012 screenshots, click here.
About Toylogic
Blending the playfulness of toys with computer logic-based leading edge technology, Toylogic was born in the spirit of creating enjoyment, surprise, and impact through high-tech entertainment. Founded in Tokyo in 2006, Toylogic develops console game titles that evoke the spirit of the company's ideals.
---
Media Contact
Ryan Morgan, TriplePoint for Toylogic
happywars@triplepointpr.com
(415) 955-8500