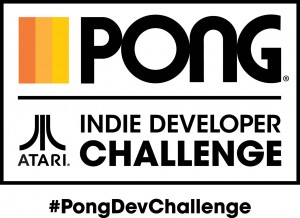 Finalists Guaranteed Cash and iOS Publishing Agreements, Community Voting Opens
LOS ANGELES – June 26, 2012 – Atari, one of the world's most recognized publishers and developers of interactive entertainment, today revealed finalists in the Pong® Indie Developer Challenge. The developers revealed today will win three-year, revenue-share publishing agreements and cash prizes, which will be awarded based on final ranking, with first place taking home a grand prize of $50,000. All finalists are featured on Atari's Developer Spotlight, with information about each developer and their submission. Fans can visit the Developer Spotlight and vote for their favorite new Pong concept at www.atari.com/pongdevchallenge/finalists.
Games from the finalists will be published as an iOS release planned for later this year through which developers will benefit from a revenue sharing agreement with Atari. Each of the new Pong interpretations submitted by finalists will see a commercial release, but not all can win top honors. The ultimate winner of the contest will be selected in part by a celebrity judging panel made up of Atari founder Nolan Bushnell, Dave Castelnuovo, David Whatley, and Mike Schramm. Each judge's vote will be weighed against the community's votes in determining the finalist ranking. In addition to revenue-share agreements, the top three submissions will take home cash prizes of $50,000 for 1st place, $37,500 for 2nd place, and $15,000 for 3rd place, while the remaining finalists will each win $5,000.
Today's announcement comes as Atari prepares to celebrate its 40th anniversary tomorrow, June 27, 2012. Alongside moving into the next phase of the Pong Indie Developer Challenge, the company is celebrating its 40 years of gaming with special promotions and giveaways. To keep up to date on all the anniversary activities, stay tuned to Atari's official Facebook page.
For full details regarding Pong Indie Developer Challenge, please visit:  www.atari.com/pongdeveloperchallenge.
For more information about Atari games and the latest news:
About Atari, SA
Atari (www.atari.com) is a multi-platform, global interactive entertainment and licensing company. The original innovator of video gaming, founded in 1972, Atari owns and/or manages a portfolio of more than 200 games and franchises, including world renowned brands like Asteroids®, Centipede®, Missile Command®, Pong®, Test Drive®, Backyard Sports®, Ghostbusters®, and Rollercoaster Tycoon®. Atari capitalizes on these powerful properties by delivering compelling games online (i.e. browser, Facebook® and digital download), on smartphones and tablets and other connected devices. Atari also develops and distributes interactive entertainment for video game consoles from Microsoft, Nintendo and Sony. As a licensor, Atari extends its brand and franchises into other media, merchandising and publishing categories.
Atari has offices in Los Angeles, New York, Paris, Lyon and London.
© 2012 Atari Interactive, Inc. All rights reserved.
Atari word mark and logo are trademarks owned by Atari Interactive, Inc.
Official Website | Facebook | @Twitter
---
Media Contact
John O'Leary, TriplePoint for Atari
joleary@triplepointpr.com
(212) 730-9744