First Social Gaming Project, myVEGAS, Features MGM Resorts' Collection of Iconic Properties and Real-World Rewards
BURLINGAME, Calif. and LAS VEGAS – August 6, 2012 – PLAYSTUDIOS, a new game development company focusing on free-to-play games of chance, today unveiled their first project, myVEGAS. A Facebook destination for the latest breed of social entertainment, myVEGAS delivers a new level of authenticity and play value as gamers play gambling games, unlock and explore a virtual Las Vegas and earn real-world rewards. myVEGAS is now playable in live beta on Facebook.
"myVEGAS is at the intersection of gambling and social gaming. With the emergence of Facebook as a leading gaming platform, we saw an opportunity to offer deeper and more engaging game play that captures the true essence of Las Vegas," said Andrew Pascal, founder, president and chief executive officer of PLAYSTUDIOS. Pascal previously served as president and chief operating officer of Wynn Las Vegas and Encore, a luxury hotel and destination casino resort. PLAYSTUDIOS marks a return to his entrepreneurial roots, where Pascal founded and led two Silicon Valley-based startups: Silicon Gaming and WagerWorks.
Through a partnership with MGM Resorts International (NYSE: MGM), PLAYSTUDIOS has secured the exclusive social gaming and mobile rights for Las Vegas' premier properties: ARIA, Bellagio, MGM Grand, Mandalay Bay, The Mirage, Monte Carlo, New York-New York, Luxor, Excalibur and Circus Circus.
Bill Hornbuckle, MGM Resorts International's Chief Marketing Officer, said, "We have actively watched the explosion of the social gaming landscape and evaluated the options for extending our brands through these increasingly important channels. In partnership with PLAYSTUDIOS, we have created a platform that will engage and entertain existing MGM Resorts customers, attract new ones and allow us to strengthen our brands in a new and relevant fashion."
myVEGAS provides access to a diverse array of chance-based games, combining established gambling formats with immersive and entertaining social game mechanics and storylines. The initial suite of experiences featured in myVEGAS includes slot and table games. The myVEGAS entertainment destination will continually evolve as new games and game categories are introduced.
myVEGAS players will earn Loyalty Points as they spend time playing the portfolio of games. These Points may be redeemed for real-world rewards. The myVEGAS Loyalty Program will feature offerings from all of the participating MGM Resorts International properties. Rewards will range from choosing the song for the Fountains of Bellagio or diving with the sharks at Mandalay Bay's Shark Reef Aquarium to gourmet dinners, luxurious hotel stays, Cirque du Soleil show tickets and access to Las Vegas' hottest pools and nightclubs. Hundreds of thousands of discrete prizes will be awarded to myVEGAS loyalists, amounting to millions of dollars in value.
The myVEGAS beta is now live at: http://apps.facebook.com/playmyvegas
For further information and game assets, please visit: http://www.myvegas.com/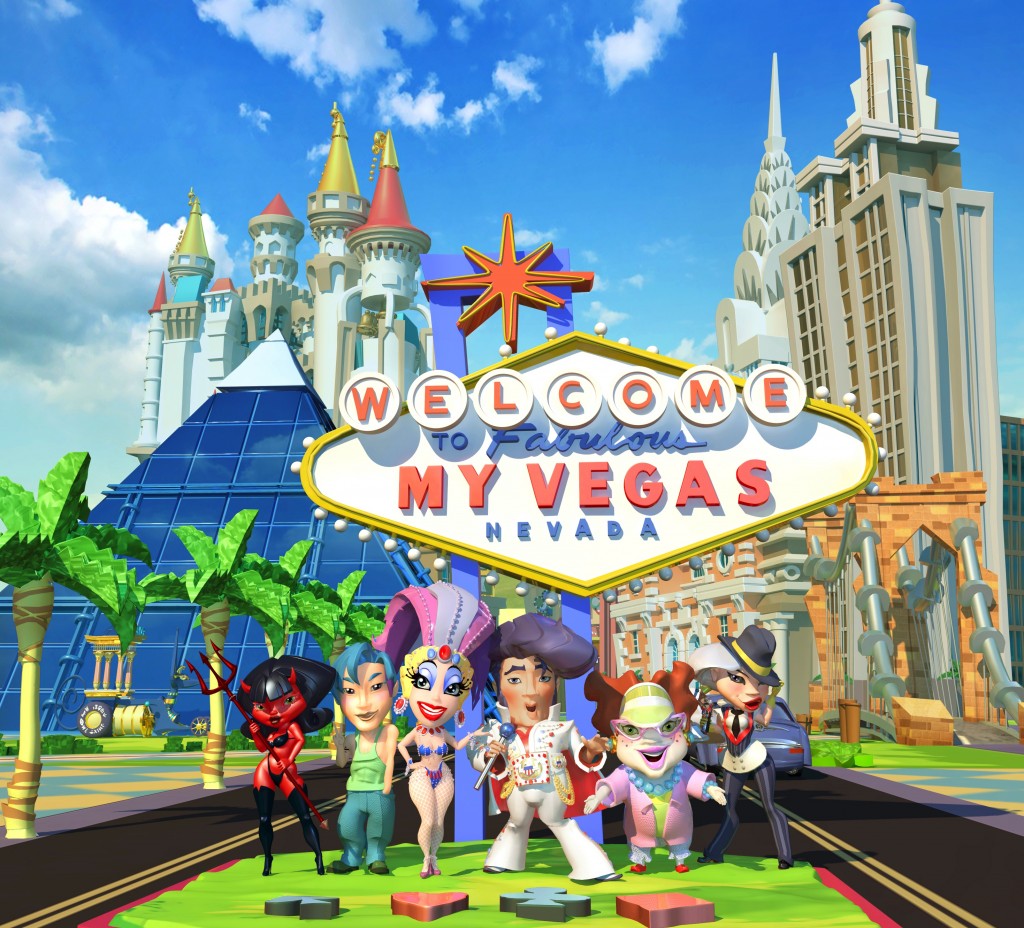 About PLAYSTUDIOS
PLAYSTUDIOS is a developer of engaging casual games for the world's largest social platforms. The company has been operating as incuBET while in stealth mode. Founded by a team of experienced gaming and technology entrepreneurs, PLAYSTUDIO's first free-to-play application, myVEGAS, combines the best elements of popular social games with established gambling mechanics. Players enjoy an ever-growing collection of slot and table games and the opportunity to earn an unprecedented selection of valuable, real-world rewards. In creating myVEGAS, PLAYSTUDIOS has partnered with MGM Resorts International and its portfolio of the most recognized resorts in the industry, including ARIA, Bellagio, MGM Grand, Mandalay Bay, The Mirage, Monte Carlo, New York-New York, Luxor, Excalibur and Circus Circus.
---
Media Contacts
Eddiemae Jukes and Lilit Baron
TriplePoint for PLAYSTUDIOS
PLAYSTUDIOS@triplepointpr.com
Phone 212 730 9744
Jennifer Dunne
PLAYSTUDIOS
jennifer@PLAYSTUDIOS.com
702 800 5716, ext. 2005