#1 strategy game on iPad receives new maps, bug fixes, and novice difficulty mode
LONDON – September 4, 2012 – Mobile developer Rubicon Development today announced the first major update for their hit mobile title, Great Big War Game, in addition to launching the game on the Steam platform for PC. A sequel to their iOS hit Great Little War Game, Great Big War Game delivers casual strategy gaming with over 40 hours of gameplay in the single player campaign alone. Today's update will bring nine new multiplayer maps for players to battle on, adding even more variety to the turn-based warfare. A new "novice mode" is also being introduced, where players will be able to play without the fog of war obscuring their view of the battlefield. Great Big War Game is available now on the App Store for $2.99 and on Steam for $9.99.
Great Big War Game puts players in the shoes of the strong-willed sergeant Jenkins, as he attempts to defeat his enemy while keeping his troops out of harm's way. Players will need to adapt their war strategies on the fly, as they attack enemies and take turns moving troops around a grid-based battlefield. With land, air, and sea units, each mission offers multiple ways to crush opponents and ensure victory. Great Big War Game utilizes asynchronous online multiplayer, so players can input moves on the go and continue battling at a later time. The game also includes a 50 level single-player campaign so players can hone their skills while waiting for online friends to counter-attack.
To see the game in action, check out the gameplay trailer from Rubicon Development: http://www.youtube.com/watch?v=QBZI-MzX2gU
Great Big War Game features:
Massive Campaign – 50 challenging single player missions start off simple and evolve into an all-out warzone
Online, Asynchronous Multiplayer – Battle Android players from an iOS device or take on iPad players from an Android tablet… it all works seamlessly!
Skirmish and Pass 'n Play – Compete with friends locally on a single device, or against AI opponents on multiplayer maps
Huge Variety of Units & Buildings – Grunts, tanks, snipers, flamethrowers, and bazooka infantry all mean business! Keep an eye out with scouts as team engineers capture enemy fortifications
70 Multiplayer Maps – Wide variety of levels keep every game fresh, with different strategies for hilly terrain, deep jungles, remote islands and more
Customizable Armies – Manage in-game resources to suit any style of play; choose whether to chip away with a dozen grunts, or bet it all on a fearsome warship
The Softer Side of War – Appropriate for all ages with silly characters, hilarious unit sounds and an overall "plastic toy soldier" vibe to keep the mood light, even when the action gets fierce
Full Retina-enabled Graphics – Turn-based war battles have never looked so good
Game Center Achievements – Show friends and enemies who's boss with Game Center integration.
Great Big War Game, already in the App Store, Google Play, and now on Steam, is heading to the Microsoft Surface tablet and Windows phones this fall.
About Rubicon Development
Rubicon Development is a UK-based independent game developer founded by Paul Johnson and Steven Haggerty. After many successful years as a porting studio, they are now focused on digitally-distributed original games for mobile platforms. Their first release, Great Little War Game, went straight to #1 on the iOS strategy game chart, with similar success for the Android build.
Learn more at http://www.facebook.com/GreatBigWarGame
Official Website | Facebook | Twitter
---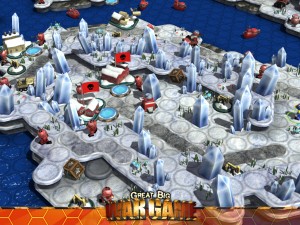 Check out the trailer for Great Big War Game at the following link: http://www.youtube.com/watch?v=QBZI-MzX2gU
Download the press kit (13Mb) here: http://www.rubicondev.com/gbwg/downloads/presspack.zip
---
Media Contact
Rich Jones, TriplePoint for Rubicon Development
rjones@triplepointpr.com
(212) 730-9477