Hive Represents a New Approach Using Location, Calendar and Behavior to Drive CRM Adoption and Save Time
SAN FRANCISCO – Sept. 10, 2012 – DoubleDutch, the leading provider of mobile engagement applications for events, sales teams, and other enterprise workgroups, today announced the availability of Hive, its latest workgroup collaboration app focused on mobile Customer Relationship Management (CRM). In addition to sophisticated analytics and deep integration with existing CRM systems like Salesforce.com, Hive introduces a completely new concept to CRM – context. Hive is the first mobile CRM app to use contextual triggers based on the salesperson's location, time and individual behavior to record information on customers and deals and provide sales teams with exactly the information they need when they need it. This saves the team time, drives adoption, and also gives businesses more accurate intelligence for better forecasting and improved results.
Hive is now available for free on both iPhone and Android mobile devices, up to three users. Premium and Enterprise versions are also available. Interested parties can download Hive here (http://doubledutch.me/hive) or visit DoubleDutch's booth # 131 at this year's Dreamforce conference and tradeshow, taking place in San Francisco September 18-21.
"Today's sales professional operates in a mobile and collaborative workplace, but current CRM systems have not adapted quickly enough to this new environment," said Tom Petrocelli, analyst at Enterprise Strategy Group. "Hive delivers an entirely different CRM experience that incorporates the lessons learned from mobile computing and the Social Enterprise. It provides a streamlined approach to CRM that allows sales professionals to capture necessary information and access resources in a way that is more natural to them."
Hive is a lightweight application designed from the ground up with mobility in mind. This "Mobile First" approach is an important distinction, since simply extending desktop applications to a mobile environment can result in very klunky, difficult-to-use interfaces that get little to no adoption. Lightweight game mechanics – points and leaderboards – have also been incorporated to drive adoption and engagement in the app.
Hive is also the first CRM application to use contextual triggers to provide the business with better intelligence and more accurate reporting. Hive uses the following indicators from individual salespeople to facilitate real-time updates from the field.
Location: With geofenced customer sites and Hive's location-based foundation, salespeople can receive a prompt while on-site with a customer, reminding them to log the visit. With a tap of their phone, the visit is logged.
Time: 15 minutes before a meeting, all relevant opportunity information can be delivered to the mobile device for easy viewing.
Behavior:  If a salesperson calls or emails a customer from their mobile device, that information can be logged seamlessly and associated with an opportunity's contact. This replaces the old system of manually entering all sales activity long after it has been completed.
"With Hive, we're not re-inventing CRM, we're making it a pleasure to use on the device you work with most," said Lawrence Coburn, founder and CEO, DoubleDutch. "Our customers have shown they use our product about 50 times more often than other non-mobile products with more complicated, traditional CRM interfaces. That means businesses are going to have greater visibility into their customer pipeline and better results overall, not to mention ROI on their CRM investment."
To get Hive for your team, visit: http://doubledutch.me/hive
---
Pride – Hive – Flock
Founded in 2011, DoubleDutch offers two other mobile collaboration apps – Pride andFlock – and has already amassed more than 100,000 users at top companies, including Cisco, Roche, Lowe's, Masco and NetApp on its mission to be the first mobile enterprise system of record.
About DoubleDutch
DoubleDutch is the leading provider of mobile engagement applications for events, sales teams, and other enterprise workgroups. Used by some of the world's most innovative organizations, these cloud-based, geosocial apps help companies tap into mobile, social functionality to boost productivity, create radical transparency, and maximize engagement. DoubleDutch's product offering includes Hive, a mobile CRM app, Flock, a white-label mobile app for events and conferences, and Pride, a mobile collaboration app for business teams.
Official website | Facebook | @Twyperlink
---
Assets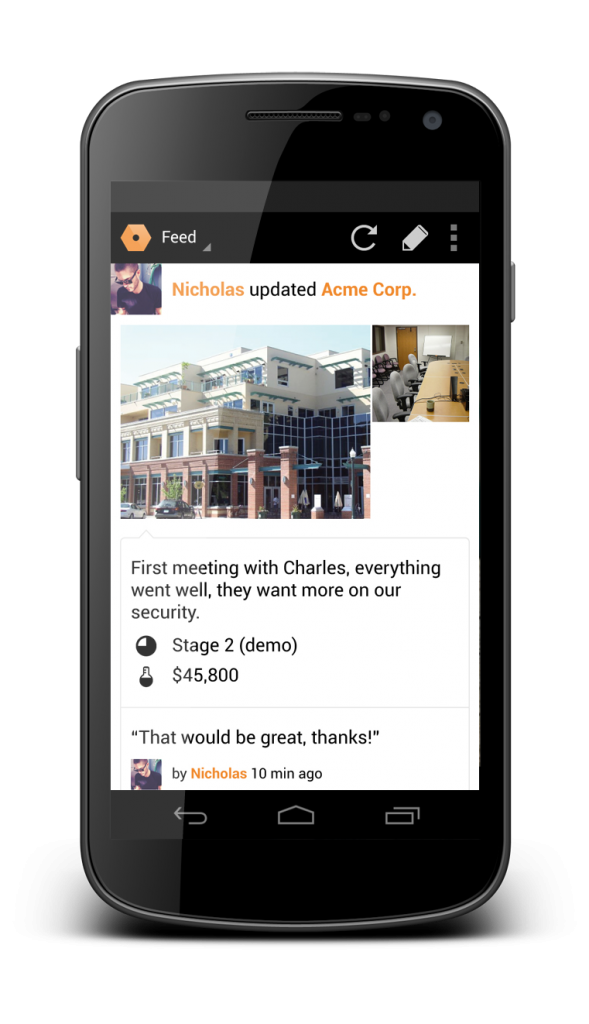 Download the full press kit here. 
Media Contact
Dustin Blackwell, TriplePoint
dblackwell@triplepointpr.com
(415) 955-8500