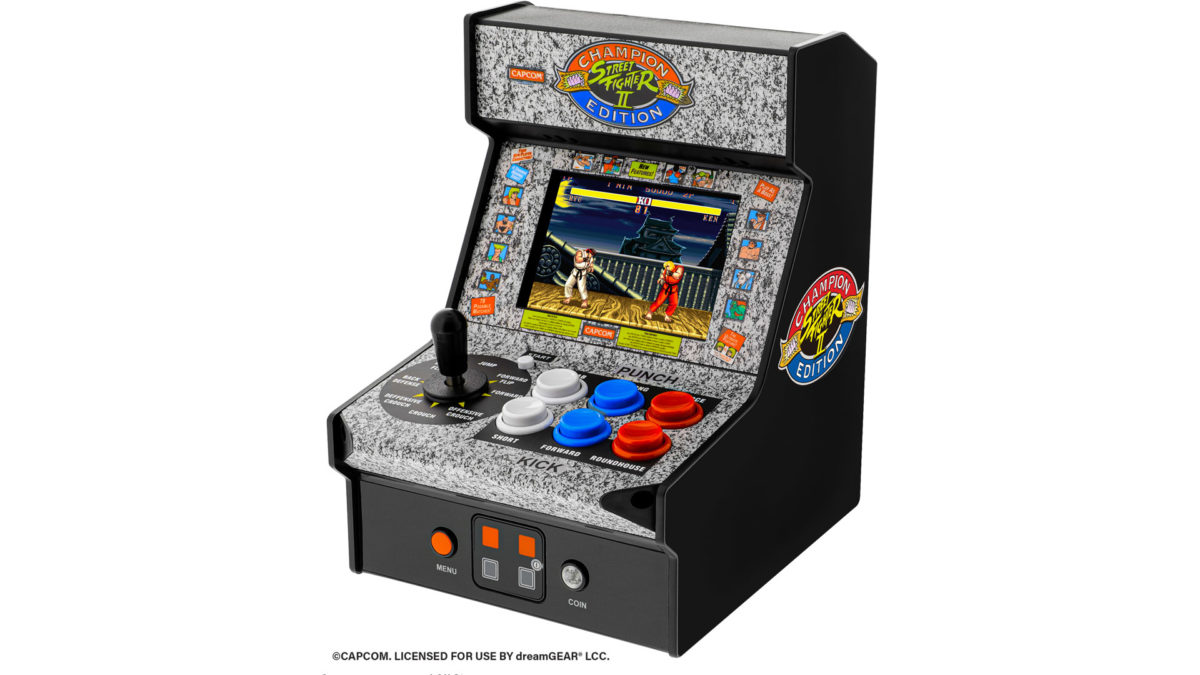 Featuring CO-VS technology for head-to-head play and a six-button layout with mechanical switches, is now available for purchase at Target and select online retailers
LOS ANGELES – April 21, 2021 – My Arcade, the leading manufacturer of retro gaming products, announced today that their Street Fighter™ II: Champion Edition Micro Player is now available for purchase at Target® stores and select online retailers for a suggested retail price of $49.99 USD.
Created in partnership with CAPCOM®, the Street Fighter™ II: Champion Edition Micro Player is a 1/10th scale replica of the original 1992 arcade cabinet, complete with its signature six-button layout and Fight stick which feature mechanical switches. Standing at 7.25" tall, with a 3.5" backlit display, players can duke it out against AI-controlled fighters or compete head-to-head using My Arcade's CO-VS™ technology. Retro gaming enthusiasts and casual fans alike can take a nostalgic trip down memory lane and relive their glory days at the arcade right atop their desk.
Street Fighter™ II: Champion Edition Key Features
Features artwork inspired by the original Street Fighter™ II: Champion Edition arcade cabinet.
CO-VS™ technology allows for head-to-head play by linking two devices. (cable included)
Joystick and action buttons use mechanical switches for added accuracy and classic feel.
Includes the classic arcade version of Street Fighter™ II: Champion Edition.
Back-lit marquee and coin trap.
Front facing speakers and Volume control with 3.5mm headphone jack.
Power with a Micro-USB cable or 4 AA batteries.
"Street Fighter II is a legendary game and one that is special to fans worldwide. It catapulted the fighting game genre into one of the most popular forms of entertainment around the world and introduced new features that have become a staple in modern fighting games," says Amir Navid, SVP Product Development and Creative Director, at My Arcade. "Our Micro Player captures the nostalgia of this gaming icon in a small but fully playable collectable. Ideal for any home and small enough to take with you everywhere. We've added features to let you go head to head with friends, and there's even some cool hidden features that we hope fans will enjoy"
The Street Fighter™ II: Champion Edition Micro Player is the latest addition to My Arcade's line up of high-quality, officially licensed, retro gaming collectibles. Street Fighter™ II: Champion Edition originally released in 1992 and featured 12 distinct characters with revolutionary multi-button combination attacks.
Assets for the Street Fighter™ II: Champion Edition Micro Player can be found in the press kit here.
Keep up with My Arcade's mission in bringing arcade nostalgia straight to your tabletop at myarcadegaming.com, Instagram and Twitter.
About My Arcade
My Arcade is a retro-focused gaming accessories manufacturer that offers an exciting array of portable handhelds, Mini Arcades, Plug N' Play gaming devices, collectibles and unique accessories for classic consoles. My Arcade is dedicated to becoming a go-to source for all things retro. For more information on My Arcade and its wide selection of retro gaming products, check out myarcadegaming.com, follow on Instagram @MyArcadeRetro and Twitter @MyArcadeRetro.
About CAPCOM
Capcom is a leading worldwide developer, publisher and distributor of interactive entertainment for game consoles, PCs, handheld and wireless devices. Founded in 1983, the company has created hundreds of games including ground-breaking franchises Resident Evil®, Street Fighter®, Monster Hunter™, Ace Attorney®, Mega Man® and Devil May Cry. Capcom maintains operations in the U.S., U.K., France, Germany, Tokyo, Taiwan, Hong Kong and Korea, with corporate headquarters located in Osaka, Japan. More information about Capcom and its products can be found at www.capcom.com or www.capcom-unity.com.
# # #
Press Contact
My Arcade
pr@myarcadegaming.com