Will Be Demonstrated at the Intel® Developer Forum 2012

BRUSSELS & SAN FRANCISCO – September 11, 2012 – SoftKinetic, the leading 3D gesture recognition software and solution provider, today announced that its industry-leading technology and middleware for close-range gesture tracking will be included in the Intel® Perceptual Computing Software Development Kit 2013 (SDK) Beta announced and demonstrated at the Intel® Developer Forum 2012.
The close-range finger tracking capabilities created by SoftKinetic will enable developers using the Intel® Perceptual Computing SDK 2013 Beta to create natural and interactive applications.
"SoftKinetic is a pioneer and leader in the field of 3D gesture recognition who is helping us to make our vision of natural, interactive user experiences a reality," said Achin Bhowmik, director of perceptual computing at Intel. "Gesture-based interaction enables humans to interact in a natural, intuitive way with their computer systems."
The Intel SDK will help enable developers to support a wide variety of consumer solutions that utilize gesture recognition, voice recognition and face tracking as close as six inches from the screen. SoftKinetic is also developing games and apps to be included in the Q4 release of the Intel® Perceptual Computing SDK 2013 Beta.
"We are excited to contribute our technology to the Intel® Perceptual Computing Program," said Michel Tombroff, chief executive officer, SoftKinetic. "We believe that natural gesture interaction offers intuitive, engaging and most of all, personalized experiences for consumers."
Intel will be demonstrating these latest technological advances at this year's Intel Developer Forum, September 11–13 at the Moscone Center in San Francisco.
SoftKinetic offers hardware, middleware, and applications that can be built once and deployed on multiple devices. With a highly optimized CPU footprint, SoftKinetic's solutions are perfect for embedded platforms, as well as personal computers, consoles, set-top boxes, and smart TVs. Combined with world-class support, SoftKinetic is the leader in gesture recognition offerings.
For more information please visit www.softkinetic.com.
About SoftKinetic S.A.
SoftKinetic's vision is to give everyone the freedom to control, explore and enjoy the entire digital world through the most natural and intuitive user interfaces and machine interactions. SoftKinetic is the leading provider of gesture-based platforms for the consumer electronics and professional markets. The company offers a complete family of 3D imaging and gesture recognition solutions, including patented 3D CMOS time-of-flight sensors and cameras (DepthSense™ family of products, formerly known as Optrima product family), multi-platform and multi-camera 3D gesture recognition middleware and tools (iisu™ family of products) as well as games and applications from SoftKinetic Studios.
With over 8 years of R&D on both hardware and software, SoftKinetic solutions have already been successfully used in the field of interactive digital entertainment, consumer electronics, health care and other professional markets (such as digital signage and medical systems). SoftKinetic, iisu, DepthSense and The Interface Is You are trade names or registered trademarks of SoftKinetic. For more information on SoftKinetic please visit www.softkinetic.com. For videos of SoftKinetic-related products visit SoftKinetic's YouTube channel: www.youtube.com/SoftKinetic.
Intel, Ultrabook, Core, and the Intel logo are trademarks of Intel Corporation in the US and/or other countries.
Copyright © 2012 Intel Corporation. All rights reserved.
Note: Please note that all dates referenced herein are based on current expectations and are subject to change without notice.
---
Media Contact
Andrew Karl, TriplePoint for SoftKinetic
softkinetic@triplepointpr.com
(415) 955-8500
---
Assets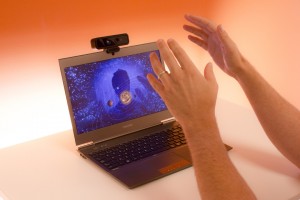 Additional screenshots may be downloaded here.