Rumpus announces launch date, releases teaser trailer for new turn-based RPG
SAN FRANCISCO – Oct. 3, 2012 – Rumpus, a game studio that strives to create fun, beautiful and social mobile games, today announced an evolved take on catching, training, and battling with Mo' Monsters. Available as a free universal download on iPhone, iPod touch and iPad devices on October 10, mobile monster enthusiasts must collect, develop and tactfully battle a cast of colorful characters in turn-based combat and timed events. While taking players to a deeper level of battling in real-time, the game will soon offer many social media features to allow fun amongst friends. Watch the trailer on YouTube to see the game in action!
Enter the mythical land of Noru, populated by a diverse array of creatures, called Light Monsters, ready to join forces with players. When a massive earthquake shakes their humble home, Dark Monsters emerge threatening the tranquil land. To save Noru, players must not only battle in turn-based combat but also execute various timed events correctly to gain buffs for their fighters. Players must also travel through multiple world maps to complete missions, save towns, and capture and tame the creatures of the Dark to fight alongside them. The experience is complete with an original soundtrack that salutes the music of classic RPGs.
Features
Take your monster collection deeper into battle, complete with special moves, buffs and elemental-based strengths and weaknesses based on real-time tactical execution.
A starting lineup of 25 monsters to develop with mo' monsters to come in future updates!
Five types—Fire, Water, Earth, Sky, and Metal—with strengths and weaknesses against each other, and two alignments—Dark and Light—add an extra layer of strategy to battle.
Timed events within turn-based battles that, if played right, help monsters unleash more devastating attacks!
Multiple world maps with multiple locales are each home to mo' monsters to battle against and catch!
Social features such as Facebook check-ins allow trainers to show off monster collections to friends, with mo' social features coming soon in future updates!
Coins collected from battle as well as gem and gold (which can be converted into coins) purchased in-app to buy power-up items and…mo' monsters!
Mo' Monsters starts the battle as a free universal app on the App Store on October 10, 2012.
To find out more about Mo' Monsters:
About Rumpus
Based in the Potrero Hill district of San Francisco, Rumpus strives to create fun, beautiful and social mobile games to the ever-changing mobile world.  With a team comprising of media, tech and entertainment veterans backed by an impressive group of successful entrepreneurs and investors, Rumpus is committed to building entertainment that fits into today's mobile lifestyle.
Official Website | Facebook | @Rumpus
---
Media Contact
Erin Fan, TriplePoint
efan@triplepointpr.com
(415) 955-8500
Assets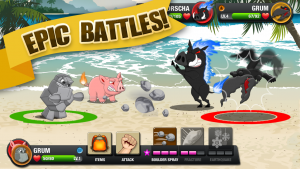 Download the press kit
Download the gameplay trailer