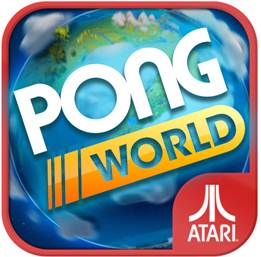 $50,000 Grand Prize Winner of Pong Indie Developer Challenge Launches on Mobile
LOS ANGELES – Nov. 29, 2012 – Today Atari, one of the world's most recognized publishers and producers of interactive entertainment, announced the release of Pong World™ for iPhone, iPad and iPod touch. The $50,000 grand prize winner of the Pong® Indie Developer Challenge developed by zGames, Pong World is a reimagined take on the pop culture classic and the first-ever official new PONG game for smartphones and tablet devices. In the game, players choose one of many Pong paddles and battle against opponents on various themed boards, experiencing the game in either classic mode or all-new gameplay modes including Blitz and Hotseat. Pong World is available now as a free download on the App Store at http://itunes.apple.com/app/id553946340.
In commemoration of Atari and PONG's 40th anniversary, one of the first video games to garner mainstream cultural appeal, the Pong Indie Developer Challenge, which concluded in summer 2012, called on developers to create their own vision of the legendary game for mobile devices. First place winner zGames was awarded $50,000 and top honors as the first official PONG title to be launched by Atari on iOS. Details on the remaining finalists will be revealed at a later date.
"We were impressed with the creativity and original vision of indie developers in the PONG contest, and the grand prize winner receives full honors as the marquee release for the title's 40 year anniversary," said Giancarlo Mori, EVP Product Development, Atari. "Pong World is an excellent tribute to one of our company's legacy titles, giving players a fresh new look and the classic gameplay they know and love."
Pong World features include:
Wield five different paddles to add your personal touch, with more to unlock, like Shaggy, Chompers and Sir Bouncelot
Pack your paddle around the world in four levels including the Jungle, Boulevard, Cathedral, and the Moon
Multiple gameplay modes Classic, Blitz and Hotseat offer a whole new experience to classic PONG gameplay
Slice through progressing difficulty levels as players hone their touchscreen talents
Unlock in-game achievements and compare high scores with friends on the leaderboards
For more information about Pong World, visit www.atari.com or visit Facebook at www.facebook.com/atari.
For more information about Atari games and the latest news:
---
Assets
– Download the press kit for Pong World.
– Watch the PONG 40th annviersary video.
---
About Atari, SA
Atari (www.atari.com) is a multi-platform, global interactive entertainment and licensing company.   The original innovator of video gaming, founded in 1972, Atari owns and/or manages a portfolio of more than 200 games and franchises, including world renowned brands like Asteroids®, Centipede®, Missile Command®, Pong®, Test Drive®, Backyard Sports®, and Rollercoaster Tycoon®.  Atari capitalizes on these powerful properties by delivering compelling games online (i.e. browser, Facebook® and digital download), on smartphones and tablets and other connected devices. The Company also develops and distributes interactive entertainment for video game consoles from Microsoft, Nintendo and Sony.  As a licensor, Atari extends its brand and franchises into other media, merchandising and publishing categories.
Atari has offices in Los Angeles, San Francisco, New York, Paris, and Lyon.
© 2012 Atari Interactive, Inc. All rights reserved.
Atari word mark and logo are trademarks owned by Atari Interactive, Inc.
Official website | Facebook | @Atari
---
Media Contact
TriplePoint for Atari
ataripr@triplepointpr.com