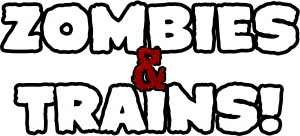 Arcade Defense Game Finally Proves Once and for All that Trains > Zombies, Now Available for iOS
NORWAY – Feb. 7, 2013 – Norwegian indie mobile developer Dragonhead Games today announced that their latest iOS title is now available on the App Store! Zombies & Trains is an action-packed arcade defense game that finally provides an answer to the age-old question: "who would win in a fight between an armored train and a zombie horde?" Players can blast through the undead with armored trains and add carnage with powerups in four different game modes. Download your ticket to zombie-smashing mayhem for $0.99 for iPhone or $1.99 for iPad today!
Zombies & Trains features:
Choo-Choose Your Challenge – Protect the brain trophy in Arcade, pulverize zombies in Wave mode, see if you can survive a minute of Crossing, or initiate a bloodbath in Slaughter mode!
Create More Carnage – Set zombies ablaze with fire rails, slow them to a snail pace, or nuke the arena with a Mass Death power up.
Pick-up and Play Pulverizing – Quickly tap on railroads to unleash the crazy trains and crush any zombies in their path. Easy to learn, difficult to master, Zombies & Trains hones in strategy for survival.
Achievements, Leaderboards, and More – Unlock achievements from racking combos and reach for the top of the leaderboard with the most casualties.
For more info about Zombies & Trains, visit the official website at http://www.zombiesandtrains.com/.
About Dragonhead Games
Founded by two brothers from Norway, Dragonhead Games is an indie developer that hopes to surprise players with awesome games… especially ones about zombies.
---
Media Contact
Rahat Rashid, TriplePoint for Dragonhead Games
rrashid@triplepointpr.com
(212) 730-9744