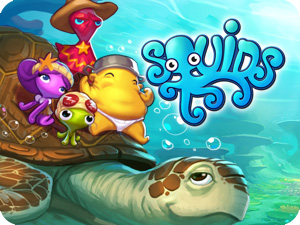 Frima Studio and Moonscoop Announce Co-Production Partnership with The Game Bakers
New York City – February 8, 2013 – Today Frima Studio and Moonscoop announce a new partnership for the production of an animated children's TV series based on Squids, the hit mobile game from The Game Bakers. The show will follow the exploits of four springy octopus adventurers as they travel between themed underwater kingdoms to hold the evil Baron and his infection at bay!
"Ambitious projects like Squids allow us to showcase the talent of Frima's artists and animators," said Steve Couture, CEO of Frima Studio. "As an experienced mobile game developer ourselves, we're well positioned to create a show worthy of this popular title with the world-renowned team at Moonscoop."
Released in October 2011 for iOS devices, Squids is a turn-based action RPG with over 1.5m players across iOS and Android. Squids and its sequel Squids Wild West feature a cast of memorable sea creatures and have been praised by gaming critics for their innovative gameplay and charming visual style.
"With Squids among the first titles created for mobile gaming and now heading towards television and other screens, we're pleased to offer a cutting edge transmedia experience for our fans," said Audrey Leprince of The Game Bakers. "We're confident that the Squids brand will shine on TV thanks to the highly capable teams at Frima and Moonscoop."
"With a wide range of expertise among the partners, the Squids' content has the potential to reach consumers on screens of all sizes," said Christophe Di Sabatino, CEO of Moonscoop. "We are eager to develop one of the first brands linking original content from mobile to television."
About Frima Studio
Frima is Canada's largest independently owned game developer. Since 2003, the company has been developing world-class media including virtual worlds, social and web based games, console titles and mobile apps. Their services also include the animation and special effects expertise of Frima FX as well as the concept art development of Volta. In addition to working with world-renowned clients such as Electronic Arts, Activision, Warner Brothers and Ubisoft, Frima develops successful, original IP titles such as Nun Attack, A Space Shooter for 2 Bucks! and Zombie Tycoon. With over 350 artists and programmers in-house, Frima produces high-caliber products that are as remarkably outstanding artistically as they are technically. For more information, please visit www.frimastudio.com.
About Moonscoop
Moonscoop is a leading worldwide kids production, distribution, brand management and entertainment company, focused on producing original projects and building brands with international appeal and longevity. With around four new series per year, the Moonscoop group gathers the best actors in the animation industry: Moonscoop (Paris) and Moonscoop LLC (Los Angeles), two world class animation studios: Antefilms Studio (France) and LuxAnimation (Luxembourg).
Moonscoop Distribution is also heavily invested in launching internationally branded non-linear (VOD, SVOD, FVOD, EST) kids offerings on New Media platforms (IPTV, Web, Mobile, Connected TV).
Its rights library combines many of the most successful programs and best-loved animated creations in the global television market and includes over 3000 half-hours of programming airing in more than 160 territories worldwide. Key brands include "Code Lyoko", "Chloe's Closet", "Geronimo Stilton", "Hero 108", "Tara Duncan" and "Casper's Scare School" which are licensed in markets around the world. Moonscoop's production slate currently includes new series as "Code Lyoko Evolution", "Sabrina The Teenage Witch", "Chloe's Closet, Season II", "Jungle Book, Season II" and "Ava Riko Teo, Season II".
Media Contact:
Zach Fuller
TriplePoint for Frima Studio
zfuller@triplepointpr.com