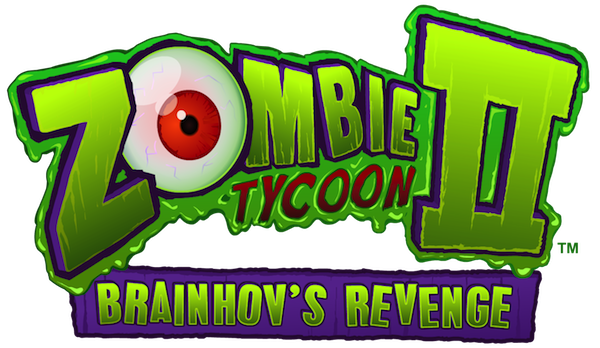 Irreverent Zombie RTS Heads to PAX East then PSN
QUEBEC CITY – March 06, 2013 – Today Frima Studio announces that the release date of Zombie Tycoon 2: Brainhov's Revenge for the PS3 and PS Vita will be April 30th, 2013 in the US, May 1st in Europe and Asia. The sequel to 2009's hit PS Minis title Zombie Tycoon, Brainhov's Revenge expands on the hilarious RTS gameplay of the original with new factions of zombies, expansive, detailed maps and Cross Play functionality to link players on consoles and handhelds. 
The future of the zombie race is at stake as rogue apprentice Orville Tycoon and his heavy-duty zombies face off against his vengeful former mentor Professor Brainhov and his new breed of frantic, agile undead. Choose a side and unleash your hordes to decide once and for all what type of zombie will inherit the scorched earth.
Players can look forward to:
Well-balanced RTS gameplay with four special monster (hero) units to keep things fresh.
Cross Buy enabled on the PS3 and Vita. Buy it once, play it anywhere!
A single player campaign featuring both zombie factions.
Strategic, 1v1 online deathmatches between PS3 and Vita players with Cross Play technology.
The return of favorite characters such as Professor Tycoon, Dr. Brainhov and, of course, hordes of silly zombies.
Brain-boggling graphics powered by Unreal Engine 3.
Zombie Tycoon 2 will be debuting this year at PAX East, stop by booth #1086 and challenge your friends to a fast-paced Cross Play duel!
Follow Zombie Tycoon 2 on Facebook for the latest updates from Frima.
In honor of the sequel launch, the original Zombie Tycoon will be available for the special price of $1.99.
Assets
Check out the trailer and download the press kit.
About Frima Studio
Frima is Canada's largest independently owned game developer. Since 2003, the company has been developing world-class media including virtual worlds, social and web based games, console titles and mobile apps. Their services also include the animation and special effects expertise of Frima FX as well as the concept art development of Volta. In addition to working with world-renowned clients such as Electronic Arts, Activision, Warner Brothers and Ubisoft, Frima develops successful, original IP titles such as Nun Attack, Zombie Tycoon, A Space Shooter for 2 Bucks! and Lights, Camera, Party!. With over 350 artists and programmers in-house, Frima produces high-caliber products that are as remarkably outstanding artistically as they are technically.
Official Website|  Facebook | @FrimaStudio
---
Media Contact
Zach Fuller, TriplePoint
zfuller@triplepointpr.com
646.462.3166