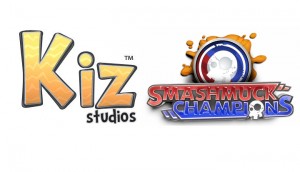 Kiz Studio's Multiplayer Online Battle Arena Entering Steam Closed Beta March 22, PAX East Preview Video Released
ATLANTA – March 6, 2013 – Ready to GET SMASHED? Indie developer Kiz Studios announces today that its madcap multiplayer online battle arena (MOBA), SmashMuck Champions, will be entering a Steam closed beta on March 22, 2013, kicking off the studio's participation at PAX East. Throughout the show, PAX attendees can stop by Kiz's booth (#508) or Freeplay Sessions in the PCLAN area to get hands-on with the special SmashMuck PAX East demo, meet with the game's creators and receive beta keys and free swag.
To learn all about what Kiz is up to at PAX, which includes the "No, The Monkey Should Have a Chainsaw:  East Coast Version" panel, check out the studio's PAX East video at http://www.youtube.com/watch?v=Npj0aamsbeY&feature=youtu.be.
SmashMuck Champions combines action, skill and strategy with fast battles and intense action in bone-crushing combat.  During the show, attendees can challenge each other for PAX dominance over five different arenas and game modes, as well as test out the brand new crafting system. Using the crafting system, players can build new weapons and character skins for fan favorites like Brutus and his massive sword, Zert and his dual arm cannons and the champ created by fans at PAX Prime: Dr. Jennifer, the transforming robot shark with…lasers!
Finally, attendees have a chance to be a part of indie game design during the "No, The Monkey Should Have a Chainsaw:  East Coast Version" panel.  That's right, Friday, March 22nd at 8:30pm, the team will be giving gamers the chance to design the next official SmashMuck champ during a live session in the Arachnid Theatre.  Remember, it's not a good con until somebody GETS SMASHED!
About Kiz Studios
Kiz Studios is an independent gaming and entertainment studio with offices in Atlanta, GA and Charleston SC. Founded in 2007, Kiz Studios develops innovative games and digital media content for a global audience. To learn more about our company, please visit www.kizstudios.com.  SmashMuck Champions rocks the emerging MOBA genre with its fast-paced action and community driven indie development.  To learn more about SmashMuck and start smashing, visit www.smashmuck.com.
---
Media Contact
Rahat Rashid, TriplePoint for Kiz Studios
rrashid@triplepointpr.com
(212) 730-9744