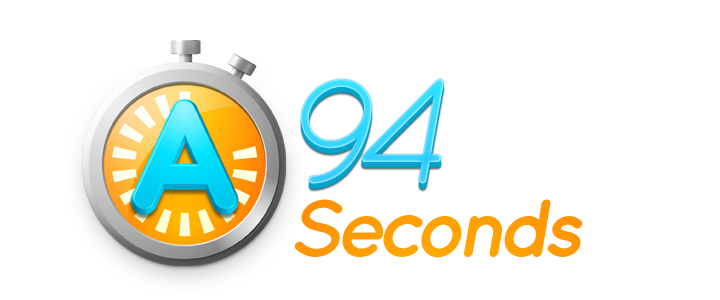 Scimob releases new mode and categories to mobile word game
Montpellier, France – July 10, 2013 – Scimob today announced the multiplayer update to their critically acclaimed word-guessing game 94 Seconds. The game now challenges players to see who can guess the most words with just one category and one letter in just 94 seconds! Players can face off against friends or one of the 12 million other users who have joined the game since its February 2013 debut. 94 Seconds, including the new multiplayer mode, is free on the App Store and Google Play.
See the update in action in their newest trailer on YouTube.
The 94 Seconds update also boasts new word category packs including Fashion, Sports, and General Knowledge among others, which can be purchased with in-game currency, Chronos. Relax Mode, which has no time limit, has also been revamped. An endless mode, it now tasks players with advancing through as many levels as possible by guessing words of increasing difficulty based on player stats. Through crowd sourcing, words with fewer players guessing them correctly appear at higher levels.
94 Seconds features:
Guess as many words as possible within 94 seconds; one category and one letter are all you get!
Challenge friends via Facebook, Twitter, Google+, e-mail, and text… or face off against one of 12 million random opponents.
Climb the ranks of Relax Mode with player-tailored difficulty… and no time limit!
Use Jokers to reveal clues or suggest possible answers.
Obtain new word category packs with Chronos, which can be purchased in-game or earned by playing.
Earn achievements on Game Center and boast high scores on Facebook, Twitter, Google+, e-mail, or text.
Download 94 Seconds for free right now on the App Store and Google Play. Players can also play the game on Facebook.
To learn more about 94 Seconds, please visit:
---
About Scimob
Scimob is a casual gaming company based in Montpellier, France. Since being founded in 2008, Scimob has developed and published apps for all major mobile operating systems, including iOS, Android, Windows Phone, and BlackBerry. They have since created chart topping and critically acclaimed apps such as 94 Seconds.
Official Website | @Scimob
Media Contact
Erin Fan, TriplePoint
efan@triplepointpr.com
(415) 955-8500
Assets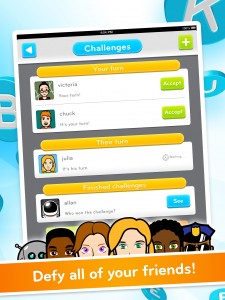 Download the press kit
Download the trailer
Watch the trailer on YouTube