Former BioWare Developers' First Android Title Debuts with Controls Optimized for the Green Throttle Atlas Controller
SANTA CLARA, CA – July 24, 2013 – Hungry Moose Games, a new Edmonton-based studio established by a small team of veterans from BioWare, today announced the launch of their first mobile game, 9 Lives: Casey and Sphynx. A new and original game that blends puzzle solving with platform-like play and original story telling, 9 Lives is optimized for use with the Green Throttle Atlas Controller, bringing an immersive mobile and big-screen experience to Android gamers everywhere. The game allows 1-2 people to play at any given point, letting friends navigate the misfit duo through a maze of action-packed puzzles where death is sometimes the only way to progress! 9 Lives: Casey and Sphynx is available now in the Green Throttle Arena for $2.99, as well as through Google Play and the Amazon Appstore.
Download 9 Lives: Casey and Sphynx at:
9 Lives: Casey and Sphynx follows the story of Casey, a bumbling museum security guard, and Sphynx, a sassy temple cat guardian. Casey inadvertently falls under the curse of the ancient Egyptian cat goddess Bastet after he breaks a golden museum idol which Sphynx was tasked to protect. Sphynx loses her nine feline lives to Casey, which he uses to progress through hazardous traps and obstacles with Sphynx helping him along the way. The duo must work together to solve mysterious puzzles, find the broken idol pieces throughout the museum, and restore the relic of Bastet before their nine lives run out and Casey is turned into a cat forever.
Key Features of 9 Lives: Casey and Sphynx include:
Big Screen Play – Use the Green Throttle Arena to connect your Android device to your HDTV, providing a console-like experience through your mobile phone or tablet when paired with the Atlas controller
Unique Puzzle Mechanics – Old-school gaming puzzles receive a new and unique twist, providing a challenge for even the most hardcore puzzle pros
Immersive Storytelling – Taking a page from the team's experience telling emotional stories at BioWare, 9 Lives: Casey and Sphynx offers players an immersive adventure with lighthearted, unforgettable characters.
Co-op Mode – Play with friends as you independently control Casey and Sphynx, working together or even griefing one another
Controller Optimization – 9 Lives has been optimized for use with the Green Throttle Atlas Controller, giving players the best gameplay possible
Multiple Museum Levels – Progress with Casey and the Sphynx over four unique levels, starting in the local museum and progressing down into the underground sewers
Upgradeable Characters – Collect Jewels to upgrade Casey and Sphynx's abilities, like crowbars and flares for Casey to access new areas or giving Sphynx the ability to cling to ceilings and walls
For the best possible 9 Lives gaming experience, fans can purchase the Green Throttle Atlas controller from store.greenthrottle.com or on Amazon.com and enjoy mobile-to-TV multiplayer action using the Android device that they already own. Compatible devices include the Kindle Fire HD and many of the latest Android smartphones and tablets on the market today.
Assets
View the launch trailer for 9 Lives: Casey and Sphynx here: http://www.youtube.com/watch?v=CioT06hhPFI
Download the Press Kit (60mb) here: http://triplepointpr.com/dl/GreenThrottleGames/9Lives/Press%20Kit.rar
For more information about Green Throttle Games and the latest news: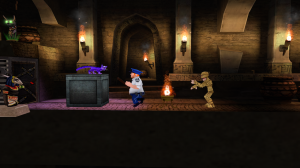 About Green Throttle Games
Green Throttle Games is transforming the video game market and redefining the way consumers experience their favorite titles. By leveraging the performance and ubiquity of Android-powered devices with the company's Atlas Bluetooth game controllers and Arena game discovery app, Green Throttle Games has unlocked the potential of mobile gaming on big-screen televisions, connecting people and platforms in a way that is simple, social and fun.
Based in Silicon Valley, the company was founded by game industry visionaries Charles Huang, Matt Crowley and Karl Townsend, and is backed by $6M in Series A funding led by Trinity Ventures with participation from DCM. For more information, visit www.greenthrottle.com.
About Hungry Moose Games
Hungry Moose Games is a new Edmonton, Canada based studio put together by ex BioWare vets looking to create fun games utilizing the latest development tools that play well on the latest devices. Combining touch controls, mobile devices with blue tooth controllers and the TV, we believe that our games will be ground breaking in the use of multiple inputs within the same game and we are looking to partner with as many external parties as possible to make this dream a reality. For more information, visit www.hungrymoosegames.com
###
Media Contact
TriplePoint PR for Green Throttle Games
Phillip Klugman
Pklugman@triplepointpr.com
415-955-8500
Hungry Moose Games Inc.
Ric Williams
ric@hungrymoosegames.com
780-935-0966