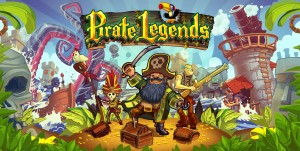 Defend against the scurvy enemies of the seven seas in Superhippo's Tower Defense game
MONTREAL and DUBLIN – August 1, 2013 – Take a whiff of the salty sea air and raise the sails; Superhippo announces that Pirate Legends is available today exclusively on iOS devices for $3.99. Become a scourge of the seven seas as you sail through a tropical paradise and defend your ship from the British navy, undead hordes, and cannibal tribes!
Download Pirate Legends on your iOS device today at: https://itunes.apple.com/us/app/pirate-legends-td/id626884809?mt=8
Engage in 12 battles that will test your skills in pirate wit and strategy to see who is the scurviest of them all! Twenty unique towers are yours to command. Blow ships out of water and "voodoo" enemies to smithereens. Use special heroes to support you from the skies, or unleash the mighty Kraken to consume your helpless adversaries whole!
In Pirate Legends, players will discover:
7 varied lush environments complete with NPC units
12 epic battles across the seas against 28 different enemies and 4 terrifying bosses
20 unique towers, with 16 powerful tower specials
Awesome soundtrack with a dozen unique tracks and character voiceovers
4 seaworthy heroes to command and five magical relic powers
And so much more!
What are you waiting for? Set sail for your pirate adventure today, exclusively on iOS devices. Download here for $3.99: https://itunes.apple.com/us/app/pirate-legends-td/id626884809?mt=8
Assets
About Superhippo
Superhippo is a young game company based in Ireland focused on creating outstanding games for mobile platforms. They build entertainment for the masses, bringing users across the world together with their love for quality video games. They are a young dynamic team with more than 40 of the most passionate developers, designers, marketers and artists on board. The future is mobile, and they intend to lead the way.
---
Media Contact
Rahat Rashid, TriplePoint for Superhippo
rrashid@triplepointpr.com