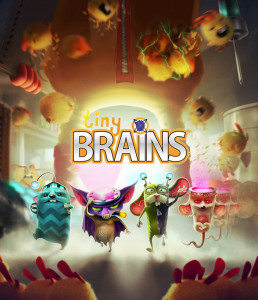 Award-Winning Indie Co-op Action Puzzler Coming November 15 for PlayStation®4 and PlayStation®3 Computer Entertainment Systems and PC
WOODLAND HILLS, Calif. and MONTREAL — Sept. 24, 2013 — Today Spearhead Games, an independent game studio, and 505 Games, a global video game publisher, announced a partnership to digitally release co-op puzzler Tiny Brains on the PlayStation®4 system timed to the platform's North American launch this November 15. In addition to Sony's next generation console, the four-person action puzzle game will release simultaneously on PlayStation® Network and Windows PC via digital download.
"Our partnership with Spearhead reflects the cornerstone of 505's support of indie studios to let developers run with their vision while we help them bring the game to market," said Ian Howe, president, 505 Games. "We know we have something special with Tiny Brains and the incredible talent at Spearhead, and we are excited to be part of the project."
Tiny Brains follows the adventures of four super-powered lab animals as they attempt to escape a mad scientist's nefarious experiments. Thrown into a gauntlet of physics-based puzzles, the four "Tiny Brains" must figure out how to combine their unique, individual powers to make it through a trick-ridden maze. Each puzzle features multiple solutions depending on how players choose to work together. With local and online drop-in/drop-out multiplayer, a full co-op campaign and additional Challenge and competitive modes, Tiny Brains is a truly social, next generation multiplayer title.
"Creating Tiny Brains has been our passion for the past year," said Simon Darveau, Spearhead Games co-founder and previous design director on Assassin's Creed III. "My co-founders and I left our jobs to create this type of game, something that big studios would never take a risk on. Partnering with a team like 505, who believes in indies, means that we can stay focused on bringing our vision to life without obstacles or distractions."
Medium to large-sized brains can keep up on Tiny Brains news by visiting www.505games.com and www.spearheadgames.ca or by following @TinyBrainsGame on Twitter and Spearhead Games on Facebook.
Tiny Brains has been rated Everyone 10+ (E10+) by the ESRB.
About 505 Games
505 Games is a global video game publisher focused on offering a broad selection of titles for players of all ages and levels.  The company publishes games on leading console and handheld platforms as well as for mobile devices and social networks.  Product highlights include PAYDAY 2, Brothers – A Tale of Two Sons, Sniper Elite V2, Terraria, TAKEDOWN: Red Sabre and Naughty Bear as well as the upcoming How to Survive, Rekoil and Tiny Brains.
505 Games has offices in Los Angeles, Milton Keynes, UK, Lyon, Munich, Milan and Madrid and a network of distribution partners within the Nordic territories and Australia.  For more information on 505 Games and its products please visit
About Spearhead Games
Spearhead Games is a Montreal-based independent game studio founded by former AAA developers. Co-founders Simon Darveau, design director on Assassin's Creed® III,Malik Boukhira, game designer on Assassin's Creed 2 and Dead Space™ 3, and Atul Mehra, development director on the Army of TWO™ franchise, established Spearhead to create an innovative, fast-paced game development environment. The studio's first title, cooperative action puzzler Tiny Brains, is coming to consoles and PC in November 2013.
Official Website | Twitter | Facebook
Assets
Download the latest assets for Tiny Brains including new concept art here.
View the trailer on YouTube here.
Check out the team on the official PAX Twitch stream here.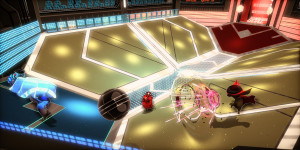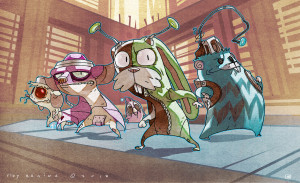 Media Contacts
Diana Smith
TriplePoint for Spearhead Games
dsmith@triplepointpr.com
415-955-8500
Lisa Fields, 505 Games
Public Relations Director, North America
lfields@505games.com
818-540-3013