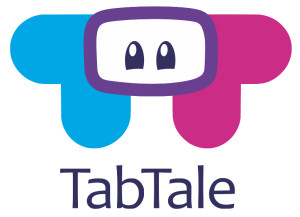 Global Leader in Mobile Games, Education Apps, and Interactive Books for Kids Expands Distribution to Windows PCs, Tablets and Phones
TEL AVIV, Israel – April 4, 2014 – TabTale, a leading developer of interactive games and children's entertainment for mobile devices, today announced during the Microsoft Build Developer Conference that it will support the Microsoft Windows 8 platform for PC's, tablets and phones. This expansion on desktop and mobile devices marks an important milestone for the children's app developer as it moves to further solidify its leadership position after recently surpassing 300 million downloads. TabTale's first offering on Windows 8 and Windows Phone 8 will be one of its most popular apps, Paint Sparkles, which has already been downloaded more than 10 million times on iOS and Android. TabTale's apps are now available worldwide on the Windows and Windows Phone Stores, with more releases scheduled in the coming months.
"Our unique cross platform publishing technology has helped place us alongside industry leaders like Electronic Arts, Rovio, and Disney," said Sagi Schliesser, co-founder and CEO of TabTale. "Working with the Windows 8 platform not only supports the organic growth of TabTale's ever growing library of top-rated apps, but supporting Microsoft will also allow us to reach a wide audience of people who want access to rich, interactive content on their Windows 8 devices."
The new apps will offer the same high quality user experience as TabTale's previous offerings, as consistency is a key component of the success TabTale has enjoyed as one of the top publishers in the Apple App Store, Google Play, and Amazon Appstore.
"Windows is backed by a rich app ecosystem that is offering a variety of quality apps and games," said Todd Brix, general manager, Windows Apps and Store, Microsoft Corp. "With popular interactive game developer TabTale investing in the platform, it is evident that there is no better time for game developers and gamers alike to choose Windows."
The new Windows 8 and Windows Phone 8 offerings will be available on all form factors, including PCs, tablets and smartphone devices, and will include a number of apps from the company's current catalogue, as well as all forthcoming titles yet to be announced.
To learn more about TabTale:
–       Visit the website: www.tabtale.com
–       Like on Facebook: www.facebook.com/TabTale
–       Follow on Twitter: www.twitter.com/TabTale
–       Subscribe on YouTube: www.youtube.com/iTabtale
Assets 
Learn more about TabTale's popular franchises now on Windows here: http://triplepointpr.com/dl/tabtale/MicrosoftAssets/TabTaleMicrosoftAssets.zip
About TabTale
TabTale is a developer and publisher of interactive games and educational apps for smartphones and tablets that kids and parents love. Currently the eighth largest mobile app publisher in the world with over 300 million downloads and 25 million monthly active users, Tabtale's key franchises include Baby, Paint Sparkles, and Doctor X. The company was founded in 2010 and is headquartered in Tel Aviv, Israel with 130 employees across its offices in The United States of America, Macedonia, Ukraine, and Bulgaria. TabTale has raised a total of $13.5M in venture capital funding led by Qualcomm Ventures and Magma Venture Partners. The funding is being used to fuel app development, expand to new markets of older audiences, and solidify TabTale's leadership position in the children's mobile entertainment and education categories through M&A. To learn more about TabTale, visit www.tabtale.com.
---
Media Contact 
TriplePoint on behalf of TabTale
tabtale@triplepointpr.com
+1 (212) 730-9744