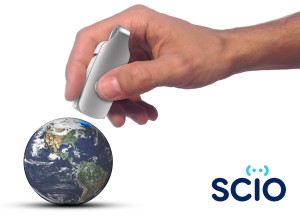 Consumer Physics Attracts Over $400,000 for the Production of Handheld Spectrometer that Defines Food, Plants, and Pills by their Molecular Makeup
MENLO PARK, Calif. and TEL AVIV, Israel – May 1, 2014 – Consumer Physics has today announced that it surpassed its $200,000 funding goal in its first 20 hours on Kickstarter. SCiO – a portable device that scans the molecular makeup of physical materials – launched earlier this week on the popular crowdfunding platform plans to ship products to its supporters this fall. With 45 days remaining until the end of its Kickstarter campaign, the product is on track to greatly exceed its initial funding target.
Consumer Physics has also announced an unusual stretch goal – 4000 backers. If the SCiO Kickstarter campaign hits the new goal, Consumer Physics will offer the device in an additional color, which will be determined by an online poll of backers. "We believe that what the SCiO community needs most is to grow. The more people who use SCiO, the more knowledge we can share with the rest of the community. Knowledge is power and that power should be shared," said Dror Sharon, CEO of Consumer Physics.
In the future, SCiO will be able to measure chemical properties of cosmetics, clothes, flora, soil, jewels, precious stones, leather, rubber, oil, plastics, pets and even bodily fluids and each and every user who backed and used SCiO will participate in making it a better database for the entire SCiO user community.
SCiO is a pocket-sized spectrometer that pairs with a smartphone via Bluetooth LE and provides instant information about the chemical makeup of physical objects. A miniaturized version of a near-infrared spectrometer, SCiO analyzes an object's chemical composition by measuring how its molecules interact with light. This information is then sent to the cloud for real-time analysis, and algorithms deliver real-time results via a mobile application.
SCiO's current applications allow users to scan food for nutritional value (calories, fat, carbs and protein) and produce quality (freshness and ripeness), pharmaceuticals for identification and authentication purposes, and plants for the measurement of hydration levels. The Kickstarter campaign with allow third party developers to create a broad range of new applications for SCiO
For more information on Consumer Physics and SCiO, please visit the SCiO crowdfunding campaign on Kickstarter.

About Consumer Physics
Consumer Physics is a technology startup whose mission is to empower people with a better understanding of our physical world. The company's first product, SCiO, is an affordable and sleek molecular sensor that launched on Kickstarter in April 2014.
Consumer Physics was founded by Dror Sharon and Damian Goldring in 2011. It is backed by Khosla Ventures, a leading Silicon Valley venture capital firm that offers venture assistance, strategic advice and capital to entrepreneurs (http://www.khoslaventures.com). Early investors include Dov Moran, founder of Comigo, the future TV company (http://www.comigo.com) and the inventor of the USB flash-drive, and other leading angel investors. It has also raised money through OurCrowd, a hybrid VC-equity crowdfunding platform for accredited investors only who wish to invest in global early stage companies (https://www.ourcrowd.com).
The company's Israel-based R&D team is comprised of physicists, chemists, electrical engineers, and computer and data scientists, most of whom have advanced science degrees and several with PhDs. Consumer Physics team members are affiliated with top schools and research institutions such as MIT, Caltech, Harvard, Stanford, Royal College of Art, Weizmann Institute, The Technion – Israel Institute of Technology, and Tel-Aviv University.
Visit the company at http://www.consumerphysics.com/mySCiO
###
Media Contact
Andrew Karl
TriplePoint PR, for Consumer Physics
consumerphysics@triplepointpr.com
415.955.8500