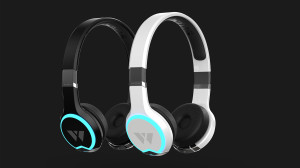 Partnering with PCH International, two former Berkeley engineering students aim to reinvent social listening with sleek wireless headphones
BERKELEY, Calif. – May 6, 2014 – Wearhaus, a startup aiming to change the way people share music, today launched their official crowdfunding campaign for the Wearhaus Arc, new wireless headphones that will bring back the intimacy and fun of listening to music together. Inspired by the recent music festival "silent disco" trend, Arc uses Bluetooth technology to seamlessly sync multiple users' headphones. Whether sharing a favorite song with a friend or broadcasting a playlist to fellow commuters, the sleekly designed headphones let users share music how they want. With a $75,000 campaign goal, the campaign kicks off today at http://campaign.wearhaus.com/.
Wearhaus was founded by Nelson Zhang and Richie Zeng, two ex-Berkeley engineering students for whom building quality hardware is the first priority. The Arc headphones provide superior sound quality and a design that is both minimalist and customizable. Each earcup features an iconic, ring-shaped backlight that can be set to any color via the mobile app; when other people tune in to your music, their lights pulse with the same color – a visual cue to tell who's listening with you. A capacitive touch panel allows you to easily control volume, playback, and sharing with simple gestures.
"Music has always been a medium for social interaction," said CEO Richie Zeng. "Our goal is to help people connect with others through the music they love in an innovative new way."
Users can control their listening experience using the Wearhaus app, available for iOS or Android. The app's main screen will display the other listeners around you and their current music. From here, tapping on someone's song will sync your Arcs with theirs, as well as anyone else already tuned in with them. The audio is shared across multiple headphones using a proprietary Bluetooth mesh network. A variety of privacy settings are also available: the listener can choose to broadcast to any nearby Arc user, friends only, or to turn off music sharing entirely.
"Originally, headphones were just tools for channeling audio," said co-founder and Thiel Fellow Nelson Zhang. "They're now becoming more and more about good design and self-expression. With Arc, we wanted to take that creative, personal aspect to the next level."
Wearhaus was built in Highway1, a hardware startup incubator owned by PCH International, the product development and supply chain company that creates, develops, and delivers products for Apple, Beats by Dre, and more. The first batch of Wearhaus Arcs are expected to ship by this holiday season.
The crowdfunding campaign launches on May 6 on the Wearhaus website, where Arc will be available for a special backer's price of $150. It will run until the end of May, but pre-orders will remain open afterwards at the full $200 retail value.
Check out the Arc crowdfunding launch trailer here.
A press kit containing images, logos, company information, and more can be downloaded here.
About Wearhaus
Formed by Berkeley dropouts Richie Zeng and Nelson Zhang, Wearhaus has created a beautifully designed, highly customizable wireless headphone that delivers top-quality sound and uses Bluetooth technology to allow the user to turn their own personal soundtrack into a shared experience. Kicking off with a crowdfunding campaign this spring followed by a full product launch planned for holiday 2014, Wearhaus is working to remind people that music is meant to be shared – and that sharing doesn't have to mean sacrificing the headphone experience.
Media Contact
Eliana Carmona
wearhaus@triplepointpr.com
(415) 955-8500