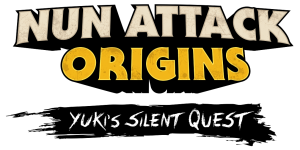 Prequel to the Acclaimed Nun Attack Series from Frima Studio Teaches Players the Art of Nun-jutsu  
QUEBEC CITY – May 22, 2014 – Frima Studio today released Nun Attack Origins: Yuki's Silent Quest, an action-packed puzzler for Android, with an iOS version coming soon. The first of a series, this prequel to the hit Nun Attack series explores the savage and stirring backstories of the Sisterhood of butt-kicking nuns. With intuitive touch-screen gameplay, the tactical puzzle game challenges players to use bladed war-fans with deadly precision on a quest to protect the innocent. Download Nun Attack Origins: Yuki's Silent Quest today, just $1.99 via Google Play.
In the game, players take on the role of Yuki: Sister of Silence, mistress of stealth and  master of the feared Nun-jutsu discipline.  In this adventure, an ancient portal has opened, releasing an evil force that razed Yuki's village and spirited away all the orphans. It's up to pious and powerful Yuki to save the lost little ones and exact revenge!
Players will harness the forces of reason and reflexes to solve puzzles and strike down enemies from the shadows. Use one-touch controls to slide, slice and dice through 90 unique levels. Wield Yuki's powerful Nun-jutsu to rescue over 200 missing orphans and rebuild the village.
Get back in the habit – download Nun Attack Origins: Yuki's Silent Quest today on Google Play for only $1.99. Fear not: the game is also arriving on the iTunes App Store soon!
For more info, visit the Nun Attack Facebook page, download the press kit here, or watch the trailer here.
About Frima Studio
Frima Studio is Canada's largest independently owned game developer. Since 2003, the company has been developing world-class media including virtual worlds, social and web based games, console titles and mobile apps. Their services also include the animation and special effects expertise of Frima FX as well as the concept art development of Volta. In addition to working with world-renowned clients such as Electronic Arts, Activision, Warner Brothers and Ubisoft, Frima develops successful, original IP titles such as Nun Attack, Zombie Tycoon, A Space Shooter for 2 Bucks! and Lights, Camera, Party!. With over 350 artists and programmers in-house, Frima produces high-caliber products that are as remarkably outstanding artistically as they are technically.
Media Contact
Eliana Carmona
TriplePoint for Frima Studio
ecarmona@triplepointpr.com
Assets
Download the press kit here.
Check out the trailer here.