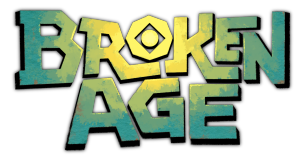 Act One of Double Fine's Epic Adventure is an OUYA Console Exclusive
SAN FRANCISCO and SANTA MONICA, Calif. – May 30, 2014 – OUYA and Double Fine Productions, Inc. today announced that the first act of critically acclaimed adventure game Broken Age is now available on OUYA. Launched earlier this year on PC, Mac, and Linux, the console version of the game will be an exclusive on OUYA and, for the first time, be available for purchase as two separate parts. You can see Broken Age's trailer here: http://vimeo.com/95777431
From Tim Schafer, the creative mind behind Psychonauts and Day of the Tentacle, Broken Age revitalizes the classic adventure game genre with a powerful narrative and storybook aesthetic. One of the most successful Kickstarter campaigns in the history of the platform, Broken Age's story of traditions – and those who are brave enough to break them – has been critically lauded as a fantastic narrative-driven adventure on PC and Mac.
Broken Age on OUYA will also mark the first time that players can purchase the first act as a stand-alone game. Players can purchase act one for $15 dollars and pre-purchase act two if they choose to continue their adventure.
A press kit with images, logo, and more can be downloaded here:https://dl.dropboxusercontent.com/u/9138686/BrokenAgePressPack.zip
To learn more about Broken Age on OUYA, contact TriplePoint PR at ouya@triplepointpr.com or (415) 955-8500.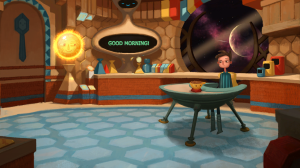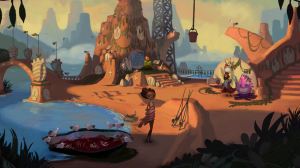 ---
About OUYA 
OUYA is a new kind of game platform that enables any creator to publish a game for the TV. Launched with the OUYA game console in 2013, OUYA has hundreds of games from established AAA developers to emerging game artists. The OUYA also has plenty of entertainment content in 1080p HD quality. OUYA, built on an accessible and open platform, was envisioned by founder and CEO Julie Uhrman. The OUYA console was beautifully designed by award-winning designer Yves Behar.
Website | Facebook | @playOUYA
About Double Fine Productions
Double Fine Productions is a San Francisco-based game developer that makes games with a focus on creativity, characters, and fun. Since its founding in 2000, it has produced the award-winning titles Psychonauts, Brütal Legend, Costume Quest,Stacking, Iron Brigade, Sesame Street: Once Upon a Monster, Kinect Party, Middle Manager of Justice, Dropchord, and The Cave. Learn more about Double Fine atwww.doublefine.com and on Twitter @DoubleFine
Media Contact
Tristan Kruth, TriplePoint
tkruth@triplepointpr.com
(415) 955-8500