Marco Giberti Joins Mike Maples and Byron Deeter on DoubleDutch Board, Bringing More Than 20 Years of Event Industry Experience to Fast-growing Event Tech Startup
SAN FRANCISCO — June 4, 2014 — DoubleDutch, the leading provider of mobile event applications, today announced that Marco Giberti has joined its board of directors. Giberti will bring more than 20 years of experience in the events industry to the DoubleDutch board, which already boasts a strong group of Silicon Valley venture capitalists that grace the Midas List including Mike Maples, early investor in Twitter and Lyft, and Byron Deeter, investor in Box and Eloqua.
Named one most influential people in the events industry by Trade Show Week magazine, Giberti is a successful entrepreneur and active angel investor in digital media and early stage technology companies. After a strong career as a corporate executive at Apple, Giberti became co-founder and board member for Mind Opener, a leading publishing group in Latin America and e-mind, an internet and media communications company. Later, he co-founded Mind Trainer, a firm that specializes in organizing major trade-shows and conferences, and led the Latin American group to become the largest event organization in the region. His companies were sold to British Pearson Media Group, Liberty Media and Reed Elsevier respectively. Giberti is a Harvard Business School Owner/President Management graduate, and member of YPO, the Young Presidents Organization.
"Marco is well known in the events industry for his role in building out Reed Exhibition's Latin American business and for his deep knowledge of event technology," said Lawrence Coburn, CEO and co-founder, DoubleDutch. "As we continue to grab market share in the events industry, Marco's domain expertise will be invaluable for building our business for global corporate and tradeshow clients that plan hundreds of events per year."
"DoubleDutch has been able to serve a huge need in the events industry – mobile technology that engages event guests with intuitive social features and provides unprecedented data to organizers," Giberti said. "I look forward to bringing a seasoned view of the industry to the board and helping DoubleDutch continue its impressive growth."
In addition to Giberti, the DoubleDutch board of directors consists of Byron Deeter, partner at Bessemer Venture Partners and investor in Box, Cornerstone OnDemand and Eloqua; Mike Maples, managing partner at FLOODGATE and investor in Twitter, Lyft and Chegg; Duncan Davidson, investor in Appboy, Proformative and Livescribe; and Dominique Vidal, partner at Index Ventures and investor in Criteo, Metapack and Outbrain.
In the past six months, DoubleDutch has more than doubled its team, reaching 125 employees and expanding overseas. DoubleDutch specializes in building beautiful, social event applications and capturing attendee behavioral data to help marketers optimize events. The technology of choice for marketers at SAP, AMEX, Ralph Lauren and more, DoubleDutch is focused on innovation and engagement.
To learn more about branded event applications for your next meeting, tradeshow or conference, visit http://doubledutch.me today.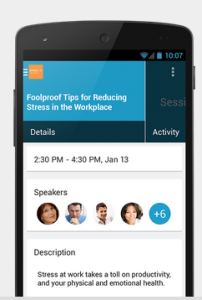 About DoubleDutch
DoubleDutch is an award-winning provider of mobile event applications, with a unique focus on capturing and surfacing data from live events. The first to bring a data-driven technology approach to the event industry, DoubleDutch customers include SAP, AMEX, Ralph Lauren, 3M, and Bath & Body Works. Thrill attendees and demonstrate event ROI with a branded DoubleDutch app today. http://doubledutch.me
---
Media Contact
Diana Smith, TriplePoint for DoubleDutch
doubledutch@triplepointpr.com
415-955-8500