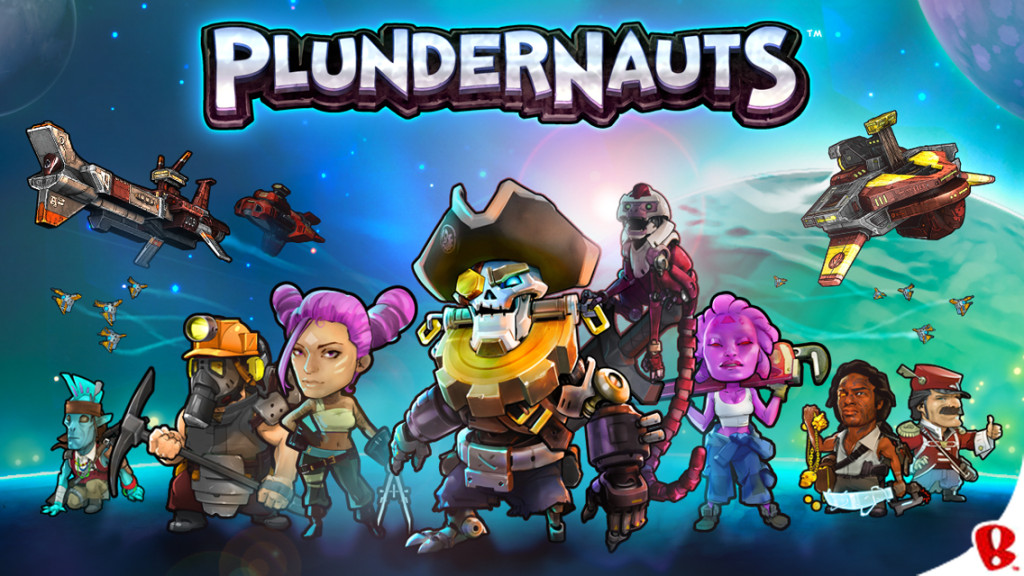 Unique space combat game features rapid-fire battles and customizable starships!
Boulder, CO – June 19, 2014 – Backflip Studios today announced that PlunderNauts has landed in the iOS App Store as a free download. With an unprecedented rate of explosions-per-second, PlunderNauts combines skill-based gameplay and intuitive controls with a deep loot-system and customizable starships. PlunderNauts is the first title published by Backflip under its new publishing arm. The game was developed by LightBox Interactive. Founded by 15-year veterans of the console industry, LightBox was established in 2009 in Austin, Texas to develop explosive, fast-paced, and innovative games for players who love the action genre. PlunderNauts is free to play with optional in-app purchases, available today exclusively on the iTunes App Store.
View the trailer and learn more at www.PlunderNauts.com
Gaze upon the eye-popping visuals in the press kit.
"The team and I wanted to develop a mobile game for quite some time, but it was crucial that we deliver that same energy and excitement we loved from our past console action games," said Dylan Jobe, President of LightBox Interactive. "PlunderNauts is that game and we're stoked to finally release it globally. It's fast and fun, and the game design allows players to get a quick-fix of epic-space-battle-action or deep-dive into strategy, upgrades, collecting and crafting."
"We are thrilled to be publishing Lightbox's first mobile game and working with a talented studio of this caliber to bring an immersive, console quality space-battling experience to iOS," said Julian Farrior, founder and CEO of Backflip Studios. "There is nothing else like it in the mobile market."
As captain of your newly acquired starship, you set sail across a universe filled with alien pirates, epic battles, endless upgrades and treasures untold. The combat in PlunderNauts is fast-paced, perfectly suited for mobile devices, and explosively fun. Pulverizing space pirates never felt so good! Polly, a robotic bird programmed with the trade routes of every galaxy, guides you along your journey. She fills your head with tales of the legendary robo-pirate IronBeard and his unimaginable wealth just waiting to be plundered. Prepare for battle, Captain!
PlunderNauts features:
Unique style of space combat with intuitive touch controls
Command and customize your starship and crew
Plunder planets and hoard their treasures
Collect loot to craft more powerful weapons and upgrades
Build a vast fleet of starships
Navigate wormholes to explore distant galaxies
Launch fighters to swarm your enemies
Crush your adversaries with cannons, lasers, torpedoes & more
Download PlunderNauts, free to play on the iTunes App Store. Grab the press kit.
Join your fellow space pirates and be part of the PlunderNauts community on Facebook and Twitter for all the latest news, updates and special in-game events… or else you'll be swabbing the decks!
About Backflip Studios
Backflip Studios develops and publishes absurdly fun mobile games for iOS and Android devices. The company's portfolio of top ranked games, which include hit franchises such as DragonVale, Paper Toss, Dwarven Den, NinJump, Ragdoll Blaster, and Army of Darkness Defense, have been downloaded over 300 million times and are played by more than 30 million active users per month. DragonVale was the #1 Top Grossing iPad app and the #4 Top Grossing iPhone app of 2012. The company is based in Boulder, Colorado. Hasbro, Inc. (NASDAQ:HAS) has a majority ownership stake in Backflip Studios.
About Lightbox Interactive
LightBox Interactive, Inc. is an independent game studio founded in January 2009. Their team is a group of experienced developers that have been making games together for 15 years. This core group has made significant contributions to the games Twisted Metal:Black™, War of the Monsters™, Warhawk™ and Starhawk™. After many years in console development and facing a rapidly changing video game market, the team is entering the mobile space with their newest game, PlunderNauts. LightBox Interactive, inc. is a privately owned company based in Austin, Texas.
Media Contact
Rich Jones for Backflip Studios
rjones@triplepointpr.com
(212) 730-9744