SANTA MONICA, Calif. – June 23, 2014 – OUYA today announced that Age of Zombies, the smash-hit top-down shooter from Halfbrick Studio, will be available on OUYA June 30. A huge success on mobile platforms and PS Vita, Age of Zombies takes players on an action-packed journey through space and time as they hunt the zombie hordes of Professor Brains and try to save humanity from undead-based annihilation.
Players take on the role of Barry Steakfries, the tough-as-nails time-travelling commando who is quick with a joke and faster still with a trigger. Using nothing but his guile, natural athletic ability, and a staggering array of high-powered weaponry, Barry will face off against shambling hordes and powerful boss-zombies in six unique periods of history, from ancient Egypt to feudal Japan and the Wild West.
Perfect for anyone who has ever dreamed of witty repartee with a zombie T-Rex (and let's be honest, who hasn't?), Age of Zombies' fast-paced run-and-gun gameplay and irreverent humor have made it a fan favorite, and the OUYA version marks the first time that the game will be available for set-top consoles.
A press kit with images, logo, and more can be downloaded here: http://bit.ly/1pGyhCX
To learn more about Age of Zombies, contact TriplePoint PR at ouya@triplepointpr.com or (415) 955-8500.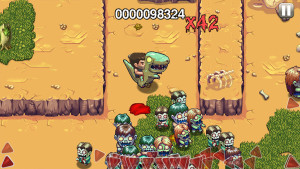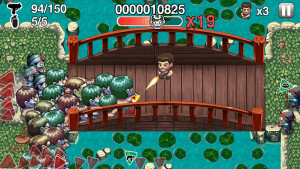 About OUYA
OUYA is a new kind of game platform that enables any creator to publish a game for the TV. Launched with the OUYA game console in 2013, OUYA has hundreds of games from established AAA developers to emerging game artists. The OUYA also has plenty of entertainment content in 1080p HD quality. OUYA, built on an accessible and open platform, was envisioned by founder and CEO Julie Uhrman. The OUYA console was beautifully designed by award-winning designer Yves Behar.
Website | Facebook | @playOUYA
About Halfbrick
Halfbrick is a professional game development studio based in Brisbane, Australia. Founded in 2001, it has developed many popular games across mobile and digital platforms including Fruit Ninja, Jetpack Joyride and Colossatron. For further information, please visit halfbrick.com and follow on Twitter, YouTube and Facebook!
Media Contact
Tristan Kruth
TriplePoint PR for OUYA
tkruth@triplepointpr.com
(415) 955-8500