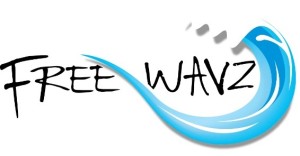 Doctor-Designed Wire-Free Earphones with Built-In Fitness Monitors Help World Class Athletes Train Without Distraction
MELBOURNE, FL – July 9, 2014 – FreeWavz, creators of wire-free smart earphones with integrated fitness tracking technology, today announced a partnership with two-time Olympian Ryan Hall, and Pan American Gold Medalist and US National Cross Country Champion Sara Hall. Keenly aware of the constraints that athletes face from current headphones and health monitoring devices, these professional athletes are supporting FreeWavz for the freedom and safety that the earphones provide.
"It can be dangerous to run with dangling wires or bands from headphones, and really annoying to strap fitness monitors all over myself when I'm training," said Ryan Hall. "When we learned that FreeWavz had a secure fit without wires, and was designed by a doctor using medical grade heart rate and fitness monitoring, we wanted to learn more."
Designed for a naturally superior fit, FreeWavz hugs the ear to stay in place and weighs less than ½ oz. Rubber-sealed for water and sweat resistance, and boasting a battery life of between 6 and 8 hours, FreeWavz can keep up through even the most rigorous workouts.
"We designed FreeWavz with safety and convenience in mind for Olympians and fitness enthusiasts alike," added ear, nose and throat surgeon and FreeWavz founder, Dr. Eric Hensen. "With a sound delivery system that sits outside the ear canal, and features that keep wearers in tune with their surroundings, FreeWavz provide athletes like Ryan and Sara with the biofeedback and functionality they need, allowing them to keep focused on their training."
"I enjoy listening to inspirational music when I run, and I like being able to hear progress updates when I opt-in to them," noted Sara Hall. "Having environmental listen-through on top of the alerts helps me stay aware of approaching cars and other hazards while tracking my progress, making me more efficient."
With integrated medical-grade fitness sensors, FreeWavz captures and reports heart rate, calories burned, distance traveled, duration of workout, and oxygen saturation. Users can adjust the content and frequency of their alerts, specifying which stats they would like to hear by type of activity. FreeWavz stores these metrics on the user's smartphone via Bluetooth, allowing users to monitor their progress. A second microphone on each ear enables athletes to set the mix of music and listen-through of ambient sounds to stay aware of their surroundings in busy environments.
To learn more about FreeWavz wire-free smart earphones, please visit the company's ongoing Kickstarter Campaign.
Assets
For more information, download the press kit here.
About Ryan and Sara Hall
Ryan and Sara met as NCAA All-American athletes at Stanford University. Ryan has posted the best-ever American times in the Aramco Houston Half Marathon and Boston Marathon, and has represented the US in the 2008 and 2012 Olympic Games. Sara was the 2012 US National Cross Country Champion and a Gold Medalist at the Pan American Games in the steeplechase. She has represented the US at three World Indoor Track and Field Championships and a World Cross Country Championship. In addition to their impressive athletic careers, the pair co-founded the Hall STEPS Foundation in 2009 to fight poverty and promote good health. To date, STEPS has built health clinics in Kenya and Mozambique, invested $50,000 in micro-loans in East Africa, donated to Kiva, and redone a maternity clinic in Pout, Senegal. For more information, and to learn how to get involved, please visit the STEPS Foundation website.
About FreeWavz
FreeWavz is a fitness-focused consumer electronics company developing hearable technology and smart wearables. Based out of Melbourne, Florida, the FreeWavz leadership team includes industry specialists in manufacturing, technology, and design. Early supporters can preorder FreeWavz for $179 through the company's Kickstarter campaign page. FreeWavz will also support an Application Development Kit for third-party developers to broaden hearable technology applications in fields ranging from health monitoring to linguistic translation.
For more information, please visit the company's Kickstarter campaign page.
---
Media Contact
Thea Briggs
TriplePoint for FreeWavz
freewavz@triplepointpr.com
(212) 730-9744