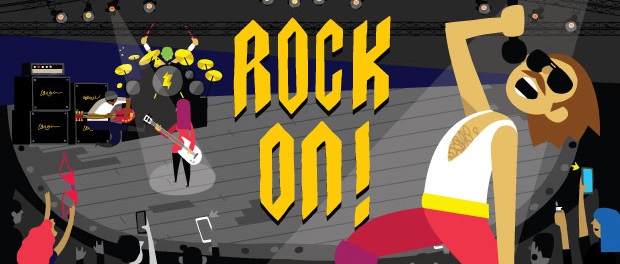 New Music Trivia Title from Industry Vet FreshPlanet Available Now on the Apple App Store
NEW YORK CITY – April 2, 2015 – Rock On – A SongPop Adventure, the latest music trivia title from the studio that made the hit game SongPop, is now available for the iPhone, iPad, and iPod touch. The title borrows from SongPop's Name That Tune(™)-inspired gameplay, taking players on a rock 'n' roll journey through a richly-colored world of raging concerts, wild parties, and dusty highways. You can download Rock On for free from the App Store today, with optional in-app purchases.
Download Rock On – A SongPop Adventure on the App Store: https://itunes.apple.com/us/app/rock-on-a-songpop-adventure/id892818311?ls=1&mt=8
Headbang to the launch trailer here: https://www.youtube.com/watch?v=5JGP-ZIHg1E
Rock On takes players on a colorful, vividly-rendered journey through an immersive world where musical prowess reigns supreme. Their adventures will guide them through hardcore rock concerts, lonely tour bus drives down desert highways, and rowdy and roiling cities of sin – but they'll have to keep their wits about them to ascend to rock god fame.
Featuring over 3,000 different songs across a wide variety of genres – Classic Rock, Heavy Metal, Punk Rock, Pop Rock, Indie Rock, and more – Rock On lets music fans engage with their favorite rock jams in a whole new way.  With Artist Levels, players can choose their favorite band/artist to be quizzed on as they rise to rock stardom. This title is a solo adventure, but players can compete for fame with their friends on Facebook via leaderboards that display their trivia prowess for all the world to see.
Rock On features over 80 levels and unique play modes, including:
Mic Check – Get at least 5 of 10 questions right to move on to the next level.
Opener – Even the greats started somewhere! Prove your rocker mettle out of the starting gate with this quickfire trivia challenge.
Sudden Death – String together correct answers in succession to progress –  miss a beat and start over!
Arcade  – Play against the clock and compete for the highest score.
To follow Rock On and keep up with the latest news:
About FreshPlanet
FreshPlanet is one of New York City's largest venture-backed game development studios poised at the intersection of mobile, social and pop culture. In 2012, FreshPlanet launched the mega-hit social music game SongPop, amassing more than 100 million downloads and earning global recognition. Continuing its legacy for excellence in mobile and social gaming, FreshPlanet is working on a slate of mobile entertainment projects that bring players together around the world through pop culture. To learn more about FreshPlanet and its current lineup of games and apps, visit the www.freshplanet.com or on Twitter.
# # #
Press Contact
Eliana Carmona
TriplePoint PR for FreshPlanet
ecarmona@triplepointpr.com
+1 (415) 955-8500
Assets
Download the press kit here.