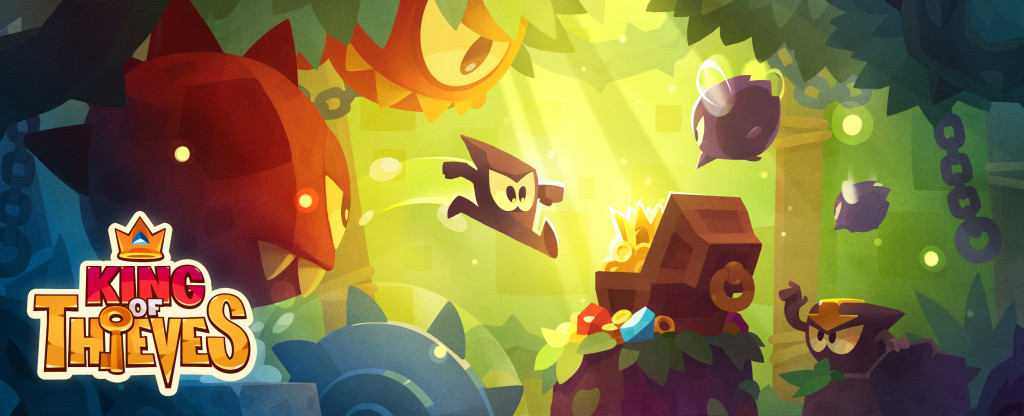 First major update allows guilds to compete against each other
SAN FRANCISCO — May 14, 2015 — ZeptoLab® is happy to announce the launch of Guild Battles in King of Thieves, the first major update for its popular multiplayer game for iPhone, iPad, and Android devices. The new game mode vastly expands the social aspect of the game by pitting two guilds with similar ratings against each other in a competition. Battles run on a repeating cycle of three days, during which the guild that steals more gems is declared the winner. Additionally, the most active players of the winning party will be awarded with in-game currency.
"Players were able to join guilds in previous versions of King of Thieves as well, but now this feature truly opens its potential and offers some new and exciting possibilities. The Guild Battles update is only the beginning!" — said ZeptoLab's Creative Director, Semyon Voinov.
Download King of Thieves for free on:
King of Thieves is the skill-based multiplayer title from ZeptoLab with a unique mixture of platforming and tower defense gameplay. Since its launch on February 12, 2015, the game has been downloaded over 10 million times and is played by more than 6 million unique gamers per month from all over the world.
For more information:
Assets
Images and assets can be found here.
About ZeptoLab

ZeptoLab UK Limited is a global gaming and entertainment company best known for developing the award-winning franchise Cut the Rope®, which includes Cut the Rope, Cut the Rope: Experiments, Cut the Rope: Time Travel and Cut the Rope 2, available across platforms and devices. Cut the Rope games have been downloaded more than 700 million times by users around the world since the game's debut in October 2010. The company has also released Pudding Monsters™, available on Android and iOS platforms. For more information, please visit www.zeptolab.com.
ZeptoLab, Cut the Rope, Om Nom, Nommies and Feed with Candy are the trademarks of ZeptoLab UK Limited. TM/© 2014 ZeptoLab UK Limited.
Media Contact

Michail Ger
ger@zeptolab.com
Olga Antsiferova
olgaa@zeptolab.com