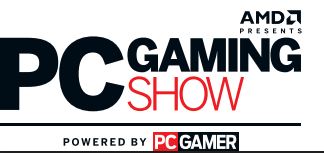 Live Event on June 16 to Include Creative Assembly, Nexon, CCP, The Fullbright Company and More
LOS ANGELES — May 21, 2015 — PC Gamer today revealed more companies and speakers set to appear at "AMD Presents the PC Gaming Show Powered by PC Gamer," a first-of-its-kind event for PC gaming fans, media, and creators on June 16, 2015. Live from the Belasco Theater in Los Angeles, the PC Gaming Show will feature announcements and perspectives from some of the biggest names in the PC industry. The newly announced participants of the show include ArenaNet, CCP Games, Creative Assembly, The Fullbright Company, Frictional Games, Frontier Developments, Nexon, Pixel Titans, SCS Software, and Splash Damage.
These companies will join forces with other participants including Blizzard Entertainment and Dean Hall for a celebration of PC gaming, hosted by Sean 'Day[9]' Plott. More speakers and companies will be announced in the weeks leading up to the event in June.
Organized by PC Gamer, with support from Presenting Partner, AMD (NASDAQ: AMD), the inaugural PC Gaming Show is proudly sponsored by Bohemia Interactive, Tripwire Interactive, Digital Storm, and Twitch.
For more information and to register for press access, please visit: www.PCGamingShow.com and follow #pcgamingshow.
About PC Gamer
PC Gamer is the global authority on PC games. For more than 20 years, it has delivered unrivaled coverage, in print and online, of every aspect of PC gaming. Our team of experts brings readers trusted reviews, component testing, strange new mods, under-the-radar indie projects and breaking news around-the-clock from all over the world.
PR Contact
pcgamingshow@triplepointpr.com
415-955-8500