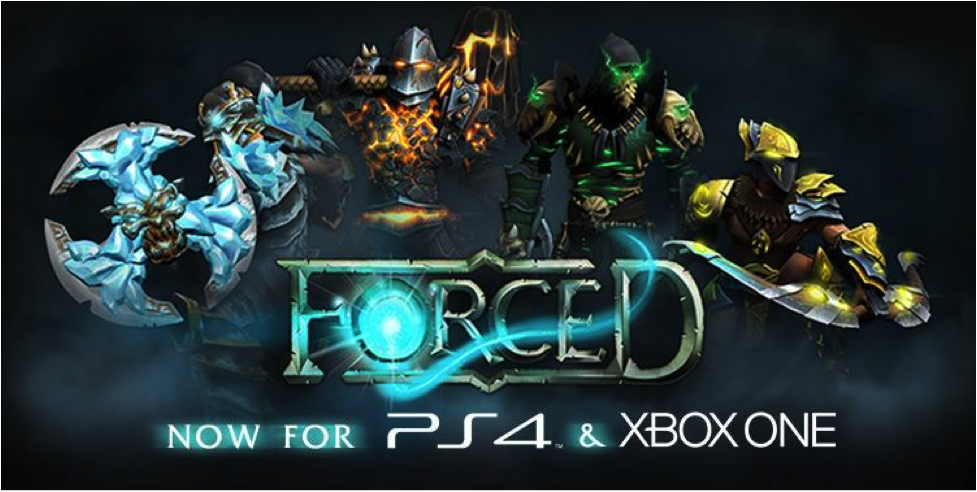 COPENHAGEN, Denmark – Oct. 21, 2015 – Betadwarf, developer of the sleeper hit FORCED, announced today that the game is now available on the Xbox One and PlayStation 4 as a digital download. Originally released on PC, FORCED has been optimized and improved for its new console release, particularly with respect to the multiplayer experience.
 View a new console trailer about couch co-op with friends here: https://www.youtube.com/watch?v=GuFsLm-JZuA
FORCED IS:
Action RPG with puzzle elements
1-4 player co-op centric experience
PC sleeper hit with more than half a million copies sold and multiple awards received
Developed by passionate young people with a crazy story: http://imgur.com/yacucU1
"We are super happy to announce FORCED for the PS4 and Xbox One," said Steffen Kabbelgaard, CEO, Betadwarf. "The game has always been designed as a co-op experience and we always thought that one of the best ways to experience co-op is with your friends in front of the TV. Shouting and cheering is an inherent and important part of the FORCED experience – as is being within high-five distance of your friends!"
Review keys may be provided upon request by contacting Press@betadwarf.com.
Find more press information about FORCED here.
About Betadwarf
Betadwarf is a young company of passionate developers. Through 3 years of struggle with the development of FORCED, Betadwarf has become a skilled and mature development team currently working on the follow-up to FORCED. The game is currently being financed by a Kickstarter to get through the last part of development, until the game's expected release in March.
###
Press Contact
Frederik Denning
0045 51942484