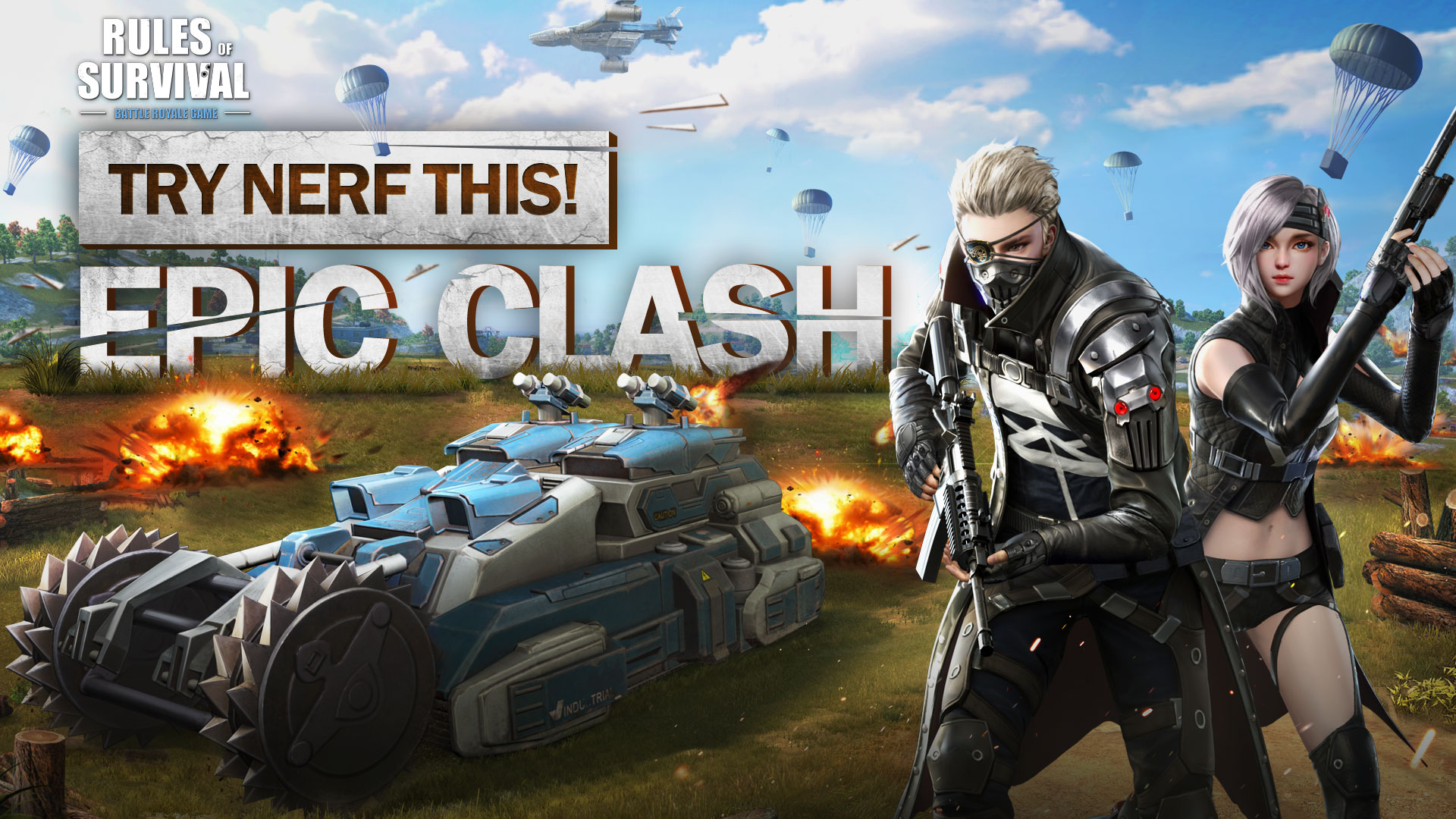 New Construction Abilities and Special Super Powered Item Cards Included
GUANGZHOU, China – Mar. 6, 2019 – NetEase Games is today announcing that their popular battle royale mobile game, Rules of Survival, will get a special Epic Clash mode available starting March 6. In this new squad-based update, players will find fantastical avatar abilities, new weaponry and vehicles, and new buildable structures added to the game. Explore the expansive battlefields of Rules of Survival and scavenge, build, strategize and fight to become the last one standing!
Download it today on the App Store here: https://goo.gl/y3JHqr or on Google Play here: https://goo.gl/zLq3f3
The most exciting addition in the Epic Clash Mode update is the Super Item Card. These items give a fun, fantastical twist to your victory in the battle royale arena. When the safe zone begins to shrink, players can randomly select a Super Item Card that might contain one of the following abilities:
The

Zombie Outfit

, which transforms the player's avatar into an undead zombie, literally, as the HP value steadily recovers in the battlefield.

Stealth Mode

makes player movements super silent, allowing players to sneak up on each other like ninjas, and take them out before they even notice.

The

Infrared Scan

, which gives vision enhancement for players, enabling them to see the outline of enemies hiding in buildings, behind trees, and more.

Super Body

is an all-around strength amplification which grants increased speed and a higher jump to players.

Summons Nightfall

and

Summons Fog

both manipulate the weather, meaning once used, darkness or heavy mist will respectively descend upon the entire battlefield for 60 seconds.
Players can incorporate these superhuman strengths and abilities in their battle planning and enjoy the extra edge they provide in crucial moments of life and death!
Rules of Survival is also adding construction to the game! By building and destroying temporary structures in the battlefield, players can hide, defend, and attack with the power of construction. Using construction players can:
Use a strategically placed tower 

to give snipers the perfect vantage point

Bridge

wide rivers quickly and easily

Bunker down

and establish a control station for the team to assemble in

Earn supply drops

with high rates of construction to give the team an advantage
The opportunities are endless!
In addition to new avatar abilities, players can expect to see new weapons and vehicles in their arsenal as well. New land vehicle, Titan, and airborne craft, Titan Warplane, both have immense firepower that will ensure supremacy of land and sky under your command as no opponents or constructions can stand up to their destructive power. On the weapon front, the IMBA Rocket Tube and IMBA Revolver G-Launcher are also up for grabs. These are powerful firearms, made for widespread destruction and taking out large targets.
But fear not! Along with all these powerful weapons and tools, Rules of Survival will now give players the chance to be revived from death up to three times in every round. Every new life comes with basic items and equipment. The battle royale starts again as soon as a player re-enters with a new chance to learn from mistakes and take sweet revenge.
Rules of Survival officially released for download on the 17th of November, 2017. It is the first battle royale mobile game that allows as many as 300 gamers to fight for victory on the same battlefield. The game has topped charts in 61 countries and regions with more than 230 million downloads in its first year. Rules of Survival is available on mobiles, PCs and Steam.
For more information, follow us online:
Official website: https://www.rulesofsurvivalgame.com/
Facebook: https://www.facebook.com/RulesofSurvival
Twitter: https://twitter.com/RoS_Mobile
Instagram: https://www.instagram.com/rulesofsurvivalmobile/
YouTube: https://www.youtube.com/channel/UCfklGBZeS58wZDX97hSTnhg
About NetEase
NetEase, Inc. (NASDAQ: NTES) is a leading internet technology company in China. Dedicated to providing online services centered around content, community, communication and commerce,NetEase develops and operates some of China's most popular PC-client and mobile games, advertising services, e-mail services and e-commerce platforms. In partnership with Blizzard Entertainment, Mojang AB (a Microsoft subsidiary) and other global game developers, NetEase also operates some of the most popular international online games in China. For more information about NetEase, please visit: http://ir.netease.com/. For more information about NetEase Games, please visit www.netease-na.com.
Media Contact
TriplePoint PR
netease@triplepointpr.com
+1.415.955.8500