Become Your True Self in New Fantasy-Action MMORPG Delivering a Genre-Defining Console Experience
MANHATTAN BEACH, Calif. – March 4, 2019 – Pearl Abyss today announced that Black Desert, the all-new open-world fantasy action MMORPG, has launched on Xbox One and is now available for purchase on the Microsoft Store. Black Desert introduces a new Base Game ($9.99) as well as three launch editions, Standard ($29.99), Deluxe ($49.99) and Ultimate ($99.99) that offer additional in-game items. 
Watch Black Desert's new live-action launch trailer, 'Become Your True Self': https://youtu.be/wdR6tiiXYqU
Experience Black Desert's real-time combat in the new gameplay launch trailer: https://youtu.be/63Opzb2JoM4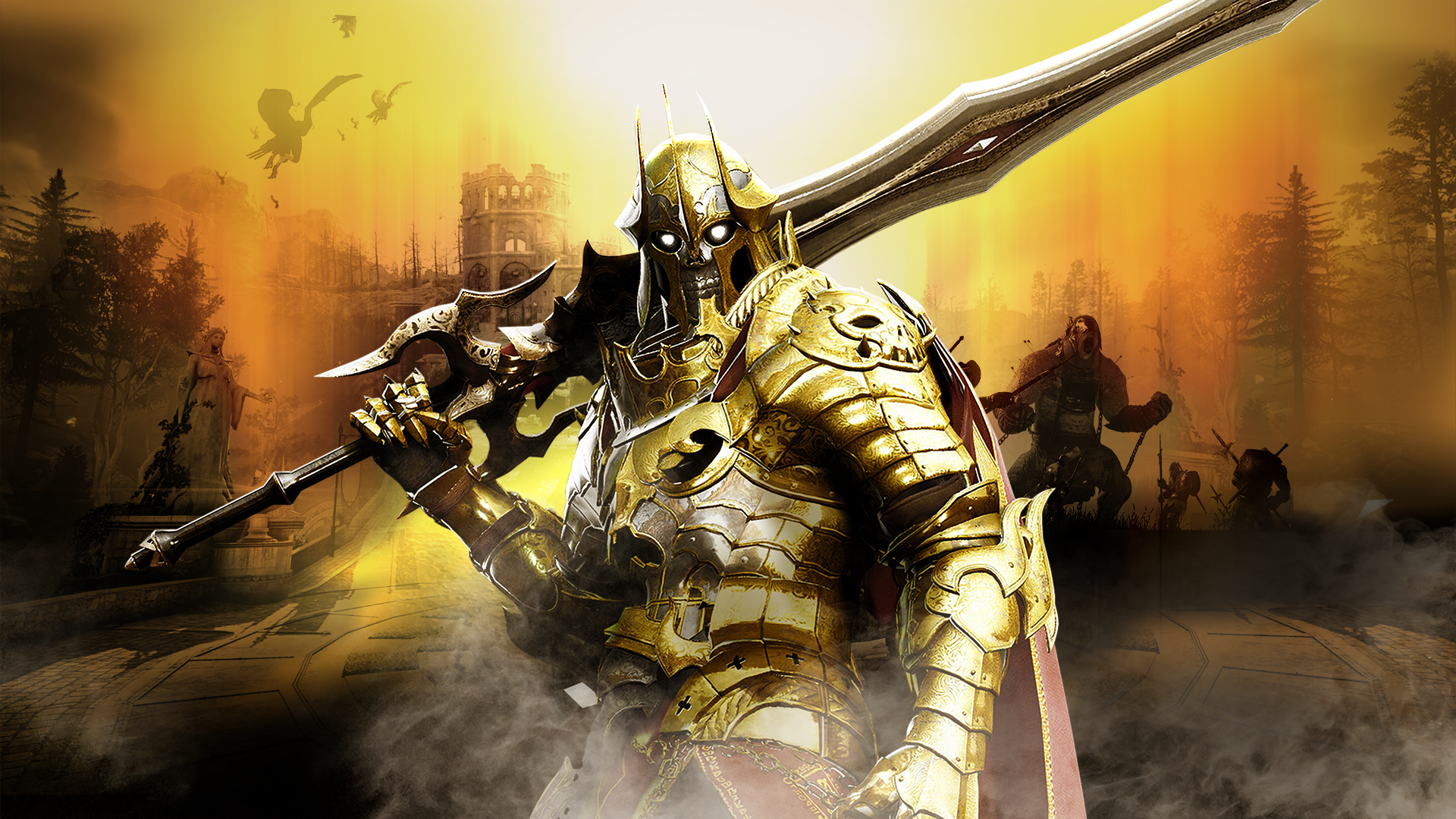 While the new Base Game offers permanent access to the core Black Desert experience and future content updates, today's new launch editions also grants items to players that are different from the pre-order editions. All rewards are detailed below, with the Ultimate Edition providing the best value with cosmetics, currency, and other in-game items.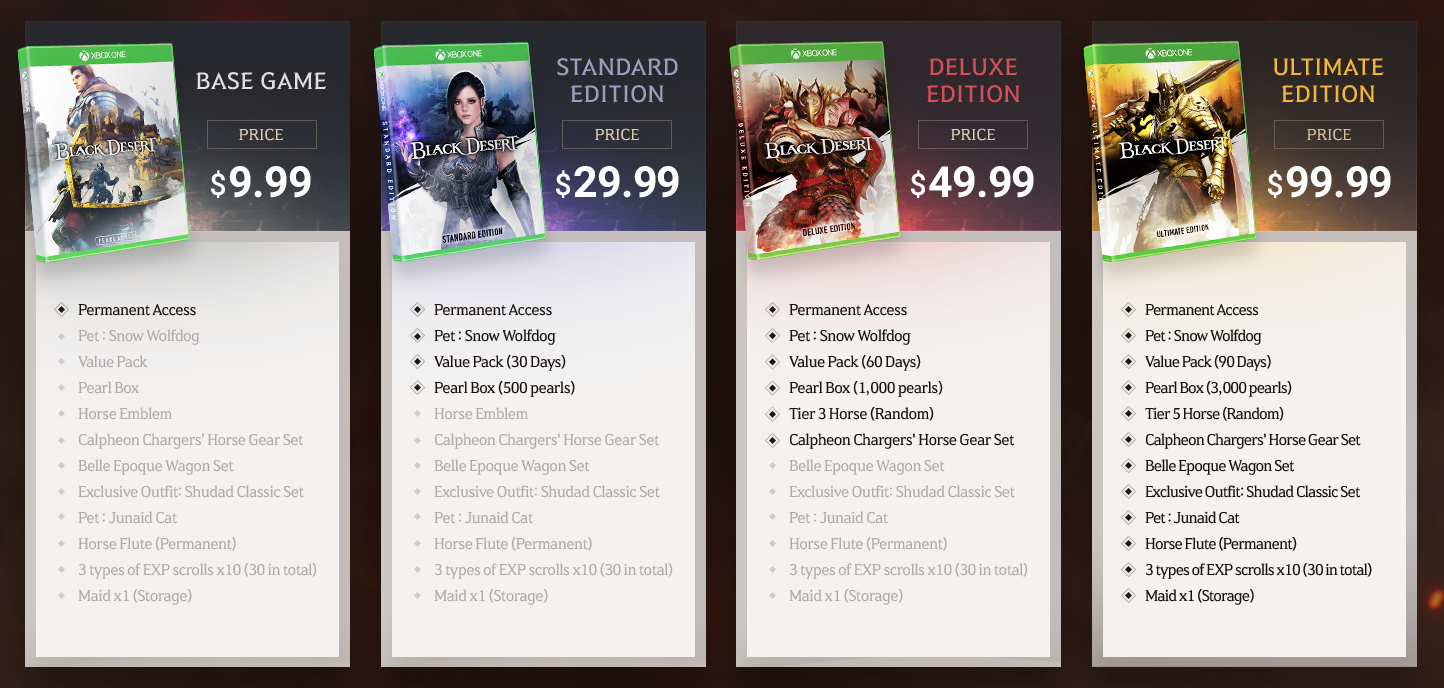 Now available in North America and Europe, Black Desert offers the chance to experience next-generation visuals, stunning skill-based combat and life skills, and unprecedented detail in character creation so that each player can become their true selves. Built from the ground-up for the Xbox One platform, Black Desert offers 4K Ultra HDR support on Xbox One X as well as an optimized UI for fluid and responsive console gameplay.
The full release of the game will start with a Level 55 cap and expansive Life Skills. There will also be a slew of community events for players to participate in. Players who joined in-game for any of the previous Black Desert betas will be rewarded with an exclusive title, with those who reached level 30 in the Final Open Beta also receiving a Calpheon Chubby Dog pet.
"Launching Black Desert on Xbox One has been a long development journey and we're so thankful for the support of the Xbox community along the way", said Robin Jung, Chief Executive Officer at Pearl Abyss. "Through the community's feedback and continued interest in Black Desert over the course of the past two years and multiple betas, we're happy to be able to launch the game today and look forward to adding additional content in the near future."
Pearl Abyss also today announced the Black Desert Partners Program, a new partnership opportunity that offers creators the chance to receive support from the Black Desert team. The program aims to build long-lasting, meaningful relationships with partners by empowering them to create exciting content for the Black Desert community.  
For more information about Black Desert and the Black Desert Partners Program, visit the official website as well as connect with us on Facebook, Twitter and YouTube.
A press kit for Black Desert on Xbox One can be found here.
…
About Black Desert
Black Desert is an open world action MMORPG with cutting-edge visuals and skill-based combat that redefines the genre. Black Desert has the most fully developed character customization system of any game that is currently on the market. This feature allows users to break out of the norm and make unique characters that truly represent each and every player. Its intuitive controls, beautifully designed world and extensive lore will excite both newcomers and veterans of MMO games and action RPGs. Black Desert Online for PC has been successfully launched in over 150 countries, is available in 12 languages and has over 10 million registered users.
About Pearl Abyss
Best known for the MMORPG franchise Black Desert, Pearl Abyss is a leading developer in the game industry. Established in 2010, Pearl Abyss has since developed Black Desert for PC, mobile and console. With all their games built on their proprietary engine, their games are renowned for their cutting-edge graphics. The company has two new projects in the works and is poised to continue its growth through 2019 and beyond to maintain its position as one of Asia's leaders in game development. More information about Pearl Abyss is available at: www.pearlabyss.com.
###
Media/ PR Contact:
TriplePoint on behalf of Pearl Abyss
(415) 955-8500