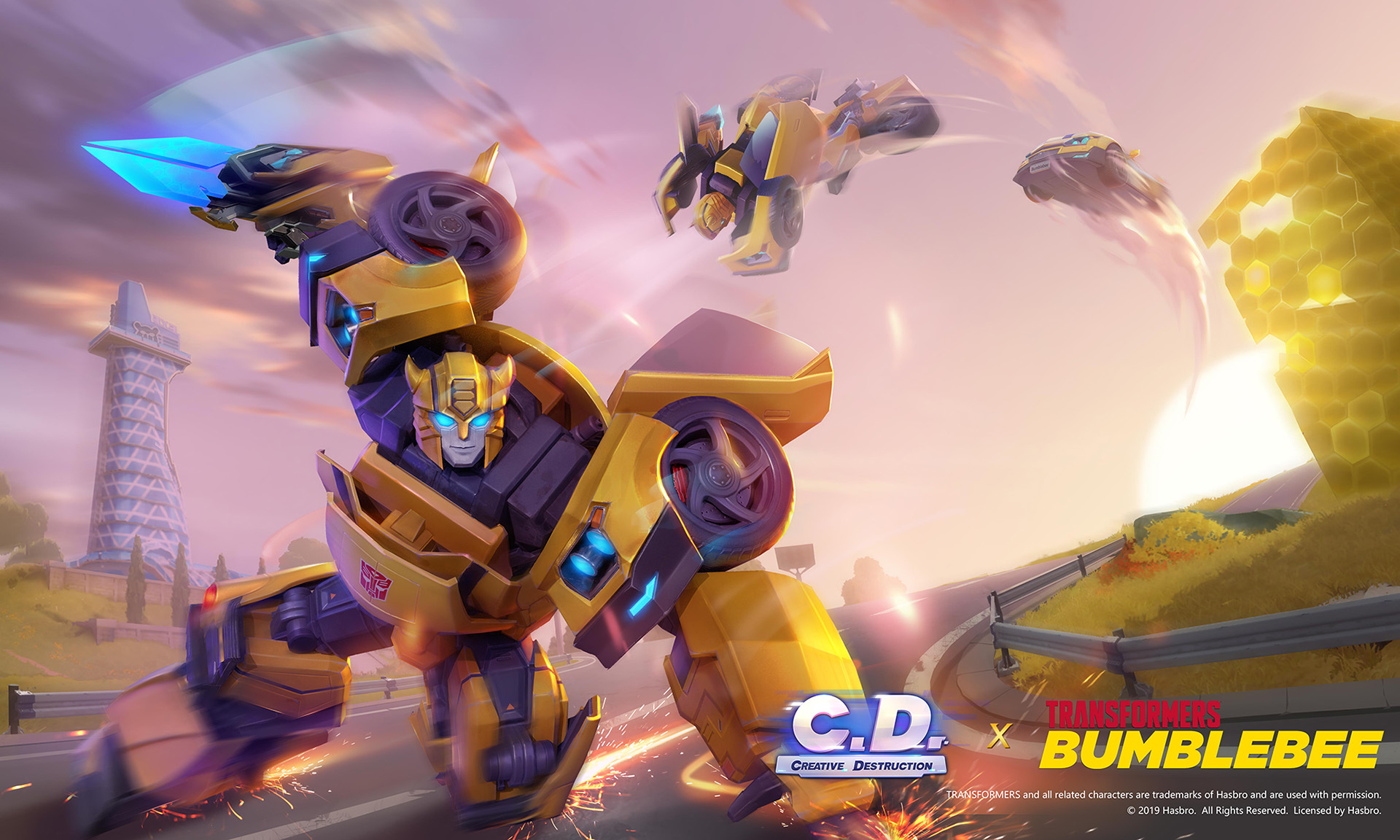 Collect special themed weapons, skins and suits and unlock the ability to play as the iconic TRANSFORMERS character BUMBLEBEE
GUANGZHOU, China – Mar. 29, 2019 – NetEase Games and Hasbro, Inc. (NASDAQ: HAS) launched a special limited time in-game event featuring BUMBLEBEE from the TRANSFORMERS franchise-in their sandbox survival mobile game, Creative Destruction. The innovative crossover event featuring BUMBLEBEE is proud to be recommended by Google  Play. Starting yesterday and running until April 28, players will be able to drive around in – cool vehicles and participate in the new team-based battlefield mode to unlock the chance to play as BUMBLEBEE! The new game mode comes with all-new themed suits, weapons, skins, destructor, pendants and more. The more friends you invite to play, the better the rewards.
Check out what we have to offer in this new battlefield mode:
Play as BUMBLEBEE in an exciting all-out racing mode
Squad up as a duo team with one pilot and one marksman per car
Defeat the team playing as BUMBLEBEE to earn the ability to play as the famous yellow Autobot
Collect energy on the battlefield to earn the ability to convert BUMBLEBEE from vehicle to robot mode
Download it now to get in on the action:
The game, previously launched in beta, garnered over 35 million downloads worldwide in its first week following initial release. Featuring various thrilling game modes and styles in a sandbox, battle royale format, Creative Destruction boasts a massive 4x4km map where everything is fully destructible. Players must break, build, and defend in order to survive the 100-player deathmatch that destroys the very battleground around you. Create and customize your own battlegrounds with the workshop system and put them to the test in game modes including TPS, FPS, and various time-limited modes such as Soccer and Warmobile. Play squad or solo game in this all-out brawl for victory with custom unlockable weapons and gear, and explore over 13 different enchanted lands on an HD map.
For more information, follow us online:
TRANSFORMERS and all related characters are trademarks of Hasbro and are used with permission. © 2019 Hasbro. All Rights Reserved. Licensed by Hasbro.
About Hasbro
Hasbro (NASDAQ: HAS) is a global play and entertainment company committed to Creating the World's Best Play Experiences. From toys and games to television, movies, digital gaming and consumer products, Hasbro offers a variety of ways for audiences to experience its iconic brands, including NERF, MY LITTLE PONY, TRANSFORMERS, PLAY-DOH, MONOPOLY, BABY ALIVE and MAGIC: THE GATHERING, as well as premier partner brands. Through its entertainment labels, Allspark Pictures and Allspark Animation, the Company is building its brands globally through great storytelling and content on all screens. Hasbro is committed to making the world a better place for children and their families through corporate social responsibility and philanthropy. Hasbro ranked No. 5 on the 2018 100 Best Corporate Citizens list by CR Magazine, and has been named one of the World's Most Ethical Companies® by Ethisphere Institute for the past eight years. Learn more at www.hasbro.com, and follow us on Twitter (@Hasbro) and Instagram (@Hasbro).
About NetEase
NetEase, Inc. (NASDAQ: NTES) is a leading internet technology company in China. Dedicated to providing online services centered around content, community, communication and commerce,NetEase develops and operates some of China's most popular PC-client and mobile games, advertising services, e-mail services and e-commerce platforms. In partnership with Blizzard Entertainment, Mojang AB (a Microsoft subsidiary) and other global game developers, NetEase also operates some of the most popular international online games in China. For more information, please visit: http://ir.netease.com/. For more information about NetEase Games, please visit www.netease-na.com.