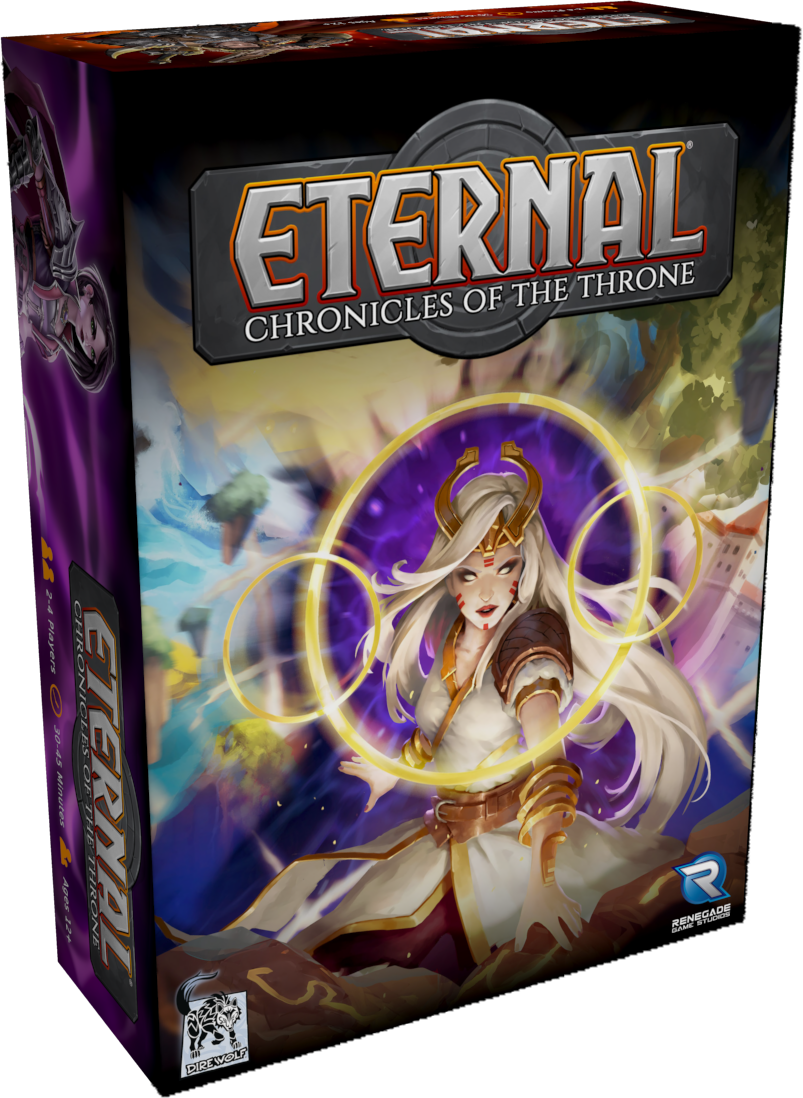 Enter the six-guns & sorcery world of hit digital card game Eternal in a new stand-alone title launching at Gen Con!
Denver, CO — May 2, 2019— Dire Wolf Digital, the creators of the award-winning Clank! A Deckbuilding Adventure, today announced Eternal: Chronicles of the Throne, a new tabletop deck-building game set in the world of Dire Wolf's hit digital card game Eternal. Available in stores this August, fans in the United States can pre-order Eternal: Chronicles of the Throne now via Dire Wolf's online store for $25.00 USD.
Eternal: Chronicles of the Throne is the first stand-alone physical game based on the strategy card game Eternal.  Eternal is one of the most truly free-to-play digital card games on the market. Its sixth expansion, Dark Frontier, will release next week on May 9th and introduces new stories, game mechanics, and over 200 new cards. Eternal is now available on PC, mobile, and Xbox One, and will be coming to the Nintendo Switch later this spring.
Designed by Paul Dennen, lead designer of Clank!, Eternal: Chronicles of the Throne combines features of both deck-building games and card battlers into an intense strategic experience for two to four players. In highly-replayable games that unfold over 30-45 minutes, players will experience fast-paced gameplay as they attack, block, and summon creatures in back and forth CCG-style combat.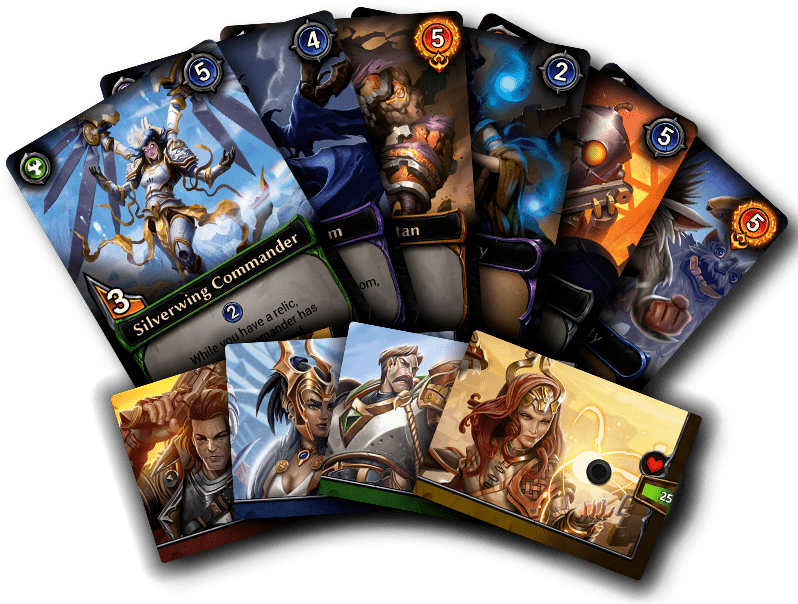 At a glance:
Number of Players: 2-4 players
For Ages: 12+
Playing Time: 30-45 min

Game Type:

deck building, card battler
Dire Wolf is partnering with Renegade Game Studios to co-publish Eternal: Chronicles of the Throne in their ongoing collaboration on a number of physical and digital titles. 
"When we first began to make Eternal, our crazy magical world of six guns and sorcery began to come to life around us," said Scott Martins, President of Dire Wolf Digital. "We're pleased to be working with our friends at Renegade to help Eternal make the jump from digital to physical gaming.  Eternal: Chronicles of the Throne is the next step in that journey, and one that we're looking forward to sharing with existing players and new fans alike."
Eternal: Chronicles of the Throne contains:
160+ Cards

4 Health Trackers

35+ Tokens

Rulebook

1 digital code for redemption in Eternal Card Game

Every copy of Chronicles of the Throne also includes a unique digital code that can be used in Eternal itself for 1 Draft ticket, 10 digital card packs, and an exclusive Curiox Dragon totem. Those who pre-order Chronicles of the Throne will receive an additional Draft ticket for Eternal, for a total value of $30 in free in-game content.
Art assets for Eternal: Chronicles of the Throne can be downloaded here.
For more information, please visit http://www.direwolfdigital.com/eternal-chronicles/
About Dire Wolf
Dire Wolf Digital is an independent game studio specializing in both digital and physical strategy card games and board games. Based in Denver, Colorado, the Dire Wolf Digital team includes more than 100 passionate designers, artists and engineers creating games for some of the world's top brands, as well as original properties, including digital strategy card game Eternal, the hit board game Clank!: A Deck-Building Adventure, the upcoming Game of Thrones®: Oathbreaker, The Pokémon Trading Card Game Online, and an exciting lineup of recently announced digital and physical titles.
https://www.direwolfdigital.com/
About Renegade Game Studios
Renegade Game Studios is a premier developer and publisher of original award winning board and roleplaying games, including Clank! A Deck-Building Adventure, Lanterns: The Harvest Festival, Overlight, and more. Our mission is to publish games that are fun, challenging, and unique. We believe that gaming is for everybody and that everybody is a gamer; you just have to find the right game!
Visit http://www.renegadegames.com for additional product information.
…
Media/ PR Contact:
TriplePoint on behalf of Dire Wolf
(415) 955-8500