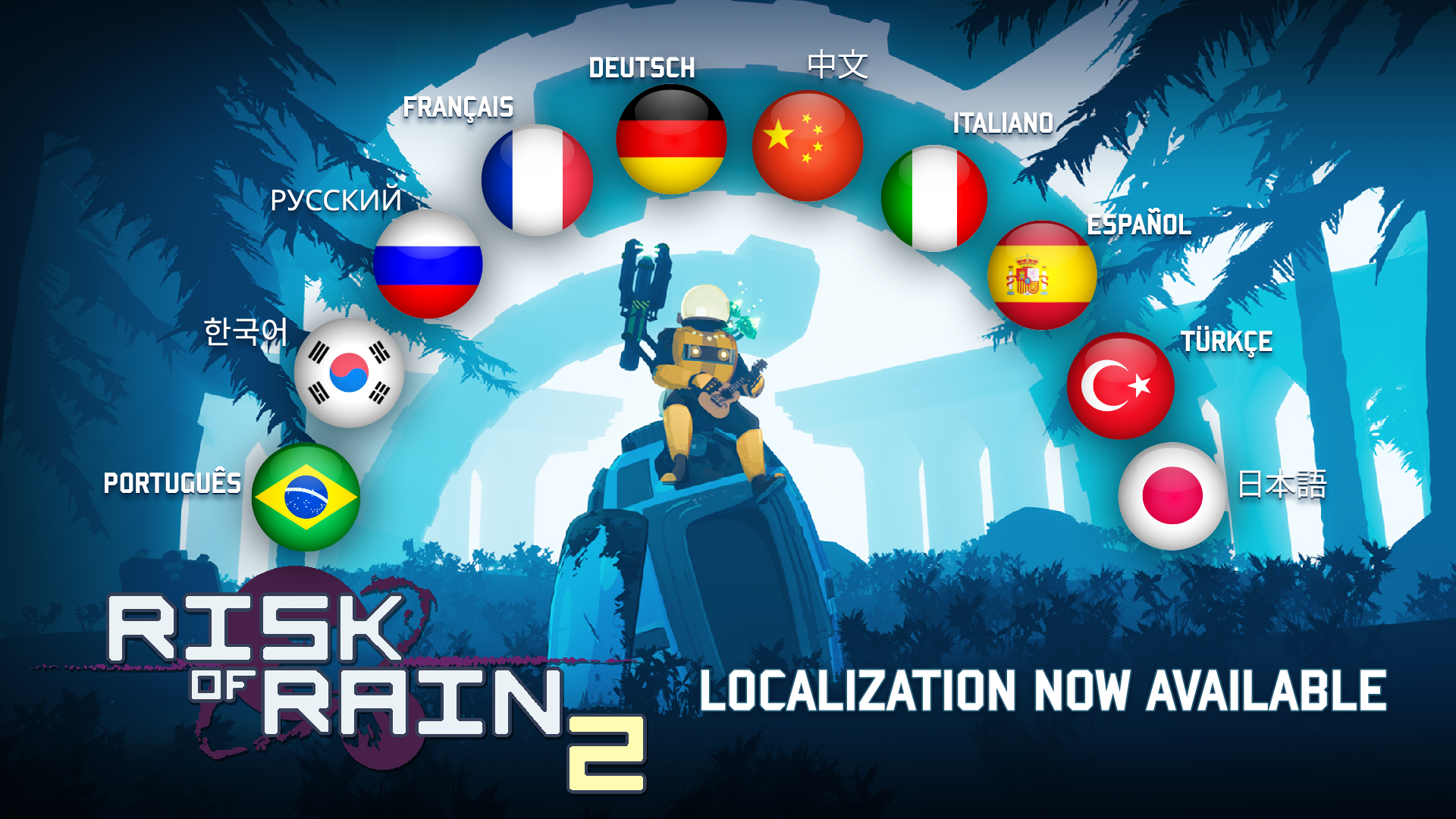 International Success Spurs Support for More Players Around the World
FRISCO, Texas – May 21, 2019 – Hopoo Games and Gearbox Publishing today announced that Risk of Rain 2 is now localized in 10 additional languages to bring the roguelike chaos closer to home for players around the world. The new languages include Simplified Chinese, Korean, French, German, Italian, Japanese, Portuguese, Russian, Spanish, and Turkish. Risk of Rain 2 has sold well over one million units since its early access launch in March including significant support from international fans.
"We've been lucky enough to have the support of fans from all over the world for the Risk of Rain series," said Paul Morse of Hopoo Games. "It has always been our goal to include more languages and be able to welcome players from all corners of the globe to our community."
The sequel to the beloved indie hit, Risk of Rain 2 brings 3D graphics and third-person shooter mechanics to the franchise while holding true to its roguelike roots. Risk of Rain 2 is available on Steam in early access for $19.99 and slated to launch in spring 2020. Download it today here: https://store.steampowered.com/app/632360/Risk_of_Rain_2/
You can find more information about Risk of Rain 2 on Twitter, Facebook and the Hopoo Games DevBlog. Press and media can find assets for Risk of Rain 2 here.
About Hopoo Games
A small team who started out as two students from the University of Washington, Hopoo Games made their mark with the award-winning indie success, Risk of Rain in 2013, followed by Deadbolt in 2016. Now a team of indie veterans, they've been hard at work on a hotly anticipated sequel to Risk of Rain featuring 3D graphics and third person shooter mechanics. Learn more at http://hopoogames.com/.
About Gearbox Publishing
Founded in 2016, Gearbox Publishing was established with the goal of helping developers around the world bring their products to market while retaining their unique creative visions. The mission began with the critically-acclaimed Homeworld Remastered Collection for PC, and have since been followed by many partnerships that include Epic's Fortnite, tinyBuild's Hello Neighbor, and Compulsion Games' We Happy Few. Gearbox Publishing continues to remain committed to its mission to entertain the world and become the most developer-friendly publisher in the industry. Learn more at http://www.gearboxpublishing.com.
# # #
Media Contacts
Gearbox Publishing
Austin Malcolm
Austin.Malcolm@gearboxpublishing.com
+1-972-312-8202
TriplePoint for Risk of Rain 2
gearbox@triplepointpr.com
+1-415-955-8500