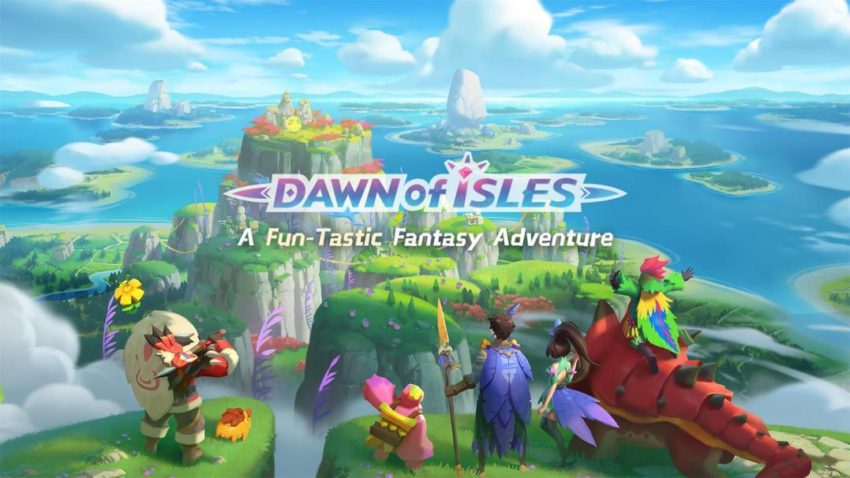 Celebrate the Launch with an Exciting KUMAMON X Dawn of Isles Crossover Event
GUANGZHOU, China – June 4, 2019 – NetEase Games has today announced that its brand-new adventure MMORPG, Dawn of Isles, is available on the App Store and Google Play. In Dawn of Isles, players adventure across dangerous islands all while building their own in a world full of fantasy and magic. To celebrate the game's launch, Dawn of Isles is hosting by a special crossover event including everyone's favorite mascot – Kumamon.
Check out the trailer for Dawn of Isles here: https://youtu.be/xdv4O37nHx0
Enjoy the collaboration with Kumamon in a trailer here: https://www.youtube.com/watch?v=88ibfkBum4s
Dawn of Isles is a multiplayer mobile adventure game produced by NetEase, Inc. The game brings a fun-tastic world to gamers through refreshing visuals, DIY experience, powerful elemental combos, and rich types of gameplay. Featuring a cell-shading animated style, the game boasts an art style that is easy on the eyes and provides an immersive sensory experience with beautiful graphics.
The game retains traditional role-playing game features such as character customization and questing, but it also seeks to innovate in a few ways. For example, the pet system is one of the key features in Dawn of Isles. A variety of cute and powerful pets are available for players to capture, train and evolve. Players can even dance with their exotic pets in the Flower Circle and ride on their furry companion as mounts and roam the world.
Dawn of Isles also provides sandbox gameplay and a huge variety of game modes including a bunch of creative limited-time events, resulting in a spontaneous and fun gaming experience! Players can explore the world for resources to gather while choosing from an array of weapons and skills to fight in a variety of combat styles. It's important to observe how the environment can interact with the elements and take full advantage of it to gain an edge in battle. The elemental combo system is important throughout the game. The world of Isles is comprised of four basic elements: fire, water, earth, and wind. To experience the mysterious power of nature, players not only need to understand their own talents and skills, but also discover more elemental combinations to up their game.
Announced at the fifth Annual Game "520 Game Enthusiasts' Day" on May 20, the Dawn of Isles X KUMAMON Crossover Event will last for one month once the game releases with Kumamon, the popular Japanese black bear-like mascot featuring a prominent role.
As one of the most famous mascots in Japan, Kumamon has been loved by people from all over the world since 2011. The mascot was created as a local campaign to draw tourists to the Kumamoto Prefecture after the Kyushu Shinkansen line opened. Its cuteness has brought the prefecture huge success and popularity.
To bring Kumamon to Dawn of Isles, the game has customized several Kumamon crossover events such as Hide and Seek, Greedy Glutton, Banana Frenzy, and more. They will be open to players only during the crossover period. Players can unlock and have access to all of them once they finish the special quests with Kumamon. Specially for the fans, Kumamon-themed emojis, balloons, gift-backs and plenty of other benefits are ready for players to collect.
With a combination of adventure, humor, and creativity, Dawn of Isles aims to create a game that can help players have fun and relax during their fun-tastic journey. Go and start your adventure in Dawn of Isles!
For more information, follow Dawn of Isles online:
Press assets can be found here.
About NetEase Games
NetEase Games is the online games division of NetEase, Inc. (NASDAQ: NTES), developing and operating some of China's most popular PC-client and mobile games. As one of the world's largest incubators of quality online game content, NetEase Games is dedicated to supporting the growth of innovative studios around the globe and growing an international presence along the way. To complement its self-developed games and world class R&D capabilities, NetEase Games also partners with other industry leaders including Blizzard Entertainment, Mojang AB (a Microsoft subsidiary) and other global game developers to operate some of the most popular international online games in China.
###
Media Contact
TriplePoint for NetEase Games
netease@triplepointpr.com
415.955.8500