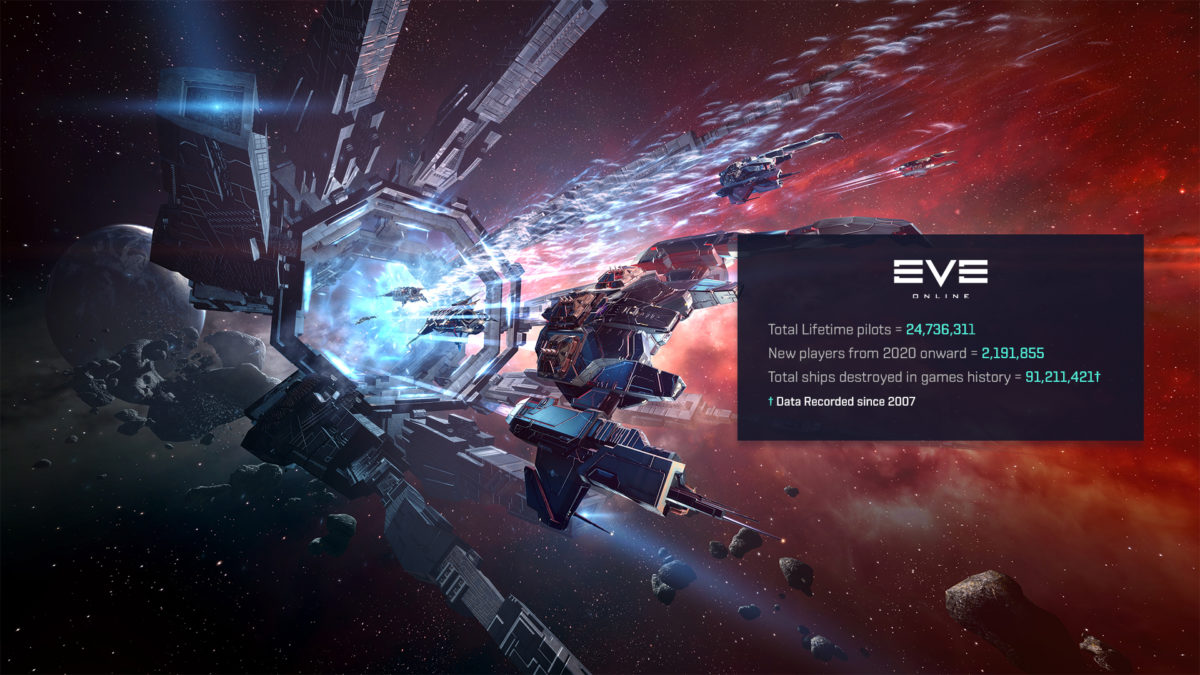 In 18 years of rigorous growth, EVE Online has welcomed more than 24 million pilots who have destroyed more than 91 million ships across New Eden
REYKJAVÍK – September 23rd, 2021 – CCP Games today announced that EVE Online, the deep spacefaring MMO, is now available on the Epic Games Store. Epic users can warp into EVE Online for free and join the growing community enjoying unrivaled freedom to forge their own path in the vast star cluster of New Eden.
"We are thrilled to be partnering with Epic to bring EVE Online to the masses on the Epic Game Store," said Bergur Finnbogason, EVE Online's Creative Director. "We recently gave EVE's new player experience a major overhaul and launched a plethora of activities designed to excite players logging in to EVE for the first time. We look forward to meeting you in New Eden!"
EVE Online By The Numbers:
EVE Online has welcomed over 24M lifetime pilots to traverse New Eden's 7,000 star systems since the game launched in 2003. In the last year alone, more than 2M new players havejoined the EVE Online's community and are enjoying the spaceship MMO's unparalleled freedom.
EVE Online is famous for its thriving in-game economy, political intrigue, and diverse lineup of player-run organizations. Over the game's 18-year history, players have destroyed more than 91M total ships. EVE Online players even broke four GUINNESS WORLD RECORDS titles in 2020 and 2021 during the largest player war in the game's history, including the biggest battle in video game history and the most costly video game battle.
Last week, CCP Games introduced a revamped New Player Experience and customizable Skill Plans that make EVE Online more accessible to newcomers. With the updated training program, Epic Games Store users who are trying EVE Online for the first time can learn how to play the MMOin a safe environment that is isolated from other players.
To celebrate today's release, CCP games has launched the "Researching the Rogues" event in EVE Online. "Researching the Rogues" has players research rogue drone activity across multiple combat sites and exploration anomalies. Starting today, new and veteran players can log in and receive free rewards themed after the "Researching the Rogues" event. You can learn more about the "Researching the Rogues" on the EVE Online blog here.
For all the latest information about the game, please visit EVE News.
###
About EVE Online®
EVE Online (PC/Mac) is a compelling, community-driven sci-fi MMO game where players can build and pilot a wide variety of spaceships, traversing vast solar systems for free and choosing their own path from countless options, experiencing space exploration, immense PvP and PvE battles, mining, industry and a sophisticated player economy in an ever-expanding sandbox. EVE is a captivating game in which hundreds of thousands of players compete for riches, power, glory and adventure, forging their own destinies in a single thriving universe. For more information, visit www.eveonline.com.
About CCP
CCP is a leading independent game developer that has been praised for its artistry, technology and game design that facilitates emergent behavior, empowering players with compelling means of self-expression. Founded in 1997 on the principle of pushing the envelope and breaking new ground on all levels, CCP is on a mission to create virtual worlds more meaningful than real life. With the launch of EVE Online in May 2003, CCP established itself as a pioneer of cutting edge massively multiplayer games, winning numerous awards and receiving critical acclaim worldwide. CCP is headquartered in Reykjavik, Iceland, and has additional studios in London and Shanghai. For more information, visit www.ccpgames.com.