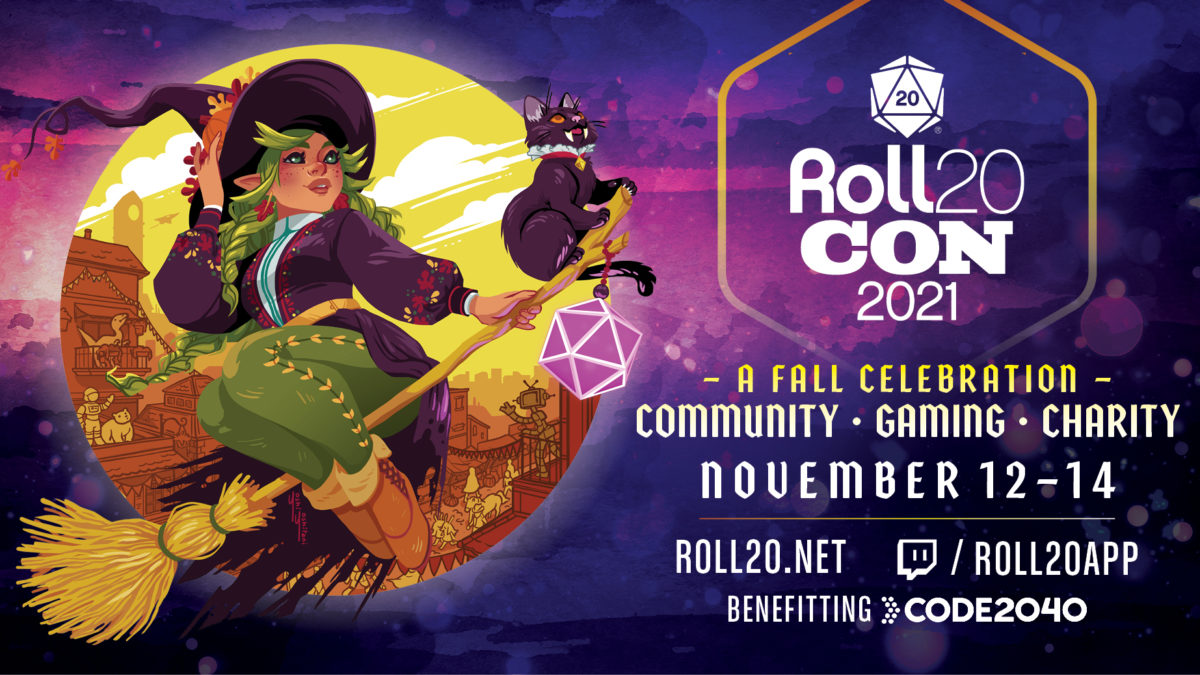 Las Vegas, November 15, 2021 – At this weekend's sixth annual Roll20Con, an exciting slew of announcements escaped the campaign and made their way into the real world. Among the bigger pieces of news, Roll20's mobile companion app has fully launched and is now available to iOS and Android users. There are a variety of additional features highly requested by fans, including the launch of Roll20's new mobile app, new games coming to the platform and more! Along with the mobile companion app, Roll20 also announced character creation in the Character Vault, a focus on taking the platform international, and improved page organization. Fans can catch recaps of the show on Youtube or Twitch.
As part of the celebration, fans also grabbed exclusive Roll20Con giveaways and rewards, with Roll20 additionally matching donations to Code2040 to help end racial discrimination in tech.
"The team at Roll20 works tirelessly to constantly deliver updates to a deep set of features that make playing easier and add elements that immerse players in the game," said Ankit Lal, President of Roll20. "We're extremely proud of our new Mobile App in particular. We believe it's the foundation of a new player-focus that will ultimately make life easier for everyone at the table – with better, more informed players making life easier on all GMs. But, that's not all we showed off at Roll20Con – whether it's new games, upcoming product updates or the first-ever glimpses at exciting IPs coming to tabletop like the Power Rangers, Roll20Con is all about celebrating tabletop gaming!"
Revealed at Roll20Con during Friday's D&D Strixhaven playthrough presentation, the Roll20 Mobile App launches with multiple killer features, including:
The ability to easily view your Roll20 character sheets including character stats, skills, and proficiencies
Rolls for abilities, combat, and spells
Use your favorite math rocks or send all your rolls right to the VTT chat, powered by Roll20's signature quantum roll server
Make non-combat skill checks like persuasion and investigation
Players can manage and track their ever-important HP, available spell slots, inventory, hit dice, and death saves – all from within the app
Also revealed during Sunday's Roll20 Announcements panel, the team delved deep into their game-books to deliver a roadmap for the following updates both brand new and coming soon to Roll20:
Just launched:

Performance improvement across the board, including VTT load times and dice rolling speed
Smart image placement on the VTT to automatically detect map and token sizes

Coming Soon:

Compendiums in the mobile companion app
Documentation for character sheet developers to optimize their work on mobile
Design system updates, rolling out throughout 2022
A Roll20Con press kit with all assets can be found here. 
New Games Coming to Roll20
The following new titles and launches were all announced during Roll20Con!
Launched at Roll20Con
From Ulisses Spiele: The Dark Eye/Das Schwarze Auge launching 11/12

From Dimension 20: Official Artpacks from The Unsleeping City launching 11/12

From Dungeons on a Dime: Adventures on a Dime 2.0
Announced at Roll20Con, Arriving Q4 2021
From R. Talsorian: Cyberpunk RED coming this winter

From Evil Hat Productions: The Advanced Lovers & Lesbians expansion for Thirsty Sword Lesbians (Kickstarter now live! 11/8 – 11/23 (tentative), and additional Fate of Cthulhu releases

Four games from Paizo: Galactic Magic, Lost Omens: Absalom, City of Lost Omens, Lost Omens: Monsters of Myth, launching 12/15/2021

From Chaosium: Keeper Screen Pack (2 new scenarios) in November 2021, Doors to Darkness (5 beginner scenarios) in December 2021

From Bully Pulpit: 8 new Fiasco Playsets in December 2021 – exclusively available on Roll20 the week of Thanksgiving for online play

From Green Ronin: Astonishing Adventures/Mutants & Masterminds, Return to Freeport
Announced at Roll20Con, Coming Q1 2022
From Renegade Game Studios: Power Rangers RPG (preorders available now, launching Q1 2022), Vampire: the Masquerade Second Inquisition Sourcebook (preorders available now, launching Q1 2022)

From Wizards of the Coast: Strixhaven: Curriculum of Chaos (preorders available now, launching 12/7/2021), Critical Role: Call of the Netherdeep (preorders available now, launching 3/15/2022)

From Modiphius: Fallout RPG coming Q1 2022

From Andrews McMeel Universal: Zweihander Main Gauche and Flames of Freedom coming Q1 2022

From Darker Hue Studios: Haunted West coming Q1 2022

From Coyote & Crow LLC: Coyote & Crow RPG coming Q1 2022

From Chaosium: Does Love Forgive? (2 scenarios for 1 keeper and 1 player) in January 2022
Coming Q2 2022
From Hunters Entertainment: Exquisite Crime (Kickstarter live now!) coming June 2022

From Jambo Editora: Tormenta 20
For more information about Roll20Con or want to sign up for Roll20, visit: https://con.roll20.net/ A full schedule for the event is outlined in this Youtube video.
About Roll20Con
It's an event all about gaming for a cause – three days of streaming, to be exact. In partnership with Code2040, an organization dedicated to ending racial disparity in the tech industry, Roll20 will be continuing to match community donations up to $50k during this weekend-long event. Roll20 is once again celebrating the online TTRPG (tabletop role playing game) community with panels, discussions, and plenty of gaming.
About Roll20
Roll20 is the all-in-one solution for organizing and playing tabletop games online, allowing you to play your games anywhere and share them with anyone virtually. With the ability to choose from a number of popular titles built ready for your virtual tabletop, your adventures are limitless and you can get started playing with little to no prep. Dive into advanced features like Dynamic Lighting or explore macros and APIs to add some extra depth to your game. Roll20 lets you play your tabletop games, your way. For more information, please visit https://roll20.net/.
Media Contact
TriplePoint on behalf of Roll20