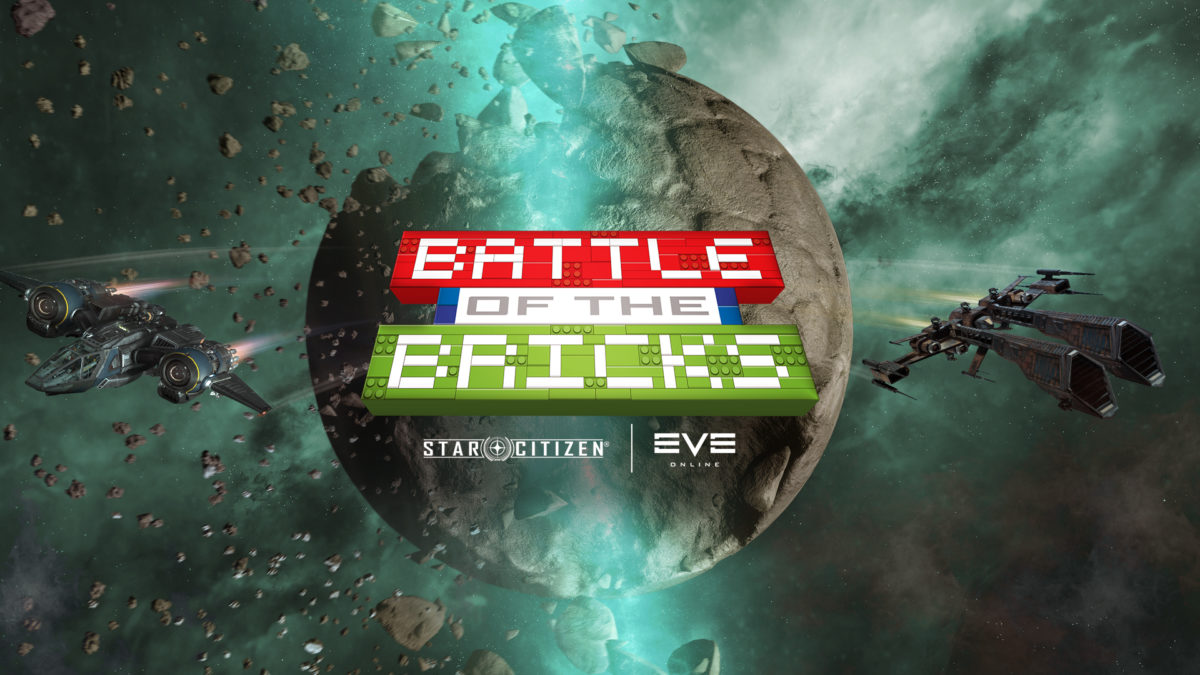 The fundraiser begins today and runs through December with a spaceship build-off stream on July 22
Reykjavík, Iceland, and Los Angeles, California – July 13, 2022 – CCP Games will soon meet Cloud Imperium Games at their UK studio for Battle of the Bricks, a fundraising event for Extra Life, a charity supporting Children's Miracle Network hospitals. Battle of the Bricks tasks each team with hand-building replicas of popular ships from sci-fi spacefaring MMOs EVE Online and Star Citizen while completing difficult challenges. Tune in to Star Citizen's Twitch channel at 1 pm Eastern / 10 am Pacific on Friday, July 22 to watch CCP and Cloud Imperium Games build ships while eating the world's hottest chili peppers, revealing embarrassing photos, and more. The fundraiser will remain open until December 31, 2022.
CCP and Cloud Imperium Games are accepting donations today on the Battle of the Bricks fundraiser page here: Tiltify – Battle of the Bricks.
Throughout June 2022, EVE Online and Star Citizen players submitted digital recreations of their favorite spacecraft to be considered for the charity live stream event. The teams received countless creative submissions, with EVE Online's Primae and Star Citizen's Banu Merchantman being selected by a panel of community judges as the winners for the build-off.
"When Cloud Imperium Games challenged us on Twitter to a spaceship build-off back in December, we gladly took them up on it," said Rafn Herlufsen, Director of Player Experience and Community at CCP Games. "CCP Games and Cloud Imperium Games are friendly rivals, but they are similar in that each has a dedicated community of intrepid space pioneers. Tune in to the live stream event on July 22nd to cheer on your team and help us fundraise for a good cause."
"We knew our friends at CCP would answer the call to the Battle of the Bricks, and we're excited to bring our amazing communities together for this fantastic fundraising event for Extra Life," said Tyler Witkin, Director of Community at Cloud Imperium Games. "It has been inspiring to see our separate universes join forces to rally around such a wonderful cause and celebrate the creativity and passion on display in the space game genre that we all share. We hope everyone joins us live for the final challenge on the 22nd."
"We're thrilled that CCP Games and Cloud Imperium Games are going to be supporting Children's Miracle Network Hospitals through Extra Life," said Adam Schifani, Senior Manager of Community Experience at CMN Hospitals. "We are grateful to both the EVE Online and Star Citizen communities for their generosity and passion!"
As various donation milestones are met during the stream, CCP and Cloud Imperium Games will spin a wheel to determine the activity both teams must attempt. Activities for the stream range from wholesome to zany, including EVE Online or Star Citizen in-game ship giveaways, trying rotten shark, eating mystery-flavored jelly beans, and much more. The full list of activities that the teams could be tasked with attempting will be revealed during the live stream event on July 22, 2022.

EVE Online can be downloaded for free by visiting www.eveonline.com. For all the latest information about the game, please visit EVE News. You can find the press kit here.
###
About EVE Online®
EVE Online (PC/Mac) is a compelling, community-driven sci-fi MMO game where players can build and pilot a wide variety of spaceships, traversing vast solar systems for free and choosing their own path from countless options, experiencing space exploration, immense PvP and PvE battles, mining, industry and a sophisticated player economy in an ever-expanding sandbox. EVE is a captivating game in which hundreds of thousands of players compete for riches, power, glory and adventure, forging their own destinies in a single thriving universe.
Website | Press Kit | Facebook | Twitter | Instagram | YouTube | Twitch
About CCP Games
CCP is a leading independent game developer that has been praised for its artistry, technology and game design that facilitates emergent behavior, empowering players with compelling means of self-expression. Founded in 1997 on the principle of pushing the envelope and breaking new ground on all levels, CCP is on a mission to create virtual worlds more meaningful than real life. With the launch of EVE Online in May 2003, CCP established itself as a pioneer of cutting edge massively multiplayer games, winning numerous awards and receiving critical acclaim worldwide. CCP is headquartered in Reykjavik, Iceland, and has additional studios in London and Shanghai.
Website | Linkedin | Facebook | Twitter | Instagram
About Star Citizen
Star Citizen combines classic space sim and FPS gameplay with boundary-pushing visuals in a massively multiplayer setting of unprecedented fidelity. Live how you want to live: shift paths from cargo hauler to outlaw, explorer, or any other role, whenever you want. Explore multiple planets and moons, including vast cities and underground caverns, all created with a unique combination of procedural planet technology and complementary hand-crafted design.
Website | Facebook | Twitter | Instagram | YouTube | Twitch
About Cloud Imperium Games
Cloud Imperium Games is a new kind of independent studio dedicated to delivering AAA games outside the established publisher system. It was founded in 2012 by renowned visionary game developer Chris Roberts (Wing Commander series, Freelancer, Privateer), Sandi Gardiner, and international media lawyer and producer Ortwin Freyermuth (Carlito's Way, Shattered, Das Boot – Director's Cut), with industry veteran and studio director Erin Roberts (Lego videogame series, Starlancer, Privateer) joining the team in 2013. Cloud Imperium Games is creating Star Citizen, a record-shattering, largely crowdfunded space sim, and Squadron 42, a Hollywood-caliber, story-driven single-player game set in the same universe. Cloud Imperium Games operates in "open development" – sharing progress and updates in near real time. This paradigm-shifting development process (game development usually occurs behind closed doors) gives the community an unprecedented look at Star Citizen and Squadron 42's development and allows direct feedback and interaction between players and developers, thereby ensuring that the games being developed are what players want to play.
Website | Linkedin | Facebook | Twitter | Instagram
About Extra Life
Extra Life is a fundraising program of Children's Miracle Network Hospitals®. The Extra Life community fundraises year-round to Change Kids' Health to Change the Future. Donations go to member children's hospitals to fund critical life-saving treatments and healthcare services, along with innovative research, vital pediatric medical equipment, and child life services.
Since its inception in 2008, Extra Life has raised over $100 million USD to Change Kids' Health to Change the Future. Right now, children's hospitals need YOUR support.
Website | Twitter | Discord | Facebook | Instagram | Twitch | YouTube