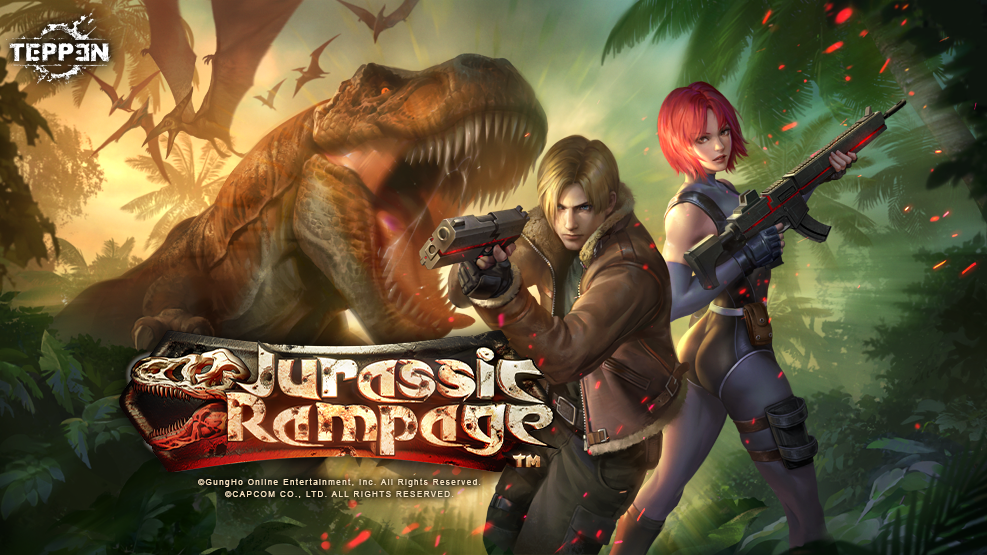 Survive the reptilian attack as the characters of the 'Dino Crisis' and 'Resident Evil' series come together
TOKYO, Japan – September 1, 2022 – Fight to survive against ancient threats as the "Jurassic Rampage" expansion launches in TEPPEN today. You can watch the full trailer here. Players are tasked with facing hordes of dinosaurs and deciphering the conspiracy behind their appearance with the heroes of the Dino Crisis and Resident Evil series, who join beloved characters from the Monster Hunter, Street Fighter, Mega Man series, and more. "Jurassic Rampage" is the first in a three-part series, Echoes of the Lost Civilization, coming to TEPPEN in the months ahead.
Giants Walk Again
On a remote island, an ancient, indefinite power source was recreated in a top-secret experiment, but when it went wrong, the resulting uncontrollable reaction created a rift in space-time to the prehistoric era of the dinosaurs. To investigate these Jurassic creatures and the power source that brought them to the present day, the government dispatches agents Leon Kennedy from the Resident Evil 4 series, and Regina from the Dino Crisis series. They are not alone: multiple underground organizations arrive to fight for control of the dinosaur-ridden island, putting these agents at the center of a complex struggle.
Rush the Battlefield
The new <Invasion> ability lets players move their Unit Cards to the EX Pocket. After 13 seconds, these units will be automatically deployed onto the field and the ability's effects will activate. Use <Invasion> to launch a timed assault on your opponent.
New Cards
Use your full arsenal to help Regina survive, as you'll be up against more than just dinosaurs. The Black card "Third Energy Genius Kirk," the Purple card "Wolfpack," the Red Card "Repelling Fire," and the Green Card "Ancient Tyrant T. Rex" all enter the fray! Here's a look at Ancient Tyrant T. Rex:
Type: Unit
Tribe: Monster
Rarity: Legendary
MP: 8
Attack: 4
HP: 5
Effects:

<Heavy Pierce> <Shield> While on the field: Reduce damage taken of 3 or less than 1. When an enemy unit dies: Gain +2 HP.
<Invasion>: 6 – Give this unit +1/-4 and deal damage to 1 random enemy unit equal to this unit's Attack.
Limited-Time Adventure
A quest map for the previous expansion, "Island of Fear," will be added to Adventure Mode, available from September 22 to December 1, 2022. Players can collect Puzzle Items and new Relics exclusive to the quest. The quest music, "Transcend" from Resident Evil Revelations 2, will be added to the Soul Shop for a limited time.
Campaigns
All players who sign into the game before October 31 will receive 10 new Pack Tickets for "Jurassic Rampage" and login bonuses to celebrate the prehistoric invasion. Two new BGMs from Dino Crisis will be added to the Soul Shop: "Set you at ease" and "A Rowdy in Ancient Ages." Players can take on two Jurassic Missions to get new player icons: "The Treasure is Mine" and "Plesiosaurus."
The 3rd Anniversary continues with:
Special login bonuses will be held periodically to earn Zenny, Souls, Card Packs, and bonus anniversary event Pack Tickets.
Bonus ANNIVERSARY Event Pack Tickets grant one Legendary Card once the legendary charge reaches ten.
Players can get tickets and icons from the Bonus ANNIVERSARY EXGP.
The 'Shiba-inu' Amaterasu,' 'Double Cyclone' X, 'Black Zero,' and 'Ready for Battle' Wesker skins return to the pull pool via Event Pack Tickets.
Card Rotation
The "Island of Fear" card set rotates out of Standard Mode with the introduction of "Jurassic Rampage." The following card sets are no longer allowed in Standard Mode:
DAY OF NIGHTMARES
The Devils Awaken
The Force Seekers
Haunted by Memories
Adventures of a Tiny Hero
The Tale of Amatsu no Kuni
The Battle of Amatsu no Kuni
A Dark Agenda
Ace vs. The People
Dragons of War
Island of Fear
Assets for "Jurassic Rampage" can be found here.
For more information about TEPPEN, visit the official website, Twitch, Youtube, and Twitter.
Download TEPPEN on the App Store, Google Play, and the Amazon Appstore.
---
ABOUT TEPPEN
There's only one way to Rise to the Top – playing TEPPEN! TEPPEN is the Ultimate Card Battle game where units you command operate in real time, featuring dynamic action with over-the-top attacks blowing up your screen. With astonishing graphics and a cutting-edge battle system, TEPPEN is the card game to end all other card games! Command popular Heroes (characters) from Monster Hunter, Devil May Cry, Street Fighter, Resident Evil, and other series in All-Star action from Capcom's finest!
©GungHo Online Entertainment, Inc.
©CAPCOM CO., LTD. ALL RIGHTS RESERVED.
ABOUT CAPCOM
Capcom is a leading worldwide developer, publisher and distributor of interactive entertainment for game consoles, PCs, handheld and wireless devices. Founded in 1983, the company has created hundreds of games including ground-breaking franchises Resident Evil™, Street Fighter™, Monster Hunter™, Ace Attorney™, Mega Man™ and Devil May Cry™. Capcom maintains operations in the U.S., U.K., France, Germany, Tokyo, Taiwan, Hong Kong and Korea, with corporate headquarters located in Osaka, Japan. More information about Capcom and its products can be found at www.capcom.com or www.capcom-unity.com.
Capcom, the Capcom logo, Ace Attorney, Devil May Cry, Mega Man, Monster Hunter and Resident Evil are trademarks of Capcom Co., Ltd., in the U.S. or other countries. Street Fighter is a trademark of Capcom U.S.A., Inc.
ABOUT GUNGHO ONLINE ENTERTAINMENT AMERICA
GungHo Online Entertainment America, Inc. (GOEA) is a multiplatform publisher dedicated to delivering the best titles, content, and support for the online gaming community. Established in 2012 and led by former Square Enix U.S.A. and XSEED Games executive Jun Iwasaki, GOEA is the US division of GungHo Online Entertainment (GOE), an established Japanese publisher. GOEA's content partners include leading developers SUPERTRICK GAMES, Game Arts, Acquire, and Gravity, all of which are subsidiaries of GOE. GOEA publishes and distributes network-oriented games for console, handheld, mobile, tablet, and MMO-style games for PC. GOA is located in Redondo Beach, CA. For more information, visit www.gunghoonline.com.
MEDIA CONTACT
GUNGHO ONLINE ENTERTAINMENT AMERICA
Natsuki Nishikawa
Senior Communications Coordinator
natsuki@gunghoonline.com
TriplePoint on behalf of GOEA
+1-415-955-8500