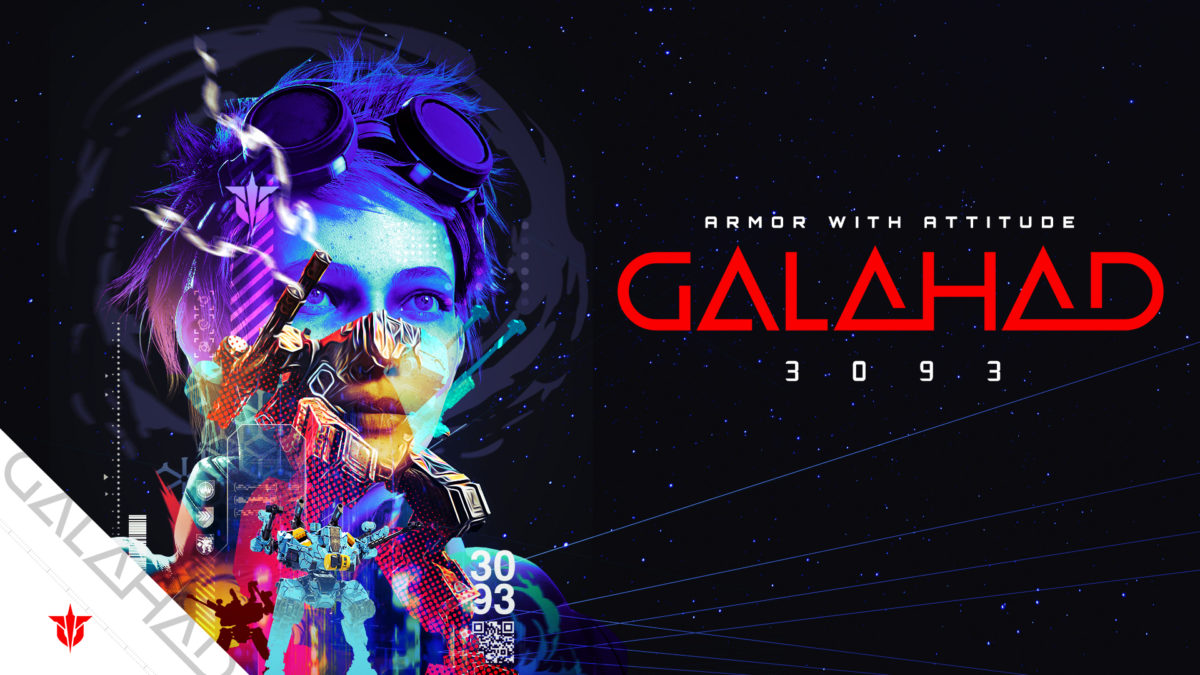 Boost and battle in custom mechs across dynamic 12v12 arenas, with more heroes, upgrades, and multiplayer features to come
ST. LOUIS — September 1, 2022 — Simutronics today announced the mech hero shooter GALAHAD 3093 is now available on PC through Steam Early Access for an MSRP of $24.99 USD. GALAHAD 3093 entered the late beta stage in late 2020 and has received constant updates ever since to fine-tune the experience for a larger player base. Now, Simutronics is ready for the world at large to experience GALAHAD 3093. To celebrate the Early Access release, Steam players can enjoy a 15% launch discount until September 8.
In the sci-fi future world of GALAHAD 3093, Knights – mech operators inspired by Arthurian legend – fight for glory in epic arenas. These brave Knights pilot powerful Lances – mechs capable of massive destruction – in a never-ending battle to capture and hold territory.
Watch the launch trailer for GALAHAD 3093 here.
Early Access players can hop in game to experience the following mech customization options, heroes, maps, modes, and more:
Ultimate Customized Lance Warfare: Design a custom Lance that fits your play style with hundreds of possible builds and abilities. Players can choose between 23 weapon systems, 148 variants, and over 500 modules to create the ideal Lance for every playstyle. Options vary from the stripped-down and lightning-fast scout that easily navigates terrain to the slow but heavy-duty tank that packs a hell of a punch with rockets and grenades. Players can save up to four loadouts to adapt to any battle. 
Heroic Knights: Each of the game's eight Knights come equipped with special skills to help turn the tide of battle. Arthur can call down orbital strikes with the aid of X-caliber, Gwen can project a Royal Dome that protects allies from damage, and Mordred's Teleport ability allows players to cross the map in the blink of an eye. Combine your advanced Lance weaponry and intrinsic Hero abilities to rule the battlefield and crush your enemies!
Epic Maps: Fight across seven vertical sci-fi arenas with dynamic, game-changing events like a giant desert sandworm and a destructive comet strike on Europa. 
Battle For Glory or Control: Compete for victory in an all-out Team Deathmatch, or rule the battlefield by taking over and defending territory in Base Assault. 
Powerful Progression: See new ways to trick out your Lance before you commit with the Variant Tree View.
Always Evolving: GALAHAD 3093 will continue to improve and update with player feedback. The game will also have season updates, with the first scheduled for later this year bringing in social systems, a new hero, private matches, and more.  
"We learned so much from fans during our beta sessions, and we're eager for a wider audience to experience GALAHAD 3093," Simutronics CEO David Whatley said. "Even though it is a complete gameplay experience now, this is a great opportunity for fans to help shape Early Access development of new features, such as clans and private matches. We will work toward our global launch and build the future of mech warfare together."
For more information on GALAHAD 3093, visit GALAHAD3093.com and follow the game on Facebook, Instagram, Twitter, and YouTube. Players can also join the Discord community to share feedback and receive updates directly from the developers.
Assets for GALAHAD 3093 can be found in the press kit.
---
About Simutronics
Simutronics is a games developer based in St. Louis. With over three decades of experience, Simutronics is a leader in the business of online multiplayer games and persistent worlds that people continue to play today like Gemstone IV and DragonRealms. It helped pioneer the online shooter genre with CyberStrike and has created award-winning mobile games such as the Siege series, One Epic Knight, and Tiny Heroes.
Press Contact
TriplePoint on behalf of Simutronics
simutronics@triplepointpr.com