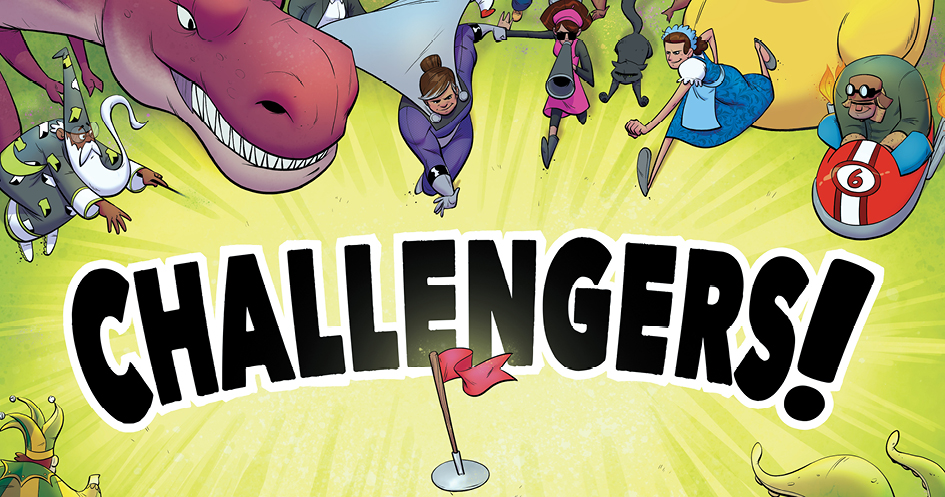 Build your dream team to win in this addictive card battler and deck management game, launching at SPIEL '22 and available in select territories this November
PARIS — Sept. 1, 2022 — Today, Z-Man Games announced Challengers, a fast-paced auto battler and deck management game. Challengers combines the easy-to-learn fun of card duels with the strategy of deck building to create an addicting showdown of characters. In Challengers' "tournament of duels," up to eight players compete at the same time to become the Champion of Challengers. Challengers will be available October 6-9 at SPIEL '22 in Essen, Germany, before launching in the U.S., Canada, U.K., France, and Germany this November for an MSRP of $39.99. The game is available to preorder now on the Asmodee store.
Challengers stars over 70 kooky characters from diverse locales like Hollywood, outer space, and the monstrous deep sea… or your bathtub. Players draft character cards with unique abilities and must make tough deck building choices between rounds, as each character combination opens up new ways to win. Across up to 4 simultaneous battles, players win trophies and fans by defeating other players in duels. After seven rounds, the two players with the most trophies and fans face off to become the ultimate champion. Players can also test a winning strategy in the game's solo mode and should look forward to more team-building options with future character expansions.
"From my first round of Challengers, I was hooked," said Sophie Gravel, head of Z-Man Games, who has spearheaded the launches of Pandemic's Second Edition, Azul, Pandemic Legacy, and more. "The game is nonstop edge-of-your-seat fun. Every card placement is a high-stakes moment that could decide the battle. No two games are the same: after hundreds of rounds, players will still be learning ways to perfect their winning team of characters. And with more character decks to come, the thrill of the Challengers tournament never ends."
Challengers is developed by Z-Man Games in collaboration with 1 More Time Games, a Vienna-based indie board game studio. Z-Man Games worked with 1 More Time Games to perfect Challengers' gameplay design, hone its materials and expand its reach worldwide.
"When Z-Man Games offered the opportunity to refine Challengers together and release it globally, it was a dream come true," said Roman Rybiczka, co-founder of 1 More Time Games. "To collaborate with such an experienced team of industry leaders was an exciting and fun journey we did not want to miss. We are very proud that soon players around the world can enjoy Challengers in its best form possible."
Challengers Key Features:
Gather the best team to win a series of duels in this fast-paced game set during the world's biggest Capture the Flag competition  
Fight to become the Champion of Challengers again and again, with different deck lineups affecting your winning strategy 
Duel 'til you drop, with everyone playing at the same time in up to four simultaneous duels. Face a new opponent each round in an intense tournament! 
Draft from over 70 diverse characters with unique abilities to build your dream team. Players update their decks after each round, allowing them to adjust their strategy based on their last duel. Create game-winning synergies by mixing characters from across themes like Haunted House, Shipwreck, and Funfair 
Stage your duels in style with four high-quality playmats, making the game easy to set up and play 
Challenge yourself in Solo mode, where you face the Robot in a one-on-one battle for victory 
Supports 1 – 8 Players 
Designed for ages 8+ 
Games last ~45 minutes 
Z-Man Games is the worldwide distributor for Challengers, which is licensed from 1 More Time Games and White Castle Games Agency.
Assets for Challengers can be found here. For more information on the game, visit the official website.
---
About Z-Man Games
Z-Man Games creates innovative board and card games that become modern essentials. Since 1999, the studio has published over 100 critically acclaimed titles from casual to complex, cooperative to competitive, small bag to big box—and everything in between. With an eclectic catalog featuring bestsellers like Pandemic, Love Letter, Citadels, and Carcassonne, Z-Man offers the best of both classic and cutting-edge games to suit any gamer's play style.
Z-Man Games is a part of the Asmodee Group. For more information, visit www.zmangames.com or find the studio on Facebook and Twitter (@ZManGames_).
About Asmodee
Asmodee Group is a leading international games publisher and distributor committed to telling amazing stories through great games with over 43 million games sold yearly in more than 50 countries. Through our portfolio of iconic game titles, including Catan, Ticket to Ride, Pandemic, Dead of Winter, Splendor, 7 Wonders, Just One, Dobble/Spot it!, KeyForge and Star Wars: X-Wing, we create a dynamic transmedia experience for players across a variety of digital and physical platforms. Asmodee also creates inspiring and innovative products in partnership with leading entertainment and technology companies. With a global workforce of over 2000 people, Asmodee operates in Europe, North America, South America and Asia. Asmodee is headquartered in Guyancourt, France, and is the ninth operative group of Embracer. Learn more at corporate.asmodee.com.
Media Contacts
TriplePoint on behalf of Asmodee