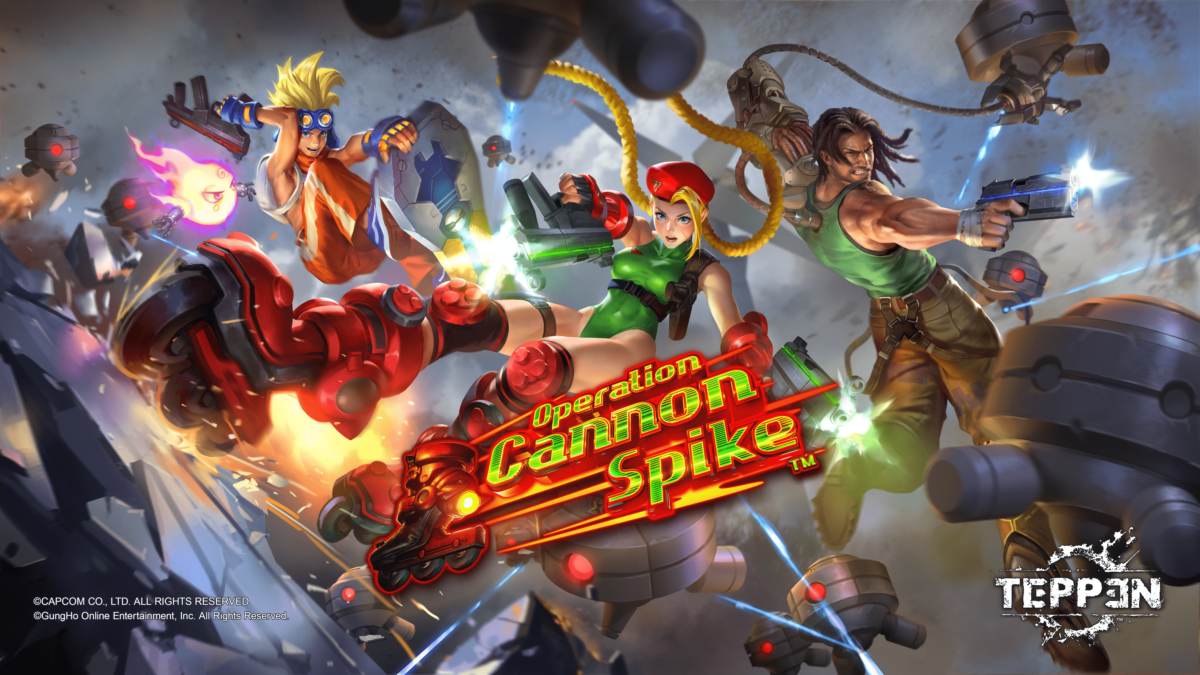 Join an elite unit of heroes to strike back against an army of killer machines
TOKYO, Japan – November 1, 2022 – A wave of killing machines is coming to wreak havoc as the Operation Cannon Spike expansion launches in TEPPEN today. Battle against the Reploid Army, a group of murderous machines hell-bent on driving humanity to extinction. To defeat the Reploids, the heroes from the Cannon Spike and Bionic Commando series join beloved characters from the Monster Hunter, Street Fighter, Mega Man X series, and more.
Watch the trailer here.
Heroes of Humanity Rise Up
With the Force Towers now awakened, machines have begun to be sent out to destroy humanity. As the Reploid Army begins its plan to wipe out the human race, the Anti-Machine Special Forces (AMSF) unit rises to stop the terror. With heroes such as AMSF Spencer from the Bionic Commando series and AMSF Cammy from Cannon Spike, the Unit must infiltrate the impenetrable Force Towers and the Reploid Army's defenses, led by eight machine guardians spanning the Mega Man X series.
Become a Machine-Killing Specialist
To survive against the killer machines sent to attack humanity, players can use the new ability, <Specialist>. Unit Cards with the <Specialist> ability will activate certain effects depending on the Tribe type that is placed in front.
New Cards
Fight alongside the heroes of the AMSF unit. The Black card "AMSF Spencer," the Green Card "AMSF Cammy," the Purple card "AMSF Simone," and the Red Card "AMSF Shiba" all enter the fray! Here's a look at AMSF Spencer:
Type: Unit
Tribe: Human
Rarity: Legendary
MP: 6
Attack: 2
HP: 7
Effects:

When played: Give all other units -3 HP, then gain +1 MP for each unit destroyed by this effect.
<Specialist>: Machine Gain +1/+1 and <Agility>.
Events, Challenges, and Sales
To celebrate the release of the Operation Cannon Spike card pack, the Operation Cannon Spike event unlocks limited-time Special Missions for players to earn player icons based on the eight guardians. Additionally, players can receive icons of AMSF Cammy, AMSF Shiba, and AMSF Simone through the Mini Jewel and Extras Set.
The limited-time Event Quest "Super Spooky Village" also arrives this month, with quests players can complete to acquire Relics and player icons based on the Super Spooky Village card pack of the same name. This Event Quest includes multiple map difficulties: the normal "Eerie Village" and "Domain of the Four Lords" map, and the higher difficulty "Ceremony Site" map.
As part of TEPPEN's Cyber November 2022 sale, pick up past BGMs from Street Fighter, Ace Attorney, Resident Evil series, and more at 20% off of Souls. Players can also add new tracks from the Capcom 30th Anniversary Music Best album, representing Ghosts 'n Goblins, Mega Man X, Monster Hunter series, and more in the Soul Shop.
Additionally, the Soul Shop will feature…
Special Pack 17: includes the Cammy EX-Skin and Secret cards from the previous Jurassic Rampage expansion. Available from Nov. 4 to 30.
New Pack Celebration JEWEL SET "Operation Cannon Spike" Pack Ticket: Available from Oct. 31 to Nov. 14.
Cyber November 2022 JEWEL SET "TEPPEN SPECIAL PACK 17" Pack Ticket: Available from Nov. 14 to 30.
Black Friday JEWEL SET: Available from Nov. 24 to 30.
Card Rotation
The MISSION OF RUIN card set rotates out of Standard Mode with the introduction of Operation Cannon Spike. The following card sets are no longer allowed in Standard Mode:
DAY OF NIGHTMARES
The Devils Awaken
The Force Seekers
Haunted by Memories
Adventures of a Tiny Hero
The Tale of Amatsu no Kuni
The Battle of Amatsu no Kuni
A Dark Agenda
Ace vs. The People
Dragons of War
MISSION OF RUIN
Assets for Operation Cannon Spike can be found here.
For more information about TEPPEN, visit the official website, Twitch, Youtube, and Twitter.
Download TEPPEN on the App Store, Google Play and the Amazon Appstore.
---
ABOUT TEPPEN
There's only one way to Rise to the Top – playing TEPPEN! TEPPEN is the Ultimate Card Battle game where units you command operate in real time, featuring dynamic action with over-the-top attacks blowing up your screen. With astonishing graphics and a cutting-edge battle system, TEPPEN is the card game to end all other card games! Command popular Heroes (characters) from Monster Hunter, Devil May Cry, Street Fighter, Resident Evil, and other series in All-Star action from Capcom's finest!
©GungHo Online Entertainment, Inc.
©CAPCOM CO., LTD. ALL RIGHTS RESERVED.
ABOUT CAPCOM
Capcom is a leading worldwide developer, publisher and distributor of interactive entertainment for game consoles, PCs, handheld and wireless devices. Founded in 1983, the company has created hundreds of games including ground-breaking franchises Resident Evil™, Street Fighter™, Monster Hunter™, Ace Attorney™, Mega Man™ and Devil May Cry™. Capcom maintains operations in the U.S., U.K., France, Germany, Tokyo, Taiwan, Hong Kong and Korea, with corporate headquarters located in Osaka, Japan. More information about Capcom and its products can be found at www.capcom.com or www.capcom-unity.com.
Capcom, the Capcom logo, Ace Attorney, Devil May Cry, Mega Man, Monster Hunter and Resident Evil are trademarks of Capcom Co., Ltd., in the U.S. or other countries. Street Fighter is a trademark of Capcom U.S.A., Inc.
ABOUT GUNGHO ONLINE ENTERTAINMENT AMERICA
GungHo Online Entertainment America, Inc. (GOEA) is a multiplatform publisher dedicated to delivering the best titles, content, and support for the online gaming community. Established in 2012 and led by former Square Enix U.S.A. and XSEED Games executive Jun Iwasaki, GOEA is the US division of GungHo Online Entertainment (GOE), an established Japanese publisher. GOEA's content partners include leading developers SUPERTRICK GAMES, Game Arts, Acquire, and Gravity, all of which are subsidiaries of GOE. GOEA publishes and distributes network-oriented games for console, handheld, mobile, tablet, and MMO-style games for PC. GOA is located in Redondo Beach, CA. For more information, visit www.gunghoonline.com.
MEDIA CONTACT
GUNGHO ONLINE ENTERTAINMENT AMERICA
Natsuki Nishikawa
Senior Communications Coordinator
TriplePoint on behalf of GOEA
+1-415-955-8500