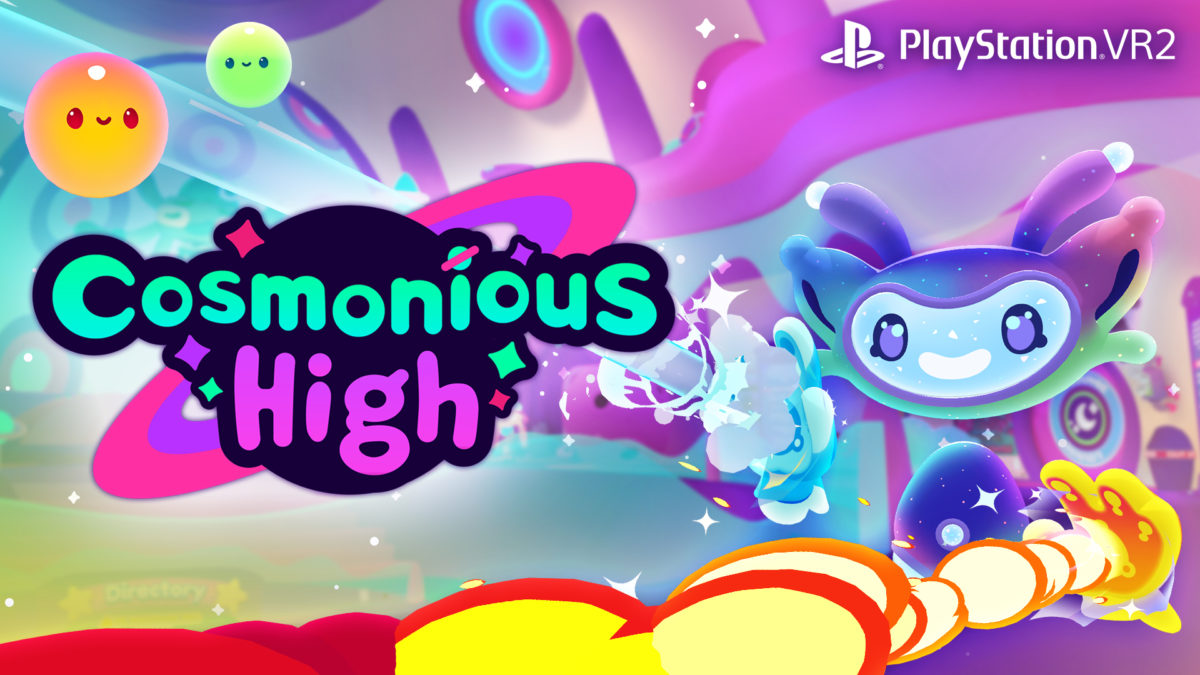 Featuring PS VR2 enhancements, including improved haptics and 90 frames-per-second at 4K resolution
AUSTIN, TEXAS – November 02, 2022 –  From the creators of Job Simulator and Vacation Simulator, Owlchemy Labs is bringing Cosmonious High, the comically catastrophic alien adventure, to  PlayStation®VR2(PS VR2) on February 22, 2023. Leveraging Sony's next-generation PS VR2 enhancements, the game will be released worldwide in the PlayStation Store and will be available for pre-order on November 15th. Players with an active PlayStation Plus subscription can pre-order the game at a 20% discount. Wishlisting is now available on the Cosmonious High PlayStation Store page. 
Check out the PS VR2 trailer for Cosmonious High here:
https://www.youtube.com/watch?v=Ec1WRUNpSrc
Cosmonious High is an alien adventure where players take the role of a Prismi, a unique alien species that can adapt to any situation, and crash lands on their first day of high school. The school is troubled by mysterious malfunctions and chaos. As a Prismi, players will adapt extraordinary alien abilities to restore Cosmonious High to its former glory while also taking classes and making friends with quirky classmates.
"We worked hard to ensure that Cosmonious High's PS VR2 experience runs buttery smooth and takes advantage of the unique hardware found in Sony's next-generation VR headset," said Devin Reimer, CEO (Chief Executive Owl) of Owlchemy Labs. "PS VR2 players are in for a treat when Cosmonious High launches on the headset in February, providing an immersive VR experience that anyone can enjoy."
Cosmonious High features many enhancements built to take advantage of PS VR2's hardware, including:
Gorgeous visuals rendered in 4K at 90fps

immerse players in Cosmonious High's vibrant, colorful world in a unique and playful art style.

Improved controller and HMD haptics

transports players to Cosmonious High's world, enabling them to feel the wind, water, balls of paint, and more from their hands to their heads. 

Real-time shadows and dynamic lighting

enhance Cosmonious High's environments and create a natural-feeling world.

Shorter load times

mean players can seamlessly explore the world and hang out with their alien classmates.

Sony's audio spatializer

enables players to go deeper into Cosmonious High's world as distinct sounds flow all around the Prismi, adding emotion and atmosphere to the experience.
You can find assets for Cosmonious High on PS VR2 in the Press Kit.
For more information on Cosmonious High for PS VR2, check out the Sony blog. 
###
About Owlchemy Labs
Founded in 2010 and acquired by Google in 2017, Owlchemy Labs is an XR studio with a passion for polished, playful, and innovative VR games and experiences. Owlchemy's titles include the award-winning, platinum-selling VR launch title "Job Simulator," the Emmy-nominated "Rick and Morty: Virtual Rick-ality," the top ten VR title "Vacation Simulator," and their newest VR title "Cosmonious High." With the mission of making VR for everyone, Owlchemy focuses on creating absurdly funny games and experiences in their signature style with ground-breaking accessibility that welcomes all players. Owlchemy continues to share its pioneering experiments and VR best practices through blog posts, white papers, and talks around the globe.
More information about Owlchemy Labs can be found at https://owlchemylabs.com.
Media Contact 
TriplePoint, on Behalf of Owlchemy Labs
owlchemy@triplepointpr.com