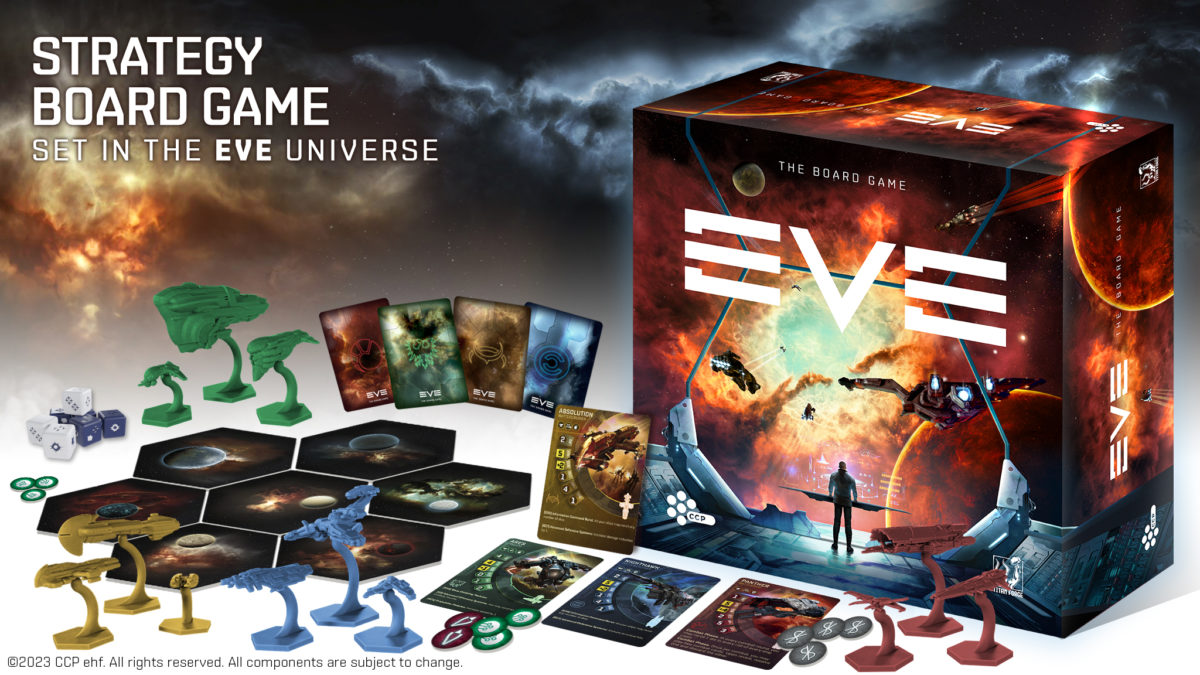 The Kickstarter pre-launch page is now live for fans to follow the project, the campaign kicks off in Q4 2023
REYKJAVÍK, Iceland – August 4, 2023 – Today CCP Games, the developers behind sci-fi spacefaring MMORPG EVE Online, announced a collaboration with Titan Forge, a miniature sculpting studio and board game publisher, to create a board game adaptation of the renowned spaceship MMO. The EVE Online board game welcomes fans and newcomers, bringing New Eden's signature space exploration, player-driven narratives, and strategic warfare to tabletops. The Kickstarter pre-launch page for the EVE Online board game is now live for fans to sign up and follow the project's progress until the campaign kicks off in Q4 2023 following demos at EVE Fanfest.
Fans can sign up for updates on the Kickstarter page here:
www.kickstarter.com/projects/titanforgeminis/eve-online-the-board-game?ref=39v03f
EVE Online's player-driven narrative, intricate economy, and stunning visuals are represented in this board game, offering a blend of classic 4X strategy elements and Euro-game mechanics. Players command a diverse fleet of starships, each meticulously crafted by Titan Forge, and delve into the intricacies of interstellar politics, resource management, and tactical combat. The game will be playable for the first time at EVE Fanfest 2023, September 21-23, in Reykjavik, Iceland.
"As a studio dedicated to crafting high-quality board games that ignite imaginations, EVE Online's player-driven world is the perfect fit to make the ultimate tabletop sandbox. This project is unlike anything we've ever made and fuels Titan Forge's commitment to delivering an authentic and captivating experience for EVE fans and board game enthusiasts alike," said Roman Łakomiak, the founder of Titan Forge. "Our partnership with CCP empowers us to make a board game in an iconic universe that transcends both physical and digital mediums, standing as a testament to EVE Online's epic legacy."
"With its player-driven gameplay and complex virtual economy, EVE Online lends itself organically to a compelling board game experience," said Grant Tasker, EVE Online's Brand Director at CCP Games. "As we celebrate two decades of EVE Online, Titan Forge understands New Eden's enduring legacy and is equipped to bring our iconic spaceship MMO to a different medium while maintaining its signature elements."
CCP Games is celebrating EVE Online's 20th anniversary throughout 2023. Set 21,000 years from now in the star cluster of New Eden, EVE Online is known for its dynamic and immersive virtual world. The game offers a vast sci-fi sandbox environment where players are free to explore, trade, engage in epic battles, and shape the destiny of the galaxy.
Follow EVE News for the latest celebration events. Assets for EVE Online are in the press kit here. Download EVE Online for free by visiting www.eveonline.com.
###
About EVE Online®
EVE Online (PC/Mac) is a compelling, community-driven sci-fi MMO game where players can build and pilot a wide variety of spaceships, traversing vast solar systems for free and choosing their own path from countless options, experiencing space exploration, immense PvP and PvE battles, mining, industry and a sophisticated player economy in an ever-expanding sandbox. EVE is a captivating game in which hundreds of thousands of players compete for riches, power, glory, and adventure, forging their own destinies in a single thriving universe.
Website | Press Kit | Bluesky | Twitter | Facebook | Instagram | YouTube | Twitch
About CCP
CCP is a leading independent game developer that has been praised for its artistry, technology and game design that facilitates emergent behavior, empowering players with compelling means of self-expression. Founded in 1997 on the principle of pushing the envelope and breaking new ground on all levels, CCP is on a mission to create virtual worlds more meaningful than real life. With the launch of EVE Online in May 2003, CCP established itself as a pioneer of cutting-edge massively multiplayer games, winning numerous awards and receiving critical acclaim worldwide. CCP is headquartered in Reykjavik, Iceland, and has additional studios in London and Shanghai.
Website | Press Kit | Twitter | Facebook | Instagram | YouTube| LinkedIn
About Titan Forge:
Titan Forge is a board game publisher and a miniature sculpting studio based in Poland. With notable titles like "Lobotomy," a survival horror board game, and one of the world's largest collections of fantasy and sci-fi 3D models, Titan Forge aims to push the boundaries of gaming by creating immersive, highly detailed worlds for players to explore and enjoy.
Website | Press Kit | Facebook | Instagram | YouTube
Media Contact
Journalists seeking information about CCP or its products, looking to arrange interviews or needing further assets should contact media@ccpgames.com.