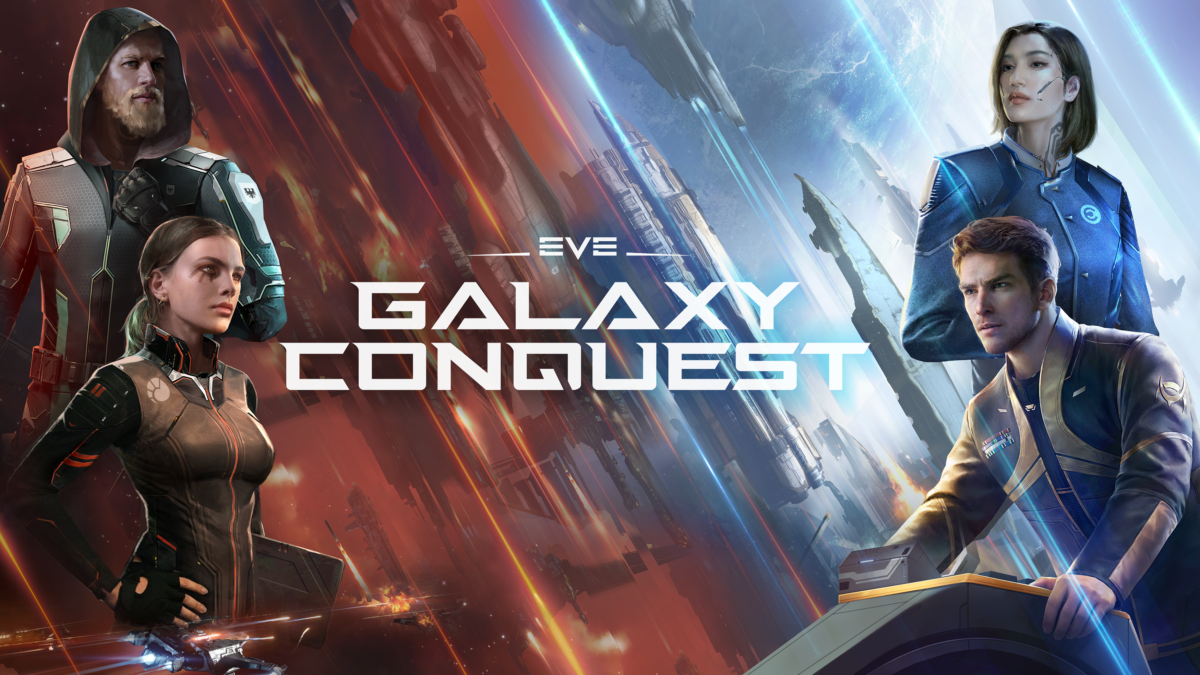 CCP Shanghai's free-to-play 4X strategy game soft launches on iOS and Android in Q4 2023, with a full launch in 2024
REYKJAVIK, Iceland – September 22, 2023 – CCP Games today revealed EVE Galaxy Conquest, a 4X strategy mobile game, during the EVE Fanfest Keynote presentation. Developed by CCP Shanghai, EVE Galaxy Conquest immerses mobile players in New Eden's thrilling cosmos, combining exploration, diplomacy, and epic player-vs-player battles. EVE Galaxy Conquest soft launches in select regions on iOS and Android devices in Q4 2023, with a global release planned for 2024. Eager players can pre-register and stay up to date by visiting www.evegalaxyconquest.com
In EVE Galaxy Conquest, players must work as a team to battle opponents for interstellar supremacy, leading vast armadas representing one of the four mighty empires from EVE Online: the Caldari State, Gallente Federation, Amarr Empire, or Minmatar Republic. Featuring strategic 4X gameplay, players command EVE's iconic ships and characters as they explore space, exploit resources, expand territory, and exterminate their enemies. EVE Galaxy Conquest empowers players to set their own goals, engage in diplomacy, work together on shared objectives, and orchestrate elaborate PvP battles, all in the palm of their hands. Maintaining EVE's trademark characteristics, every action and decision players make in EVE Galaxy Conquest has consequences.
"EVE Galaxy Conquest doesn't merely adapt the iconic EVE Online experience for mobile gamers; we ventured into new territory by transforming the MMO into a compelling 4X strategy game," stated Michael Lee, Brand Director at CCP Shanghai. "This expansion of the EVE universe brings our signature essence to a wider audience on accessible platforms. With CCP Shanghai at the helm—bringing our passion for EVE and remarkable talent— longtime fans and new players alike have much to anticipate from EVE Galaxy Conquest."
"EVE Galaxy Conquest has truly been a labor of love for our team," expressed Bing Xi, General Manager and Executive Producer at CCP Shanghai. "As avid fans of EVE Online, we were inspired to capture what makes the MMO so exceptional and reimagine it within the 4X genre. We're creating an experience that resonates with EVE veterans and opens the door for newcomers to explore and conquer New Eden in a way that's perfectly suited for mobile platforms."
More information about EVE Galaxy Conquest, including key features and availability, will be shared in the coming months before its soft launch.
Assets for EVE Galaxy Conquest are in the Fanfest 2023 press kit here. More information about EVE Galaxy Conquest, including pre-registration details and updates, can be found on the official website: www.evegalaxyconquest.com.
---
About EVE Online®
EVE Online (PC/Mac) is a compelling, community-driven sci-fi MMO game where players can build and pilot a wide variety of spaceships, traversing vast solar systems for free and choosing their own path from countless options, experiencing space exploration, immense PvP and PvE battles, mining, industry and a sophisticated player economy in an ever-expanding sandbox. EVE is a captivating game in which hundreds of thousands of players compete for riches, power, glory, and adventure, forging their own destinies in a single thriving universe.
Website | Press Kit | Bluesky | Twitter | Facebook | Instagram | YouTube | Twitch
About CCP
CCP is a leading independent game developer that has been praised for its artistry, technology and game design that facilitates emergent behavior, empowering players with compelling means of self-expression. Founded in 1997 on the principle of pushing the envelope and breaking new ground on all levels, CCP is on a mission to create virtual worlds more meaningful than real life. With the launch of EVE Online in May 2003, CCP established itself as a pioneer of cutting-edge massively multiplayer games, winning numerous awards and receiving critical acclaim worldwide. CCP is headquartered in Reykjavik, Iceland, and has additional studios in London and Shanghai.
Website | Press Kit | Twitter | Facebook | Instagram | YouTube| LinkedIn
Media Contact
Journalists seeking information about CCP or its products, looking to arrange interviews or needing further assets should contact media@ccpgames.com.