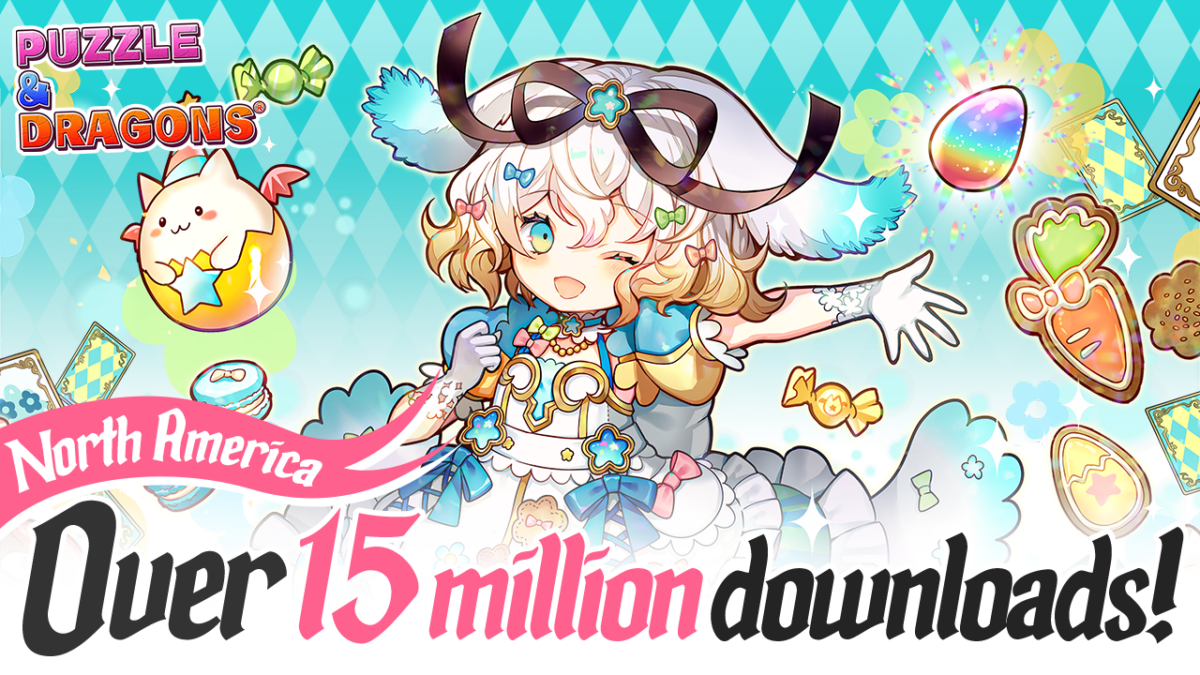 The hugely popular puzzle game reaches a major milestone with North American fans
REDONDO BEACH, Calif. – September 29, 2023 – Today GungHo Online Entertainment announced that Puzzle & Dragons crossed 15 million downloads in North America. Since the hit mobile game's North American debut in 2012, Puzzle & Dragons has garnered fans with its engaging fusion of casual puzzle gameplay and classic RPG elements, joined by numerous collaborations with world-famous IPs from pop culture, anime, and video games.
Globally recognized for its commercial success, Puzzle & Dragons is a free-to-play match-three game that lets players collect monsters and characters to build teams and battle to solve puzzles. Players command their parties as they explore dungeons to collect treasure.
"In over a decade since we launched Puzzle & Dragons, the global community has grown to incredible heights. Today's milestone is a testament to our North American community's love and enthusiasm for Puzzle & Dragons," said Jun Iwasaki, President and CEO of GungHo Online Entertainment America. "Thank you to our many Puzzle & Dragons players; your support allows us to keep expanding upon this game, so it can continue to thrive for many more years to come."
Players in the United States have enjoyed playing Puzzle & Dragons since it launched for iOS devices on November 8, 2012, and Android™ devices on December 10, 2012. Canadian players joined U.S. fans when the game launched on April 21, 2014, for Android™ and August 28, 2014, for iOS. Puzzle & Dragons is available for download now on the App Store and Google Play.
Assets for Puzzle & Dragons are available here.
###
ABOUT PUZZLE & DRAGONS
Puzzle & Dragons is a mobile puzzle adventure game developed and published by GungHo Online Entertainment, Inc. with over 90 million downloads worldwide. Puzzle & Dragons combines match-three-style puzzles, monster collecting, and dungeon crawling mechanics for a definitive free-to-play experience that's kept players hooked since 2012. Regarded as a landmark release in mobile gaming, the game continues to evolve with each new update and collaboration. Puzzle & Dragons is available on the App Store and on Google Play. Visit www.puzzleanddragons.us to learn more.
ABOUT GUNGHO ONLINE ENTERTAINMENT AMERICA
GungHo Online Entertainment America, Inc. (GOEA) is a multi-platform developer and publisher dedicated to delivering fun & unique titles like Puzzle & Dragons, Ninjala, and LET IT DIE. GOEA is the US division of GungHo Online Entertainment (GOE), whose studios include leading developers SUPERTRICK GAMES, GAME ARTS, Acquire, and Gravity. GOEA distributes games for consoles, handhelds, mobile devices, and PC. GOEA is located in Redondo Beach, CA. For more information, visit www.gunghoonline.com.
MEDIA CONTACTS
GUNGHO ONLINE ENTERTAINMENT AMERICA
Natsuki Nishikawa
Senior Communications Coordinator
natsuki@gunghoonline.com
TriplePoint on behalf of GOEA
gungho@triplepointpr.com
+1-415-955-8500